I almost feel guilty when admitting to not being a particular fan of William Shakespeare but after watching this performance of The Winter's Tale presented by the Octagon Theatre and University of Bolton this evening, I can honestly say that I can see the attraction. This production directed by David Thacker is totally captivating from the start and has an extremely talented cast.
The stage is simply set in a courtyard and the King of Sicilia Leontes, (Rob Edwards) is enjoying the company of his childhood friend Polixenes (Christopher Wright) the King of Bohemia, but jealousy rears its ugly head when he begins to suspect that his wife Queen Hermione (Amy Nuttall) and Polixenes are having an affair and that the child she is carrying must be that of his friend. As accusations fly and tempers rage the performance by Wright is so empowering, you can feel his pain but at the same time accept the almost mocking disbelief of Polixenes and Hermione. The more they plead their innocence the more paranoia sets in with Leontes and he in his distress, suspects that they plot to kill him. He bids Camillo (Marc Small) to poison his friend and banishes Hermione to prison. However Camillo instead warns Polixenes and they flee to the Kings home country of Bohemia.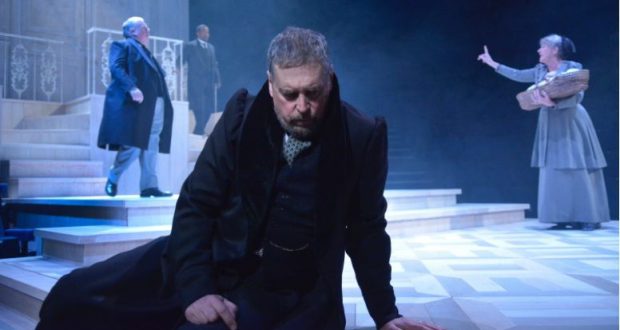 Meanwhile the Queen gives birth to a baby girl Perdita and Paulina (Margot Leicester), close friend of Hermione, takes the child to present to the King in the hope he will relent and accept her and be reunited with his wife. This only enrages him more and the baby is taken away and abandoned in the countryside in Bohemia where a lowly shepherd stumbles across her. The shepherd is fabulously portrayed by Eric Potts who is a larger than life character and gives a wonderful performance throughout, bringing some light relief to this intense play. He raises the child as his own alongside his son (Christian Edwards) and it is sixteen years later when she falls in love with the handsome Florizal (Harry Long) and their betrothal is about to be announced at the sheep shearing festival. However Florizal is a prince and son of Polixenes, who upon discovering his sons romance is furious and intent on ending it as he deems Perdita too lowly to marry his son. Perdita (Leila Mimmack) is a pretty and spirited girl and immediately likeable.
Another brilliant character performance in this play is that of Colin Connor as Autolycus a con artist and pickpocket who entertains at the festival with his bawdy songs and selling of trinkets. There are some lively and colourful dance scenes and everyone appears to be enjoying themselves at the festival. The scenery changes here were subtle and took place during the interval with ivy being strung above and flora decorating the original courtyard.
Back in Sicilia the tragic news breaks that Mamillius, (Adam Tyerman) the young son of Leontes and Hermione has died and upon hearing this, Hermione swoons in what has to be the most convincing faints ever witnessed on a stage. Nuttall is superbly cast and her performance as Hermione is wonderful to watch. She is carried away by Paulina and her subsequent death is reported back to Leontes. He is distraught and vows to repent.
So is this a happy ever after tale? or is there more tragedy and woe to come? I can only suggest that you get along to the Octagon Theatre, Bolton and take in this moving and powerful play. With an audience to three sides there were obviously occasions when there were backs to the audience and occasionally some of the dialogue was lost. If like me you are not familiar with the works of Shakespeare I would suggest reading up on the story beforehand helpful, it certainly added to my understanding. I have to say I truly enjoyed myself this evening and this is down to the great production and the strong, believable and stellar performances given by each and every one of the cast. I am now a fan of Shakespeare and already considering going to see this again!
For more tickets and performance information see: http://octagonbolton.co.uk/whats-on/theatre/the-winters-tale/
Reviewer: Lorna Weekes
Reviewed: 25th October 2016
North West End Rating: ★★★★