Musicals based upon 'chick flick' movies are something you either love or hate, this evening at Blackpool, love was definitely in the air for the audience if not for wedding singer Robbie Hart (Jon Robyns) who finds himself jilted at the altar by fiancée Linda (Tara Verloop).
Robbie has big dreams of becoming a rock star but meanwhile ekes out a living as a singer with band 'Simply Wed', hosting at weddings and lodging with his grandma Rosie (Ruth Madoc). Impressing waitress Julia (Cassie Compton) with his handling of a drunken best man she invites him to perform at her upcoming wedding to Glenn Guglia (Ray Quinn)
After almost ruining another wedding whilst in his despondent mood Julie meets up with Robbie to convince him to keep singing, maybe at other functions and he agrees to doing a Bar Mitzvah, an event she is waitressing at. His mood lifts and the friendship between him and Julia deepens and she asks him to help plan her wedding day along with her friend Holly (Lucie Jones). Holly goes on a date with Robbie but soon realises his heart lies with someone else. Meanwhile Julia is becoming less enamoured with her relationship with Glenn.... add one and one, get two and you are on the right track to how this story is developing.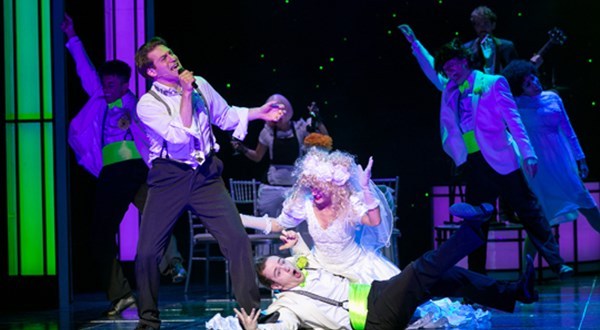 With a lively cast and excellent choreography 'The Wedding Singer' is full of comedy moments, you couldn't help but love Robyns character and his feeling sorry for himself with musical number 'Somebody Kill Me' was hilarious. (Parent alert, contains some bad language). A scene in the bar featuring the men of the musical performing 'Single' will have you toe tapping along with their impressive footwork. Both Robyns and Compton are worthy of their leading roles with faultless performances and fabulous vocals, particularly Compton. As expected, having seen him in other shows, Quinn delivered totally as the arrogant, big shot with the roving eye, banker Glenn, the only disappointment was I would have liked to have seen more of him in the show. With this show only featuring a couple of the songs from the original movie, Quinns' rendition of 'All About The Green' was one of the few memorable songs.
Absolute permitted scene stealer of the evening has to be veteran of comedy series 'Hi-Di-Hi', Ruth Madoc. The rapping scene between her and band member George (Samuel Holmes) with 'Move That Thang' was one of those comedic moments and had the audience in fits of laughter. Again Madoc, an actor underused and who could have added so much more.
Costumes played safe with nothing too outrageous and only a couple sported the big hair style of the day. The set was changed frequently and effortlessly to depict wedding venues, locker rooms, street scenes, bedrooms etc and the lighting has to be commended for the fantastic effects. During the first half I was distracted by movement in the wings as I could see into them from my seat midway in the theatre and kept looking to see who was on next and what props were going to be wheeled out, however, thankfully this was rectified after the interval!
The Wedding Singer directed and choreographed by Nick Winston didn't quite feel an 80's show (the jokes were though, but still funny), I had expected to be singing along to some of the 80's hits. Nevertheless, with an excellent talented and high energy cast, it is an entertaining, lively production and I left the theatre smiling and if you can get along to watch you won't be disappointed.
Reviewer: Lorna Weekes
Reviewed: 4th July 2017
North West End Rating: ★★★★