With coach-loads of people queuing to get into the Grand Theatre, Blackpool this promises to be a great evening for Country music lovers and there was a buzz in the air even before the show started.
The stage is set as 'Crazy Joes Live Lounge' and instantly transports you to downtown Nashville, with framed painted pictures on the backdrop of past and present country stars. The lighting throughout the night is spectacular creating moods for the songs being performed and is, forgive the pun, 'spot on!'
So on with the show, which stars Dominic Halpin and The Hurricanes and featuring vocalist Shelly Quarmby. Wow can this lady sing! Fabulous vocals as she opens the show a cappella with a few bars of Jolene before the stage bursts into life and she is joined by five musicians and Halpin with a Johnny Cash hit, 'Ring Of Fire' which the audience immediately clap along to.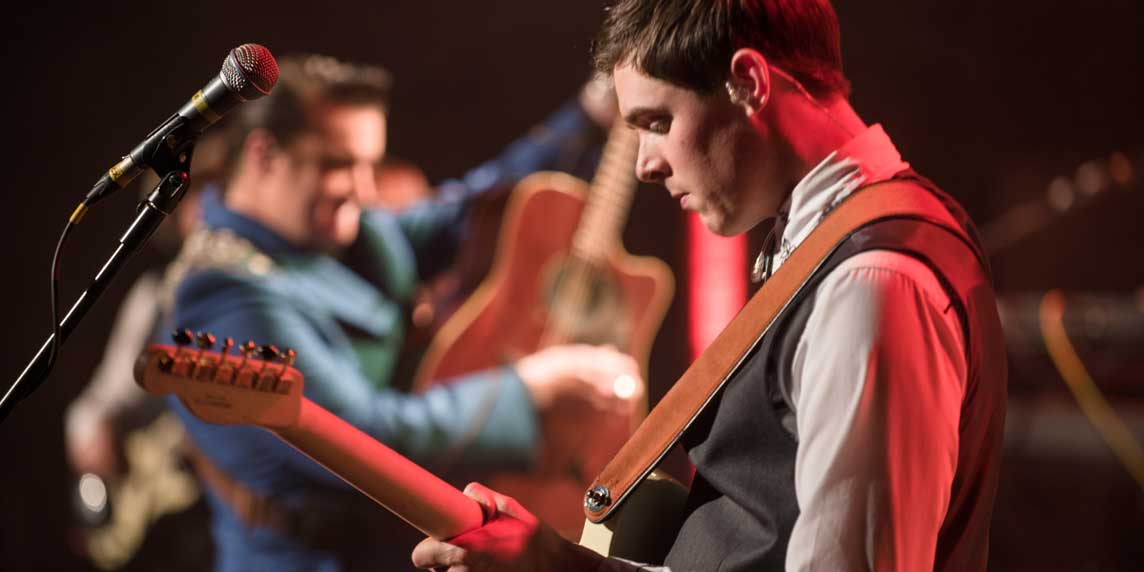 Halpin has a laid back easy stage presence and engages with the audience straight away and is instantly likeable. He also plays electric guitar as he performs lead vocals covering a wide range of songs from popular Willy Nelson, Glen Campbell, Johnny Cash to an Eddie Cochrane number to name a few. He has the type of mesmerising voice you could listen to all night long.
At first I was taken aback by Quarmby's glamorous dress style, short sparkly dress and high heels was not what I imagined with the Nashville set, but I guess I'm going with the stereo typical image of a country singer, cowboy hat and boots and fringed shirt! A costume change for the second half incorporated the boots and fringing with another fabulous dress. The clarity in Quarmby's voice is just beautiful and even in songs I was not familiar with I could follow every word. She performs several songs solo as well as accompanying Halpin and also for a couple of songs she is joined by multi-talented band member Donna-Marie, with an amazing pairing for a Shania Twain hit 'You're Still The one'. Donna-Marie also took centre stage and sang a couple of songs solo with a rip roaring rendition of 'Blame It On Your Heart' which was a great success with the audience.
The band members are introduced to us as John, John, John and you've guessed it...Ben and Donna-Marie! They are in fact John Bailey (Electric guitar), Jonathan Price (Drums), Jonny Booth (Pedal Steel), Ben Wiltshire (Bass guitar) and the aforementioned Donna-Marie who besides vocals plays keyboard and acoustic guitar and together they give an absolutely brilliant performance tonight.
Throughout the evening there are so many songs performed which include covers of Patty Loveless, Patsy Kline, Trisha Yarwood, Dixie Chicks and Little Big Town, several that for me are not well known, maybe as I am not a particular follower of country music, or at least I thought I wasn't until this fantastic show! Obviously there was a great demand for an encore and Halpin and his band did not disappoint with an extended return and covered a medley of songs to a well-deserved standing ovation.'
A Country Night In Nashville' is well worth 'A Night In A Theatre' near you!
For tickets and tour dates: http://acountrynightinnashville.com/
Reviewer: Lorna Weekes
Reviewed: 20th January 2018
North West End Rating: ★★★★