A splash of colour brightened up a quiet corner of the theatre foyer as I arrived for the performance – two multi-coloured tickling sticks adorned a table which also contained a book of condolence, open for members of the audience to add their tribute to Ken Dodd, a great supporter of the Grand.He was a consummate showman who wasn't averse to a natty costume or two – and he even had several hit records. The same can be said for Marc Bolan, dead at 29 and still much missed. His music lives on though, and this show weaves much of Bolan's back catalogue through a cobbled-together story of his life.
20th Century Boy has been revived on the 40th anniversary of Bolan's death, and Olivier award winner George Maguire, who played Marc in the original production back in 2011, returns to reprise the role. He has the corkscrew hair (though it's more Crystal Tipps than rock god), strut and style, but for me, Maguire's portrayal fell wide of the mark (if you'll excuse the pun). His vocals were hit and miss and at times he seemed to forget to 'play' the guitar at all.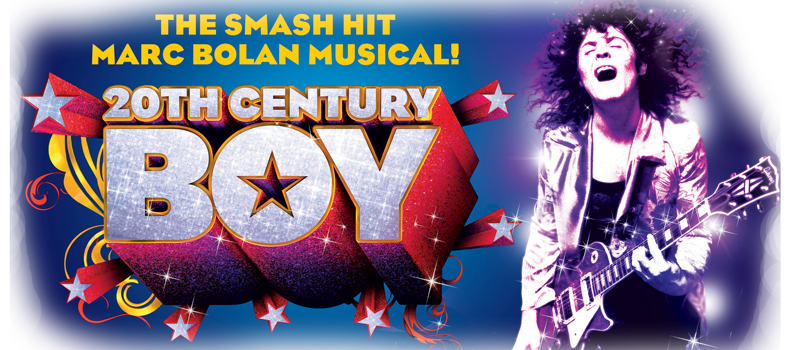 I was also disappointed by the vocals of Sarah Moss as June, who had a shouty, bordering on screechy style. Thank heavens for Ellena Vincent, a soulful Gloria whose performance was spot on all evening, and a special mention for the onstage band who kept things rocking even though at times they were hidden behind the strangely shoebox-style set.
This was a most surreal evening, hampered by major sound problems early doors (which led to an unplanned interval while the techies sorted things out). Things did improve after that, although there were still occasions where vocals all but disappeared in the mix. By the planned interval, the audience was beginning to warm to the performers, who in turn were hitting their stride – and standards stayed high in part two, culminating in a rousing encore that had everyone clapping along and loudly joining in.
Some jukebox musicals achieve a perfect balance but sadly I wouldn't put 20th Century Boy in that category. The dramatic scenes were sketchy and some of the musical links were tenuous (using Dandy in the Underworld in the final scenes is a prime example). All in all, a disappointing night at the theatre.
20th Century Boy The Musical is at Blackpool Grand Theatre until Saturday, March 17th. For tickets and more information visit https://www.blackpoolgrand.co.uk/event/20th-century-boy-musical/
Reviewer: Sandra Mangan
Reviewed: 13th March 2018
North West End Rating: ★★★