Brian Conley is at any price the greatest entertainer judging by audience reaction this evening at the Charter Theatre, Preston and is warmly welcomed from the moment he steps out onto the stage. Conley had this evening's audience in the palm of his hand, his charisma and stage presence oozing as he launched into his comedy routine. Audience interaction is high on the agenda and he leaves the stage to mingle several times, engaging in conversations and his quick wit is evident with many one line quips leaving the audience rocking with laughter as he targets individuals and even has two 'victims' accompany him on stage who fully embrace appearing with him. The comedy covers 'Dangerous Brian' from his own popular TV series The Brian Conley Show which I felt focused a little too much on one subject and although funny at first really became just a time filler. Of course there just has to be mention of Nick Frisbee with Larry the Loafer and the now infamous catchphrase 'It's a Puppet!' although the character did not appear. With jokes coming thick and fast, at times naughty with innuendo, other times just plain old fashioned silliness, the first half is over far too soon.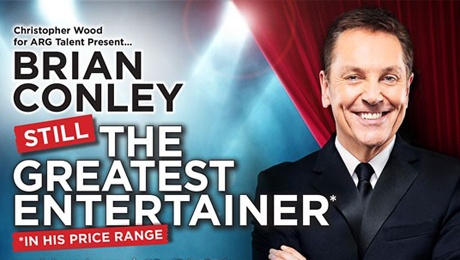 Supporting Conley on the show and making two appearances during the first act is Mat Ricardo, an incredible juggler who demonstrated some amazing balancing skills involving a wine glass, a cane, spoons and cigar boxes with a twist on the pulling of the tablecloth from a table.
But comedy is not the only talent Conley has on offer, he is the definitive all round entertainer having presented many TV and stage shows including presenting The London Palladium and also having appeared on it eight times. Also an accomplished actor, appearing not only on TV, but in panto almost every year since the late 1970's to the present day and taking lead roles in several West End musicals. Tonight we are treated to snippets from some of those musicals which include 'Reviewing the Situation' from Oliver, with Conley starring as Fagin. Other songs delight from Chitty Chitty Bang Bang, Barnum, Me and My Girl and a moving 'Swanee' from Jolson which Conley is totally immersed in.
Add to this evenings show Conley performing some skilful, but amusing fire eating, a risqué violin playing sketch, a fabulous penny whistle set, rapping and an evening rounded off with a sing-a-long session with everyone joining in to 'Minnie the Moocher' followed by songs popularised by the Monkees, Tom Jones, Lionel Ritchie and Queen, he even has time for a question and answer section. I can only endorse the show's title, Brian Conley - The Greatest Entertainer....... I'm left wondering who there is offering such a variety of entertainment in any price range! A true showman who is in a class of his own.
Reviewer: Lorna Weekes
Reviewed: 18th March 2018
North West End Rating: ★★★★