What better place to celebrate #WorldTheatreDay than in a beautiful Frank Matcham theatre? But how would the much-loved Robert Louis Stevenson horror story translate to the stage?
In our modern world of fast-paced, hi-tech communication, where anything can be rendered realistically by way of CGI, the story of a man who takes a potion and transforms into his inner, evil self could appear a little lame. But isn't that the power of the theatre? That you can suspend belief and find yourself in another world, by the use of words, a few clever props and some talented performers?
Dr E Henry Jekyll is something of a dilettante, spending his days in London, idly cutting up corpses and his evenings in the company of other old bachelor friends. But a visit to his widowed sister in the country changes things. She is having a declutter and urges her brother to take away the portrait of their father that sits in her drawing room.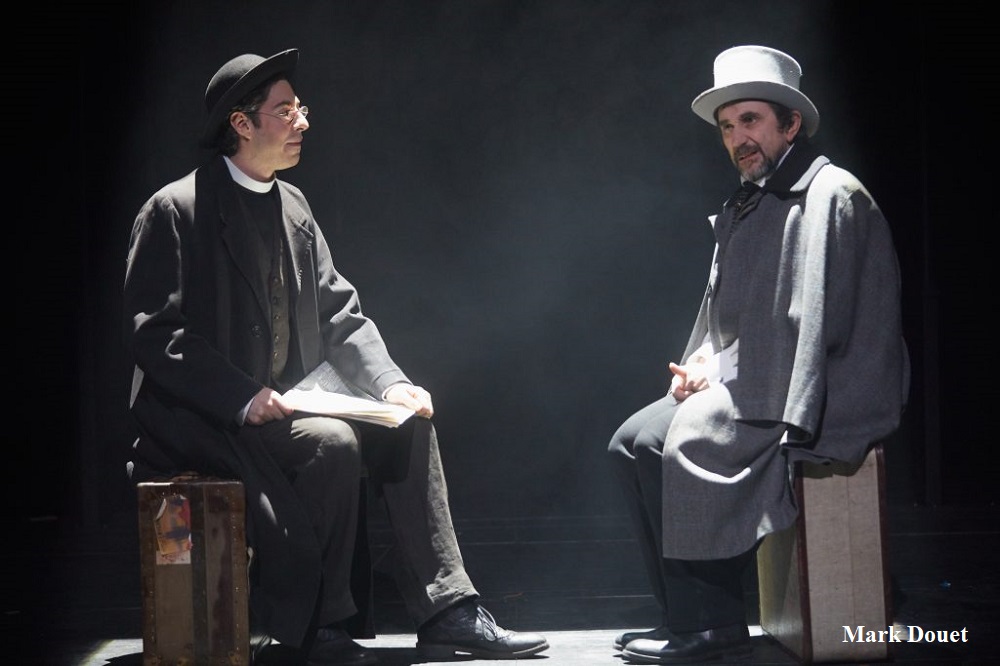 He agrees, and as he heads back home he has the picture and also his father's old notebooks, unearthed from the attic. It seems that medicine runs in the family and daddy had been doing some experiments… I think you know what happens next, it's good cop, bad cop, 19th century style.
Some tinkering has been done with the original tale, with the introduction of Jekyll's sister Katherine (Polly Frame) and her maidservant Annie (Grace Hogg-Robinson) – who is central to the story and seems to be the only one to see through Jekyll's subterfuge. Hogg-Robinson played the part with a winning mix of cheekiness and melancholy, though occasionally I found her accent a little hard to follow, while Sam Cox, as manservant Poole added a touch of light relief to an unremittingly dour production.
Phil Daniels eschewed his usual Cockney tones to add a light Scottish burr to Jekyll's speech with his tones becoming rough house Glaswegian – guttural, menacing and dense – when he transformed into Hyde, portrayed as a lumbering, limping, bad tempered drunk.
The production design aimed for Victorian melodrama and hit the bullseye. Much of the action was played out in near darkness, creating an air of claustrophobia and menace. The two-tier set was effective too, particularly when the ghostly Singer (Rosie Abraham) came out of the shadows to keen her plaintive messages. I found the use of music most effective and Abraham's haunting tones certainly added drama.
Dr Jekyll and Mr Hyde is at Blackpool Grand Theatre until Saturday, March 31st. For tickets and more information visit https://www.blackpoolgrand.co.uk/event/dr-jekyll-and-mr-hyde/
Reviewer: Sandra Mangan
Reviewed: 27th March 2018
North West End Rating: ★★★