My theatre companion and I are old enough to recall going to see the original film at the pictures, way back in the 1960s, so a trip to the Opera House for a stage version of Summer Holiday, sans Cliff Richard, was about to test our nostalgia meters!
How would Ray Quinn and cast fare in a show which actually made its debut at this venue, back in the mid-1990s (with Darren Day as Don, the Cliff/Ray Quinn role)? On balance, I'd have to say not so well.
In truth, it is a show that lacks any real cohesion, coming across more as a juke box musical than a faithful rendition of an old movie. The film plot has been tweaked (no trip to Yugoslavia, these days, instead the bus stops off in Italy) and the soundtrack includes many of Cliff Richards' 1960s hits, including In the Country, Bachelor Boy, The Young Ones. Move It, On the Beach and, of course, Summer Holiday. Living Doll was there too, but sadly wasted in a half-hearted, faintly ridiculous scene that smacked of 'oh we've forgotten Living Doll, how can we shoehorn it in?'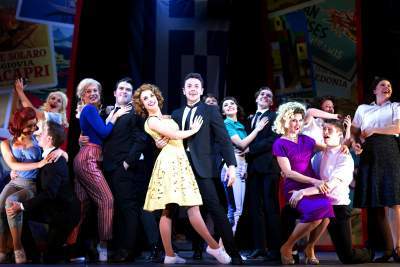 It's a song that would have been perfect for Ray Quinn to sing in full, instead he was given a mere snippet – an opportunity for a show stopping moment wasted, methinks.
Quinn has a fabulous singing voice and is well up to the job of performing so many well-known songs, but that speaking voice! The clipped, old BBC style pronunciation jarred. Quinn wasn't alone in his accent issues. Sophie Matthew, as American singer Barbara allowed her twang to come and go, and her singing voice really wasn't strong enough to carry the vocals she was given, although her dancing skills were well showcased.
The paper-thin plot is played out on a striking stage set – and the versatile, imaginatively conceived double decker bus received some of the warmest applause of the night when it trundled onstage to make its first appearance! Definitely one of the stars of the show.
This production really comes to life in its ensemble pieces, with a talented cast making the most of the lively, eye-catching choreography. A favourite moment for me was We Say Yeah, a song which was reprised in the high energy extended curtain call that finally had the audience up on its feet.
It has its moments, but overall this show had more lows than highs. A Summer Holiday that isn't much to write home about, and that's a shame,
Summer Holiday is at Blackpool Opera House until Saturday July 28th. For tickets and more information visit http://www.wintergardensblackpool.co.uk/events/summer-holiday-musical/
Reviewer: Sandra Mangan
Reviewed: 24th July 2018
North West End Rating: ★★★