My first statement is that I do not think this a 'family' show due to a fair bit of rude content and adult language and therefore, I think it should have been marketed as such however, that said, this was an extremely lively and entertaining evening.
Jorgie Porter was sensational as Iris, a young dancer. From balletic grace to hip hop, Porter was amazing and for someone who, I believe, has had no dance training, there was not a flaw in her performance. The chemistry between her character and Tyrone was completely believable and their dance partnership in ballet was breath-taking.
Tyrone played brilliantly by Jamal Crawford, is a troubled young black man with the weight of the world on his shoulders, believing that his teacher, Miss Sherman, is out to get him because he is behind in his studies. To see his character come so far in such a small space of time, is very touching. If I have any criticism of Crawford, is that I think he shouted his vocal performances. I know that these were 'angry' and 'hard done by' numbers, but I still think they could have been toned down just a little.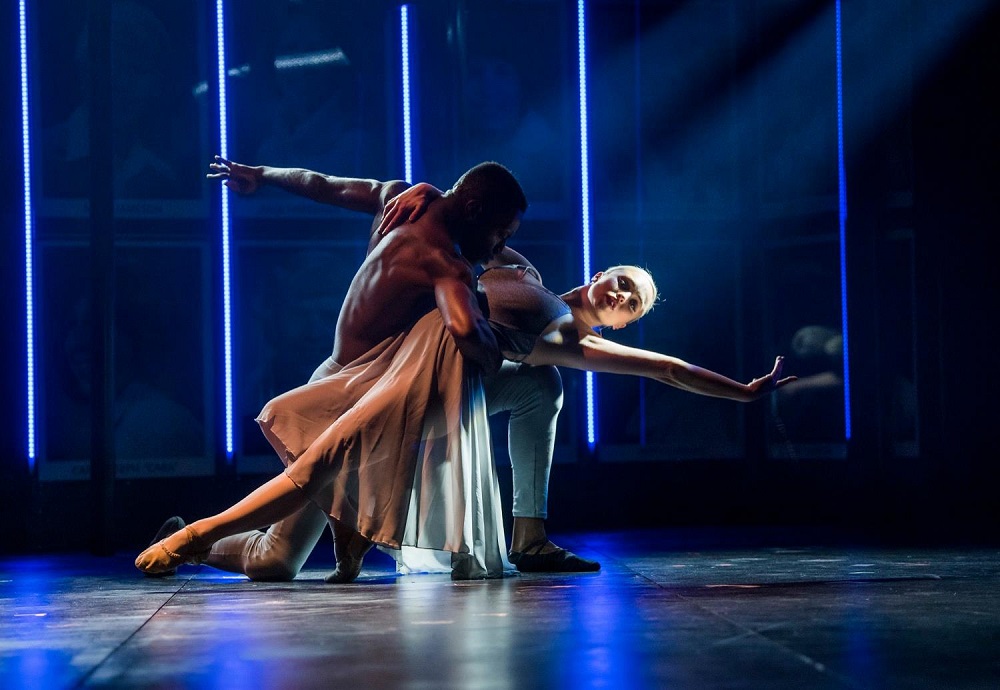 I very much enjoyed the performance given by Keith Jack as Nick. A hard-working student who although he's done commercials wants to be taken seriously as an actor and nothing, even the slightly gawky, but beautiful Serena, his 'best friend', can turn his head. His vocals in "I want to make magic" were just fantastic and you believed he could achieve his goals.
Jack was suitably matched by Molly McGuire who played the aforementioned Serena. Her slightly geekish looks gave way to an incredible voice and her vocal performances were just amazing. I especially loved "Let's play a love scene".
I do have the utmost respect for performers who can 'do it all'. There were 4 performers on the stage last night, who not only sang, acted and danced, but also played instruments - Simon Anthony, Alexander Zane, Louisa Beadel and Tom Mussel all deserve high praise indeed for their talents.
Mica Paris played Miss Sherman and as you would expect from this amazing singer, pulled out one the most heart-breaking and mesmerising vocals I have ever heard. Her rendition of "These are my children" made the hairs on my arms and neck stand up. There is only one word to describe it and that is 'phenomenal'.... My only criticism of Paris, is it seemed like she had been placed in difficult positions to talk to the cast spending a lot of time with her back to the audience. And this of course, isn't a criticism of Paris herself but of direction.
The role of Carmen was played by Stephanie Rojas and she played it well. Her vocals were superb and her slippery slope from confident 'I can & will do anything' to the drug taking down beat was portrayed very well. Her performance of "In L.A." was fantastic.
I would like to mention one last vocal – one of my very favourite songs and an extremely underrated finale piece, in my opinion, is "Bring on tomorrow". This number was beautifully performed by Simon Anthony who played Schlomo, in tribute to Carmen, his co-writer. He carried this number so well but when the cast joined in, it just became so much more.
The whole cast were extremely talented in dance and there wasn't one who didn't deserve to be on that stage. The choreography was excellent throughout but the one routine that will stay with me was the Spanish Themed Tap which I thought was truly sublime.
Sound and lighting teams did well tonight with only a few little issues (I do think the sound was a little loud in some places) but all in all, a good opening night. Well done team...
The stage was simple yet clever however, I have said this before and will always re-iterate that a travelling tour must have a set that works in all their upcoming venues. There was quite a bit of action on stage left which was lost by the audience on the right hand side completely. I was in an aisle seat close to the centre stalls but missed all of what happened stage left. However I will praise the cast for their seamless set changes, which were superbly and quickly executed.
Costumes, for the most part, were very good and spot on for the era with the legwarmers and cropped tops making an appearance however I did feel that the costumes for Miss Sherman were not right. Era wise, yes they were correct but fit wise, they were not. She looked uncomfortable in all of her costumes and her finale one was, for me, inappropriate. I also believe that Ms Paris should have wearing tights as the very large tattoo on her leg was highly visible and I don't believe that was in-keeping with the character (If I'm wrong and that was intentional, then I apologise) Well done to the costume department but please re-look at Miss Sherman's outfits.
This score was played extremely well by a relatively small orchestra backed by the on stage performers who played various instruments (I particularly enjoyed the saxophone – my favourite sound in an orchestra). Sounds were fantastic.
I encourage you all to get to your nearest theatre and watch this super production... Enjoy the rest of your run guys and congratulations.
Reviewer: Hazel Bumby
Reviewed: 13th August 2018
North West End Rating: ★★★★