The time has come where I faced my 100 mile round trip to see one of my favourite theatre schools annual production; Basics Junior Theatre School first came on my radar after a tip off from a great friend to go watch their production of Miss Saigon in 2013 and since then I have been captivated by the talent of the Burnley youth and the enthusiasm and nurturing that the production team put into the pupils.
After watching many productions by this theatre school I honestly did not believe things could improve from their already floorless productions; but nothing prepared me for what I was about to witness for their 30th year celebration production of Les Misérables. Both Les Misérables and Basics are into their third decade of success and it seems fitting that they chose this iconic musical to celebrate thirty years of theatrical genius.
As a theatre critic I am asked to review professional and amateur shows, I have previously reviewed Basics Junior Theatre School productions as amateur productions but this year I would do an injustice to say it was an amateur show so I will review it as it rightfully deserves as I would a professional one. I have seen Les Misérables more times than the amount of years Basics is celebrating throughout the UK, London's West End and New York's Broadway but I can hand on heart say that this production was up there with the best delivery I have ever seen to date. These youngsters would give Ramin Karimloo, Alfie Boe, Michael Ball, Kerry Ellis, Matt Lucas, Samantha Barks and many more leading stars a run for their money as they equally matched their vocals and stage presence during this performance.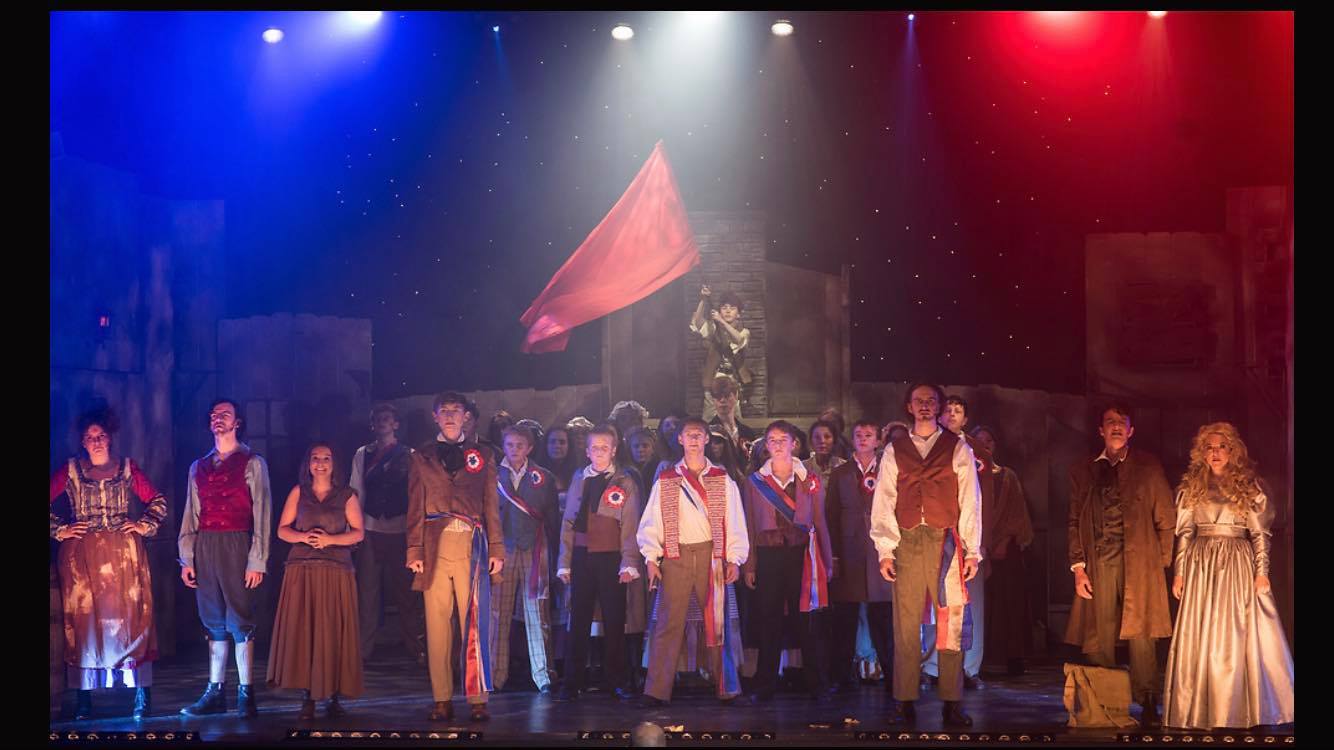 So what's the show about (as if you don't already know)? Les Misérables: School Edition is based on Victor Hugo's humongous historical novel of 1862 that covers the twists, turns and tales of French Revolution. Despite its inherent theme of adversity and misfortune along with the weight of the title, Les Misérables is not all misery and no-joy-show rather it beautifully brings to stage the profound realities of our deep dark history. The well-known epic story follows Jean Valjean as he is relentlessly pursued by police inspector Javert, who refuses to believe Valjean can change his ways. Valjean tries to help a poor factory worker Fantine by saving her daughter Cosette from the evil innkeepers. Marius during the battles of post-French Revolution falls for Cosette but joins a band of revolutionaries at the barricades in Paris....
With a live Orchestra under the musical direction of Andrew Mitchell again gave the magnitude of any professional theatre which played exquisitely throughout the musical score. Huge credit must go to the staging and set design as the whole scenery and transitions where seamless with a rustic and realistic feel, the barricade was beyond magnificent and worthy of any big money productions set with its visual excellence. The lighting design was perfect and poignant during several scenes with its spotlights for the solo parts and floodlights for the big ballads, special mention should be given for the lighting during Javert's suicide where a fabulous illusion of depth and darkness was created making the scene the most powerful of the evening. Final credit to the wardrobe department for creating timeless 19th Century outfits ranging for the penniless people on the streets to the affluent upper class with the upmost attention to detail.
Now onto these astonishing individual actors and actresses making Victor Hugo's novel come to life on stage before our very eyes, I can safely say I have watched some of these youngster grow in theatrical maturity over the years due to previous productions but wow oh wow what a difference a year has made. It is Reuben Khan's fifth and final year at basics and talk about going out with a bang! Reuben played Valjean with the most sincerity and tenderness of any leading man, his voice was supreme and unblemished with immaculate timing and accuracy his rendition of 'Bring Him Home' was exemplary. Millie Green played Fantine she has been a Basics student since the age of 9 and has flourished as an accomplished first class performer which she clearly displayed in her endearing interpretation of the ill-fated factory worker, her scenes at the docks were powerful and moving especially her interaction with Valjean where she asks for him not to mock her. Another lady who joined at the age of 9 is Madeleine Callaghan-Aunger played the role of Cosette with her faultless soprano voice and elegance put her own interpretation on the love struck leading lady. Emily Herbert and Aaron Hipgrave Lewis played infamous comical yet evil Thenardier's with the upmost professionalism with their perfect timing and interactive banter, and hats off to their ingenious adlibbing when a cue was missed by others; both provided the best comedy and entertainment throughout. The crew were cast perfectly all delivering a first class performance but the stand out lead was the immeasurably talented Aaron George who played Marius like I have never witnessed before, he portrayed the most believable and heart-warming version of this character I've seen in the last three decades, his talent to sing and act was indeed an incredible magnificent masterpiece of musical theatre especially during 'Empty Chairs at Empty Tables' where there wasn't a dry eye in the house.
Some great personal interpretations that need mentioning: 1. Jackson Palmer's version of the foreman 2. Gavroche's death 3. Javert after Gavroche's death.
Summary: Magnificent Masterpiece of Musical Theatre deserving 5 Stars *****
Well done to all involved, the show runs until Saturday 13th October so grab your tickets as soon as possible.
Reviewer: Katie Leicester
Reviewed: 9th October 2018
North West End Rating: ★★★★★