Lancashire Fringe Festival is taking place across Preston from May 15th – 24th. All events are free which is amazing and tonight there's not one but a total of four performances in one night at the iconic Harris Museum, making for illustrious surroundings and perhaps not the usual basement pub.
First on is Dan de la Motte, a suave sophisticated chappy come all the way from 'that London' to entertain us tonight. He's trendy, young, slim and achingly fashionable in his day glo shirt. He entertains with a frenetic camp energy delivered enigmatically. The show is a current topic – 'online message boards.'
From the offset there's a good deal of audience participation required that turns the show into a smutty feel good hoot at the Royal Family and they're nicknames. He gets away with it all with his natural charm and the fact that he himself is descended from Italian peasants so he says.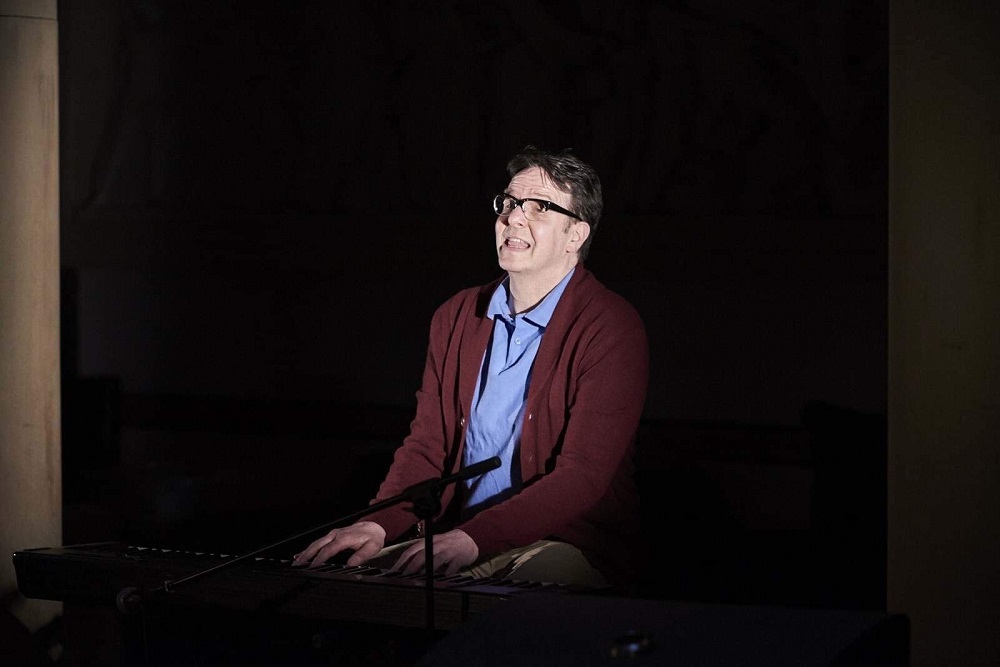 If we weren't reeling from then the next act Control Pant Symphony by Natalie Wardle sent the audience off the stratosphere. Her knickers are hung on a washing line for all to see then she gyrates and leaps around to the symphonic music, twanging pants willy nilly (sometimes at the crowd), and goodness me she only takes off the stickers covering her private parts as the grand finale.
Somehow it's not demeaning, but utterly bonkers and a welcome change from thongs.
What can the Lancashire fringe throw at us next? The ominously named 'Goth Diary,' by Karina Azlanova is next up. A diminutive female totters on in a Victorian dress she is going to make us suffer (apparently like she does on a daily basis). Her diary excerpts makes for a heady read. Peppered with dark humour, funeral parties and misery she tells us how she left the Ukraine to arrive in Preston which is ideal for her due to all the rain and greasy food.
Oh! Suburbia! by Bob Karper was the final act of the night and certainly didn't disappoint in terms of the zany avant-garde. Bob is originally from the suburb of Palos Heights in Chicago and he spends his act telling all about that in the most unique and imaginative way. This involves a slide show, live contortionism and an array of hidden away musical instruments being produced and played. Bob is a bespectacled, cardigan wearing nerd type but very likeable.
He hauls us through the decades of his American nuclear family, with an uptight father who joins the amateur dramatic society and suddenly has an affair. This and other cringe worthy moments, make us look inwardly at the 'family' and the urban life style that is so often overlooked. A defining comedy moment was a wheeled on BBQ that opened up to reveal an accordion inside which Bob could play. What a talented man.
Phew what a rollercoaster of a fun packed night. A fantastic variety of talent in one night, at no cost. Let's hope there are many more Lancashire fringe festivals to come if this is anything to go by.
Reviewer: Rachel Foster
Reviewed: 18th May 2019
North West End Rating: ★★★★