Some may question reviewing the same production in less than a fortnight, but a different venue offers new opportunities and challenges to a company and added to that mix tonight was a change in the lead soprano.
Puccini's Madama Butterfly begins with marriage broker Goro (Ruslan Pacatovici) showing US naval lieutenant Pinkerton (tenor Giorgio Meladze) round the home he will share with his Butterfly bride-to-be. Pinkerton is obsessed about possessing her, despite American Consul Sharpless (baritone Iurie Gisca) warning him of the tragic consequences of crushing her wings. The beautiful butterfly duly lands in the form of young Japanese girl Cio-Cio-San (soprano Alyona Kistenyova) supported by maid Suzuki (mezzo-soprano Myroslava Shvakh-Pekar), and they are married by the Commissioner (baritone Vitalii Cebotari). Her love makes her willing to sacrifice everything which sees her disowned by her uncle, a Bonze (bass Vadym Chernihovskyi). Her butterfly silhouette as she undresses is framed by the fear of being pinned, never to escape. The act-closing four-part love duet is everything you could want it to be and more.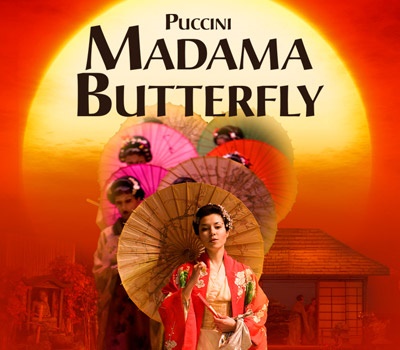 The second act finds Cio-Cio San living with Suzuki but almost destitute: Pinkerton promised to come back within a year but three years on has still not returned. She gazes out to sea, dreaming of the day they will be reunited. Sharpless arrives with a letter confirming the imminent arrival of an American ship but doesn't have the heart to tell her Pinkerton has remarried, especially when she introduces him to Sorrow (Xin En Liang), her son with Pinkerton. He encourages her to marry Prince Yamadori (Cebotari), a willing suitor, but she has swapped her native culture for American values and her hopes are restored by the arrival of Pinkerton's ship.
Cio-Cio-San waits expectantly for Pinkerton's arrival but eventually retires exhausted. Sharpless and Pinkerton arrive with Pinkerton's wife, Kate (soprano Maria Tonina), and ask Suzuki to explain to Cio-Cio-San that Pinkerton wishes to take away the child. Cio-Cio-San appears full of joy but seeing Suzuki's solemn face realises the true intentions behind his visit and only tragedy can follow.
The cast were exceptional, and I particularly enjoyed the humour of the opening act between Pacatovici's Goro, Gisca's Sharpless, who is prophetic and sympathetic in equal measure, and Meladze's Pinkerton who is certainly no gentleman and deservedly booed at curtain call before receiving rightful applause for his performance. Shvakh-Pekar puts in another wonderful turn as the ever-watchful Suzuki but the night belonged to Kistenyova's acting and mesmerising voice which touches your heart every time and you can't but help fall in love with her.
Special thanks to Stagecoach Performing Arts Wirral for providing students.
Director and Producer Ellen Kent is to be commended for the exquisite and colourful set whose paper house with sliding doors set in a spectacular garden and fabulous costumes including antique wedding kimonos reflect late 19th C Japan perfectly.
The live orchestra, conducted by Nicolai Dohotaru, flowed wonderfully through every piece with their 'Coro a bocca chiusa (Humming Chorus)' still an absolute delight. The lighting transitions, with clever use of silhouette, reflect sunset and sunrise as we move from day to night before the returning dawn heralds hope of love and opportunity which are inevitably dashed against the backdrop of waves in this powerful and heart-breaking production. The night belonged to Kistenyova's acting and mesmerising voice.
Madama Butterfly is touring throughout the UK and Ireland as part of Senbla presents Ellen Kent's Spring 2020 Opera Festival with full details available at www.senbla.com
New Brighton was the place for theatregoers in the 1890's with seven theatres but the re-built Floral Pavilion remains as the only beacon of the power of live entertainment https://www.floralpavilion.com/
Reviewer: Mark Davoren
Reviewed: 3rd February 2020
North West End UK Rating: ★★★★★