As the news constantly reminds us immigration is a global issue; from Trump and Trudeau's contrasting statements, to the Dubs scheme and the Stoke by-election, everyone seems to be debating the plight of asylum seekers and declaring their own position. Amongst this melee, Glasgow Girls feels incredibly current and vital, exploring a pressing issue with humour and insight as it attempts to challenge audiences beyond stereotypical interactions and reactions. The fact that this musical is entering its fifth year indicates how far we are from finding a solution to one of the biggest contemporary problems facing the world.
Cora Bisset's production is dynamic and engaging, effectively utilising the youthful core ensemble with strong support from Callum Cuthbertson and Terry Neason in more mature roles. The actresses who bring to life the Glasgow Girls are excellent, especially during choral moments – their description and enactment of the last stages of deportation is incredibly evocative and moving. Neason is wonderful as Noreen, highlighting the show's 'true story' origins - "I didnae really want to be in a musical" – and opening the second half with one of the standout musical numbers. At times the Glaswegian, and melting pot accents (Scottish Iraqi, Scottish Somali etc.) aren't as clear as they might be and the backing tracks (such a shame to not see a live band bringing the music to life) dominate the proceedings but enough is audible to follow the plot as our impassioned heroines campaign on behalf of their neighbours.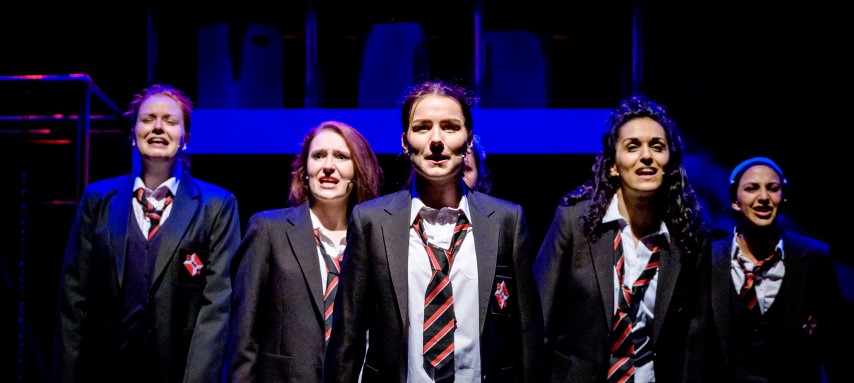 The show is peppered with musical theatre references as the characters directly address the audience to share self-aware jokes; the shady home office officials implore us to recognise the piece as less 'West Side Story', more 'one-side-story', and Noreen explains that characters in musical theatre sing when emotionally driven beyond speech. There are some great qualities to the music, the way that Bisset and her creative team have mixed the various cultural influences to create a unique musical sound which references the music of the real Glasgow Girls, clearly demonstrates the show's message of unity and acceptance. However, there is also a very disjointed feel to the music – perhaps due to the different writers involved – and moments where a song ends before its really begun or fails to drive the plot to the next stage. Suggesting that although David Grieg, Bisset and company are aware enough of the stylistic devices and rules of musical theatre to discuss them in the work they are not conversant enough to apply these rules to their writing.
On the whole though Glasgow Girls is a feisty entertaining show with an important message at its heart.
Reviewer: Clare Chandler
Reviewed: 14th February 2017
North West End Rating: ★★★★
Photo:Andrew Wilson