What do you get if you combine the chronicle of a six-time Grammy Award winning music icon, the power vocals of Vika Bull and the immensely talented Essential R'n'B Band? The answer of course is At Last – The Etta James Story.
This epic show premiered in Melbourne in 2013 and subsequently toured various cities in both Australia and New Zealand. Having returned to the Sydney Opera House for a third season in 2016, it has finally wound up on British shores to the delight of last night's sold out crowd at the Epstein Theatre in Liverpool.
This was the first night of a 12 date UK tour which tells the story of the turbulent life of a music legend. Vika Bull began the storytelling giving an insight into the early life of Etta James who was born Jamesetta Hawkins to 14 year old Dorothy Hawkins. Vika described the unstable start to Etta's life before a fantastic rendition of 'Tough Lover', which seen an impressive trumpet solo by fellow narrator Tibor Gyapjas.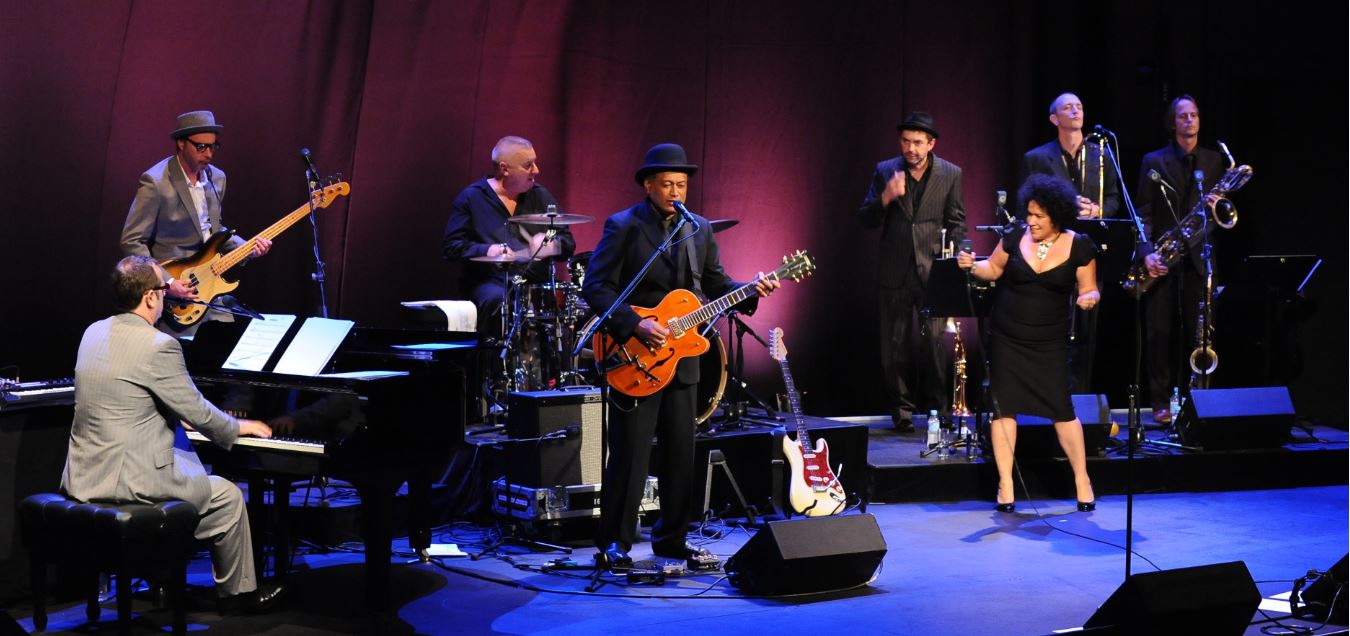 One would imagine the sold out crowd in Liverpool were avid fans of the late Etta James, but if you turned up not knowing much about her personal life, then the informative and often tragic events which littered her life were well documented throughout by both Vika and Tibor. Taking turns in between songs, they gave concise descriptions of how Etta's life unfolded and the impact certain events had on her glittering career.
Vika informed us that Etta began her singing career in a choir at St Paul's Baptist Church, but had a reluctance to sing on demand; something her step-father would ask for when returning home drunk with pals. Vika said how Etta would retort; 'I will sing when I damn well like.' And with that Vika sang. A phenomenal version of 'Something's Got a Hold on Me' followed and in the opening acapella notes, Vika's sublime vocals ring out through the theatre. The band accompanied on faultless harmonies and the energy on stage was contagious.
The story moved on to the 1950s and Etta is taken by her mum Dorothy to live in San Francisco. It is here on the streets where she begins to dabble with alcohol and other drugs and has a stint in a juvenile detention centre. She forms her band The Creolettes at the age of 14, inspired by doo-wop and soon meets fellow musician Johnny Otis who wants to audition her. With the struggle to sing on demand ever present, Etta has to perform away from Johnny and his band in the shelter of the bathroom. This led into the next song 'Wallflower (Roll With Me Henry)' – an impressive duet between Vika and trombone player Ben Gillespie.
Following that the story tells of Etta signing to Chess Records as a solo artist, touring with Little Richard and Ike and Tina, her chaotic love life, her addictions to drink and drugs, the numerous stints in rehab and several scrapes with the law.
One of the highlights of the night was 'Sugar on the Floor,' another display of the impressive vocal prowess Vika possesses and arguably the most well-known of Etta James' songs 'At Last' received a deserved standing ovation towards the end of the show.
This show charts the life and career of a vocalist who continues to inspire artists' today and Vika Bull and her band are the perfect outfit to pay homage to the late great Etta James. A fantastic night of storytelling, classic soul and jazz songs and brilliant musicianship.
Tickets for the tour can be found at www.atlastettajames.com
Reviewer: Matty Houghton
Reviewed: 28th March 2017
North West End Rating: ★★★★