Everyone has a list of performers they wished they had seen live but were unable to because they were either before your time or you just never managed to get tickets; One comedian that I have always wanted to see live was the legendary Tommy Cooper.
His talent and creativity was ground breaking and paved the way for many comedians today and some respect changed the comedy circuit forever and so I jumped at the chance at seeing a new production; 'The Tommy Cooper Show' at the Epstein Theatre.
The talented Daniel Taylor steps into the iconic size 14 shoes and fez of the man himself and does it meticulously well, it is a difficult role to play but Taylor becomes almost a carbon copy of Tommy throughout the show, he has all of his mannerisms and nuisances down to a tee and you find while you're watching this performance you start to believe you're watching the real deal.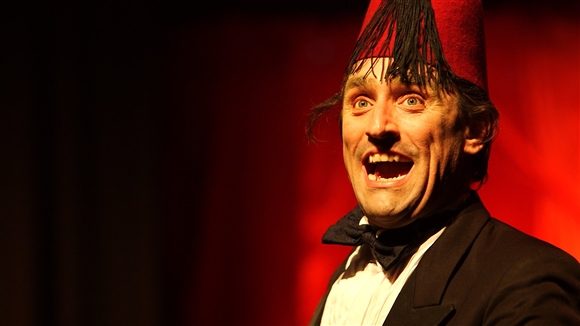 The show is a play of sorts while also acting as a recreation of Tommy's legendary stand up shows complete with those infamous magic tricks, it's divided through live routines of Tommy live on stage and cuts to the drama and scandal behind the scenes with his wife played by the skilful Sharon Byatt who as most will know proves to be a real motivator of Tommy and most people think was the driving force of his success along with Tommy's long term and long suffering manager; Miff Ferrie played convincingly by James Templeton along with the other roles he plays throughout the show including his son, an army announcer and even the Queen (now there's variety)
The stage is a fairly simple but effective stage and acts as stage within a stage as Taylor acts out the Tommy Cooper routines almost word for word and wink for wink but 'The Tommy Cooper show' tugs at all your emotions; you will be laughing at the sheer bizarreness and absurdity of jokes and original Tommy material while moments later also providing a sombre mood as you learn the behind the scenes story of his personal life and the difficulties he faced, the second half focuses on Cooper's struggles with infidelity and alcohol abuse which lead to his sad untimely demise but I was surprised to see no mention in this production of how he died and where, something which is quite poignant to his life and the story. The final Royal Variety performance in which he died played a crucial part in his life story and this was almost entirely overlooked, and that confused me.
This show was entertaining; there's no doubting that but I feel this production missed the mark on some of Tommy Coopers darker sides and was a much tamer representation of his personal life, and with a stage show; they could have delved so much further and explored so many more different angles for a character as complex as Tommy Cooper but I suppose they wanted to keep the show light hearted and funny, but that's dangerous ground with a biography drama such as this and became at times a gimmicky tribute show.
Verdict: Taylor is faultless as Tommy but the script is frustrating.
Reviewer: Max Eden
Reviewed: 26th June 2017
North West End Rating: ★★★