I wasn't WOWed by tonight's performances but I was thoroughly entertained. This was billed as "an exciting and fast moving family show featuring some of the world's greatest magicians'; I'm not sure it lived up to its billing.
For me, this was a variety show that included magic, with our amiable host Paul Stone. It wasn't exactly fast-paced either, but it did feature seven talented performers.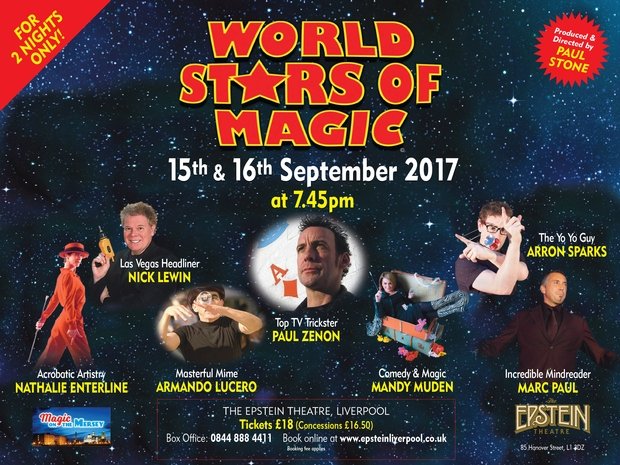 Arron Sparks brought us some yo-yo flips and tricks, which was a great warm up. Marc Paul followed and demonstrated some incredible feats of speedy arithmetic, suggestion and mind reading. His act was slick and very well crafted, a real crowd pleaser. Then came Mandy Muden, a comedy magician. She hit the right tone and endeared herself straightaway. Her jokes were a little bit naughty but nothing offensive, pantomime humour really. The first half was rounded off by the storytelling, slight of hand magic of Nick Lewin. His final illusion was amazing but, due to its scale, was difficult to see clearly.
The second half opened with Armando Lucero. He demonstrated some great slight of hand and a great sense of humour; and all without words. The lights went down and into a spotlight came Natalie Enterline as Charlie Chaplin's lovable tramp. Natalie produced some beautiful movement and characterisation; it was a wonder to behold. Finally came Paul Zenon with some more comedy culminating in a great feat of skill involving a pint of ale and a triangle!
It was an exciting and sedate moving family show (PG-rated) featuring some good humour, a variety of magic tricks, some outstanding artistry and lots of laughter.
Reviewer: Alan Harbottle
Reviewed: 15th September 2017
North West End Rating: ★★★