Compelling and Intense Production
Following its festival success in 2014, Stephen Smith's Committed returns with this production from Falling Doors Theatre. Written following Smith's own experiences as a concerned Belfast resident during the aftermath of the ceasefire, and directed here by Sarah Van Parys – a LJMU and Young Everyman Playhouse Director's Course graduate - this is a compelling and intense play that captures the ever-difficult twists and turns of the Troubles.
Set in 1993 in a Catholic ghetto in Belfast, Republican ex-prisoner Dan McCrory (Michael Sanders) has been tasked with organising the community against a plague of petty crime, evidenced in the opening scene as Ailish (Catherine Devine) arrives at her mother Meena's (Kate McAuliffe) house to find it trashed by local hoodlums. Local matriarch Briege (Geraldine Moloney Judge) is soon on the case with Dan to pull together a 'Concerned Resident's Committee' and with volunteer Martin (Thomas Galashan) they soon co-opt Ailish on to the group.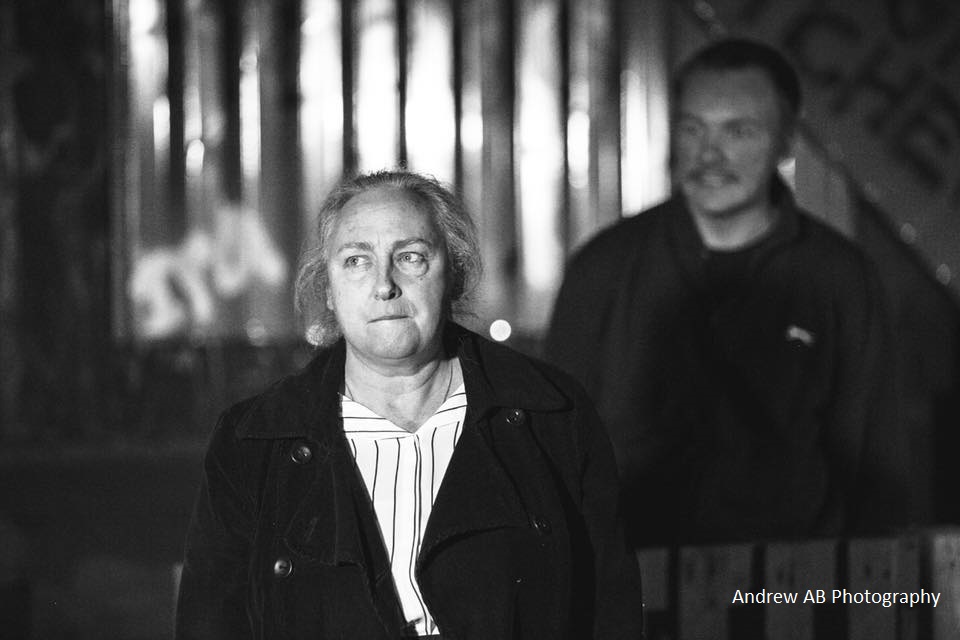 An early case involving local hood Kieran (Emmett Meehan) against the respected Mr McPoland (Liam Murphy) sees positive action come to the fore, despite the protestations of mother Martha (Lucy Fiori), and McPoland is soon also on the Committee as justice begins to be dispensed against the smouldering background of sectarianism with a hint of peace accord thrown in.
Dan's nine years behind bars have left him adrift of the new ways of the world, with the management speak that Martin is employing leading the way as the Committee develops a mind of its own as funding and responsibilities lead to titles and adopted authorities. But no matter what world you live in, justice can be rough when the stakes are high as Dan is to discover when he and accomplice Joker (Lee Burnitt) are called in to drive the point home in every sense of the word with hoodlum Bucky (Cameron McKendrick).
And then that point starts turning…
Bookended by a baby crying and the sound of gunshots, this is an intriguing piece that opens a window on to uncomfortable truths that most don't want to imagine – or choose not to – existed in Britain in its very recent past and very probably continue in a different guise to this day: put Northern Island to one side, wherever the police and authorities are not welcomed or recognised, then someone must become the judge and the jury – now there's food for thought.
There were strong performances from all the cast with special mention to Moloney Judge and Sanders as they perfectly captured and reflected the anguish of their respective characters, both of whom are the only ones who can truly see and appreciate both sides of the coin that is spinning uncontrollably throughout the play.
It is disappointing that the cast and audience were somewhat let down by the venues inability to meaningfully separate a wonderful performance space from the adjoining bar area, replete with GAA sports, Premiership football, and loud conversations, which proved an unwanted distraction.
This production is part of the Liverpool Irish Festival 2017, further details https://www.liverpoolirishfestival.com/events/
St Michael's Irish Centre was formed in 1999 and runs a full range of activities in support of the Irish community including dancing, music, language and sports. Further information http://www.stmichaelsirishcentre.org/
Falling Doors Theatre is based in Liverpool and is committed to creating powerful and original theatre. Further details http://fallingdoors.co.uk/home
Committed has one further performance at St Michael's Irish Centre on Thursday 26th October at 8pm. Tickets available on the door, or can be reserved beforehand by emailing This email address is being protected from spambots. You need JavaScript enabled to view it. or calling 0151 263 1808 Tickets available on the door, or can be reserved beforehand by emailing This email address is being protected from spambots. You need JavaScript enabled to view it. or calling 0151 263 1808
Reviewer: Mark Davoren
Reviewed: 22nd October 2017