If you think the Brexit phenomena is a recent thing then think again as thanks to Crazy Horse Productions, under the direction of Michael Wolf, we are taken back to 300 and something AD when things were starting to go wrong for our Roman cousins as their European empire began to crumble around them.
In Britannia, a corrupt ruling elite led by Governor Potus (Mike Sanders), ably supported by head of the civil service, Maximus (Mark Sebastian D'Lacey), plot to hold on to their ancestral power whilst outsourcing everything in sight to international tax-free conglomerates – well you've got to bring money in somehow when all the taxes are Rome-bound via an administrative centre in Lyon! But holding onto power is one thing but when you've got hordes of northern Europeans (that's Angles, Saxons, Goths, and Jutes to the rest of us) streaming in through uncontrolled borders, and Wales and Scotland vying for independence whilst Ireland looks for a subsidised coalition, then you need to call upon the army under the stewardship of General Agrippa (Lee Burnitt) to sort things out. If only you hadn't disbanded so many of its necessary supporting functions to save money…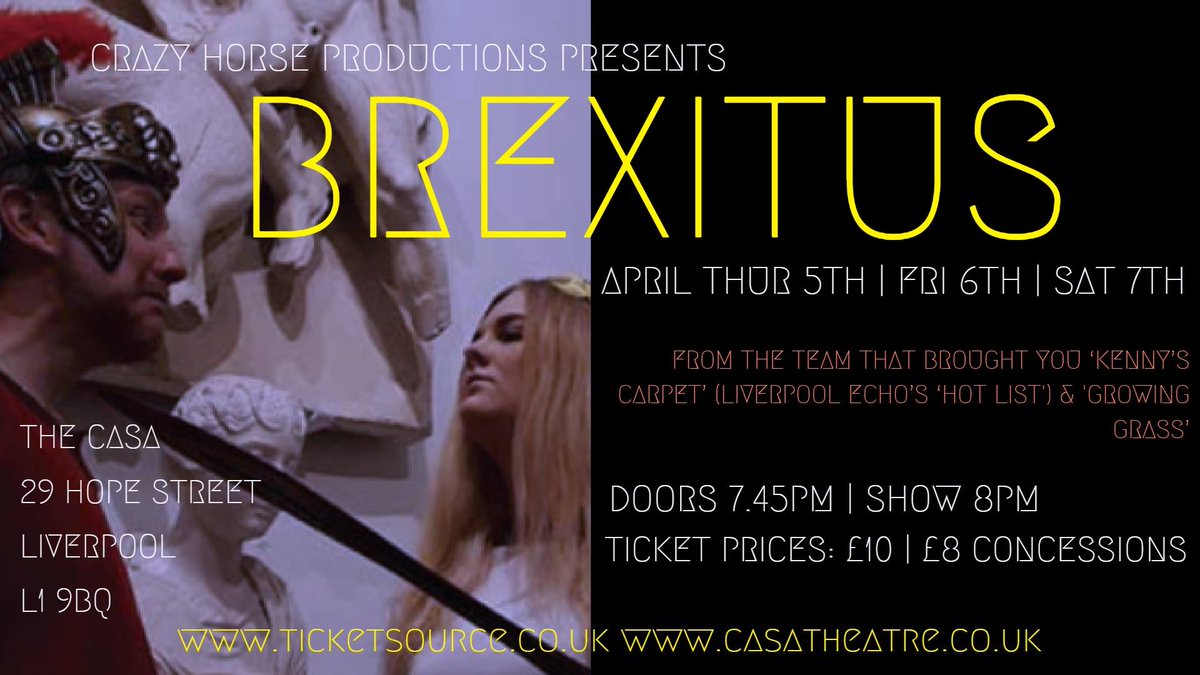 All is not lost however as our treacherous Governess Livia (Deborah Elizabeth) plays all sides for what they're worth to scheme a way through with the assistance of a devious witch (Geraldine Moloney Judge): what could possibly go wrong? Well, throw in a deranged evangelist (Wolf) and an overpaid gladiator (Derek Gray) and you do begin to wonder, especially as our beautiful maiden (Shelly Mollard) is left without a voice.
This is a clever and funny piece of writing that successfully parodies the modern-day dilemma of the Remain/Leave debate through strong comic acting and slap stick humour, with a very capable and talented cast who all perform strongly and very much for laughs with a special mention for director Wolf who stepped in to the breech at the eleventh hour and Moloney Judge whose performance bewitched throughout.
The Casa offers an intimate space that perfectly supports a production of this nature as the audience become immersed within it but it also demands strong consideration given its split level staging and whilst on the whole this was successfully exploited there were a couple of key moments when sight lines were affected which was a shame because this is a play that relies as much on what you can see as it does on its topical one-liners for which writer Ian MacDonald deserves much credit: I will certainly never think about Hadrian's Wall the same again! There were some great sound effects and the use of lighting, particularly for the actor-led scene changes, kept the momentum moving forward. The costumes and props captured the period perfectly.
Ultimately this was a strong piece of laugh-out loud theatre which poked fun at everything without being overly political and it certainly explained more about Brexit than any current affairs debate has done to date. At a time when this country is crying out for some much-needed satire to come to the fore, it was refreshing to see it so eloquently expressed tonight and with an almost full house in attendance: fringe theatre at its best and well worth seeing.
The Casa Bar and Venue at 29 Hope Street is at the heart of the University/Theatre district. Further details available at http://www.initiativefactory.org/
Brexitus concludes its run at The Casa on 7th April at 8.00pm. Tickets are £10 (£8 concessions) and available to order via www.casatheatre.co.uk or on the door.
Reviewer: Mark Davoren
Reviewed: 6th April 2018