Most people will have heard of Carole King however I doubt there are many people on Earth who have not heard and loved one of her creations. A prolific singer songwriter, King has had over 400 of her compositions recorded by over 1000 artists resulting in over 100 hits which include classics like Will You Love Me Tomorrow?
made famous by The Shirelles, The Locomotion, originally recorded by Little Eva but since covered by everyone from Grand Funk Railroad to Kylie Minogue. Arguably her most famous songs came from her Tapestry album, producing hits like It's Too Late, (You Make Me Feel like) A Natural Woman and You've Got A Friend.
Beautiful is the story of how King (Bronté Barbé), along with her first husband Gerry Goffin (Kane Oliver Parry) changed the face of music. It starts with 16 year old King trying to sell her first song It Might As Well Rain Until September.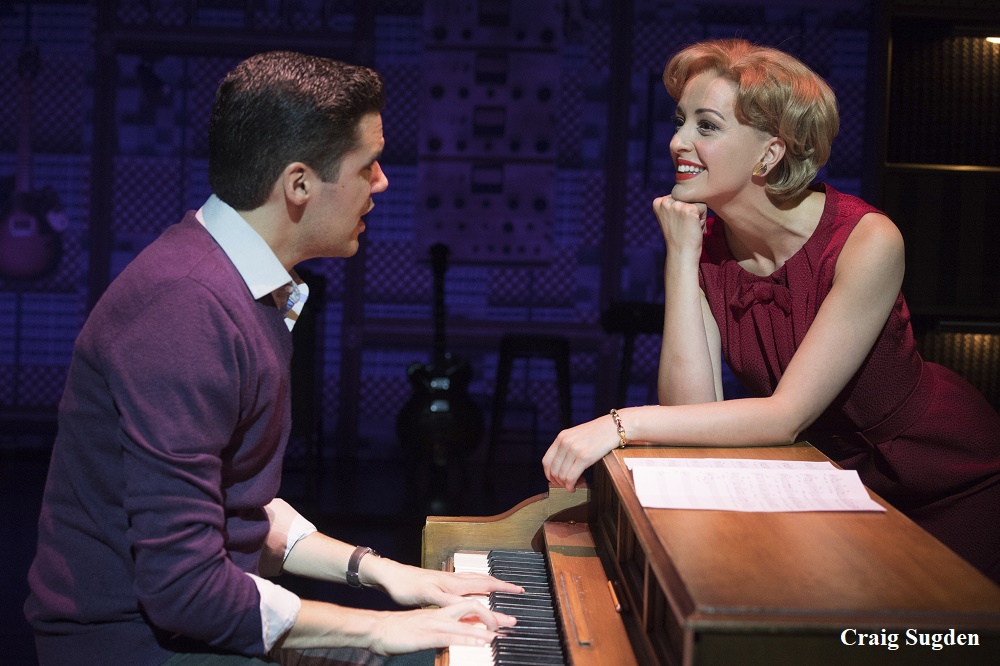 After being turned down by numerous New York song writing studios, she is finally picked up by Donnie Kirshner (Adam Howden) at 1650 Broadway. It is here that she and Goffin develop into a prolific songwriting duo, as well as their competition and ultimately great friend Cynthia Weil (Amy Ellen Richardson) and Barry Mann (Matthew Gonsalves).
Combining the songs of King/Goffin with Weil/Mann, Beautiful is one hit song after another in a perfectly woven biography of an unrequited legend. From the very first note to the unanimous standing ovation at the end there wasn't a single bad note, in fact Beautiful seems to mild a description for this musical. Flawless, stunning, perfection seem more accurate.
The ensemble cast who effortlessly switched from The Drifters to The Righteous Brothers, Shirelles to Little Eva and Janelle, brought a familiar voice to the songs, enhancing the story and shining in their own right. Howden's Donnie Kirshner was charismatic and fun, a rogue with a heart and an eye for talent. Carol Royal as Kings Mother, Genie Klein added elements of comedy and perfectly played the "New York" mother both likeable and infuriating. Unlikely couple Weil and Mann, played beautifully by Richardson and Parry, had you rooting for their dysfunctional relationship, hoping that they'd continue making beautiful music together. Parry's Gerry Goffin was a subtle masterpiece. Charming, suave and lovable, even when he shouldn't have been. You couldn't help be hope he found his happiness.
When playing a well know person, it's very easy to turn them into a caricature of themselves, impersonating them. Barbé had many of Kings characteristics, her awkwardness, quirky ways that made her the unique person she is, and I'm delighted to say she played them perfectly. Barbé managed to make Kings flamboyance understated making it feel like a version of King rather than an impersonation of her. It was her voice though, what a voice! She was faultless, strong and powerful yet so full of feeling and emotion you couldn't not be moved.
Beautiful is defined as having qualities that delight or appeal to the senses and often the mind, Excellent; Wonderful. Beautiful is all of this and more.
Reviewer: Helen Kerr
Reviewed: 1st May 2018
North West End Rating: ★★★★★