Conflict is at the heart of drama but tension here arises from wondering how the heck are they going to manage with a double decker bus on the stage... This musical has been going since 1996, but somehow, 'if it ain't broke, don't fix it' doesn't seem to apply – unlike the actual vehicle.
Actually, a bigger problem is that elephant in the room because at times, the bus has to be cunningly concealed. And all the cliff hanger scenes (so sorry about that) reminded me irresistibly of 'The Italian Job'; no wish to spoil things but I could not help laughing myself silly whenever it was imperative that they get a move on, and instead of leaping on the bus, everybody rushed off stage.
Largely unwittingly, and you can say that again – unwittingly hilarious, the show also reminded me of the story of the blind men attempting to describe an elephant (yet another one). The sum of the parts do not quite add up to the whole thing. The choreography is often clunky, when the accomplished dancers deserve much better, and let's face it, songs like 'Batchelor Boy' are deeply suspect these days, likewise 'Living Doll'. And for something set in more innocent times, it includes a bizarre cabaret scene and one with the main protagonists barely clad in towels. Costume is either over the top, well, in the case of the manipulative Stella, seaside garish or tauped over; with that, the dancing and the cut glass accents, overall it comes across as extraordinarily old-fashioned, more 40s/50s than 60s.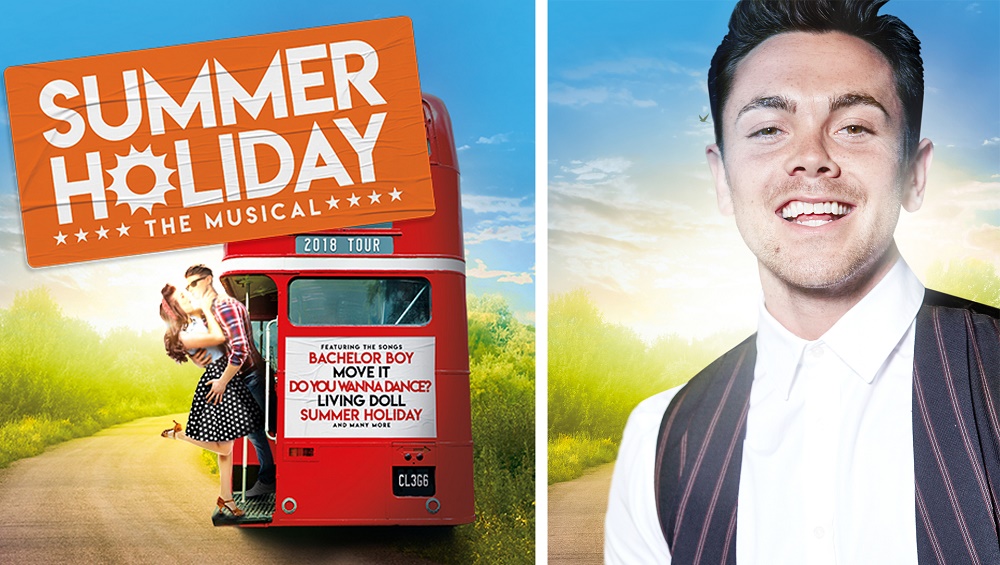 And, M'Lud, I had forgot the sub plot altogether, although it provides a heroine and a comedy duo: the aforementioned Stella, Taryn Sudding, having great fun as a sort of feline Cruella de Ville, minus the white stripe, and her hapless hubby, Jerry (Bobby Crush), who reminded me of somebody else as well except I can't remember that either. Their main concern is daughter Barbara, charmingly portrayed by Sophie Matthews, and their hope, that 'fake news' will make a star of her. Well, she ends up starring opposite the hero, the ubiquitous talented all- rounder, Ray Quinn, to make a thoroughly toothsome twosome.
His little gang (you do know the plot?), well, they've all got to fit on that bus somehow, are all much of a muchness, although Cyril (Rory Maguire) earns a round of applause with a literally breathtaking monologue. Billy Roberts is Bill, the likely lad, with the bookish nerd played by Joe Goldie: Edwin – 60s names? Never mind Mimsie (Gabby Antrobus); anybody even heard of that, outside Lewis Carroll? Yes, there always has to be an unbelievably dense character, purely for laughs, and my guess, that's her, rather than Alma (Alice Baker) or Angie (Laura Marie Benson). The boys in gleaming bus aka knights etc, etc come to the rescue of this girl group, but somebody should make up their mind: comic turn or glamorous cabaret act?
Indeed, most of the pitfalls are so easily overcome, the whole journey proves to be an easy ride, and even what looked like extremely nifty costume changes turned out to be thanks to a very large cast. As for the backdrop of oversized colourful seaside postcards, it could have been utilized with the prominence of the major landmarks peculiar to each city to evoke a greater sense of place.
But the production does end on a high note – several, in fact, with a medley of hits. So it's a feel good show all right, just as long as you don't spend too much time thinking about it.
Reviewer: Carole Baldock
Reviewed: 10th May 2018
North West End Rating: ★★★