Rainhill Garrick Society delightfully take us into the world of black comedy and slapstick humour, under the direction of Lynn Aconley, with their production of The Ladykillers, the renowned 1955 Ealing Studios film which comprised an all-star cast that included Alec Guinness, Peter Sellers, and Herbert Lom, and was subsequently adapted for theatre by Graham Linehan of Father Ted fame, premiering at Liverpool Playhouse in 2011. Those are some tough mantles to follow and RGS do not let us down as they serve up an absolute treat.
Opening to Constable McDonald (David Parker) treading the beat, the laughs are immediate as he enjoys a cup of tea at the home of lonely Mrs Wilberforce (Rosetta Parker), who just wants some company since losing her husband and has a room to let. It is not long before the creepy Professor Marcus (John Duffy) arrives to take it as rehearsal space for his amateur string quartet: Major Courtney (George Lowe); spiv Harry Robinson (Richard Parker); 'One-Round' Lawson (Rick Young); and Romanian demon Louis Harvey (Gerald Walker).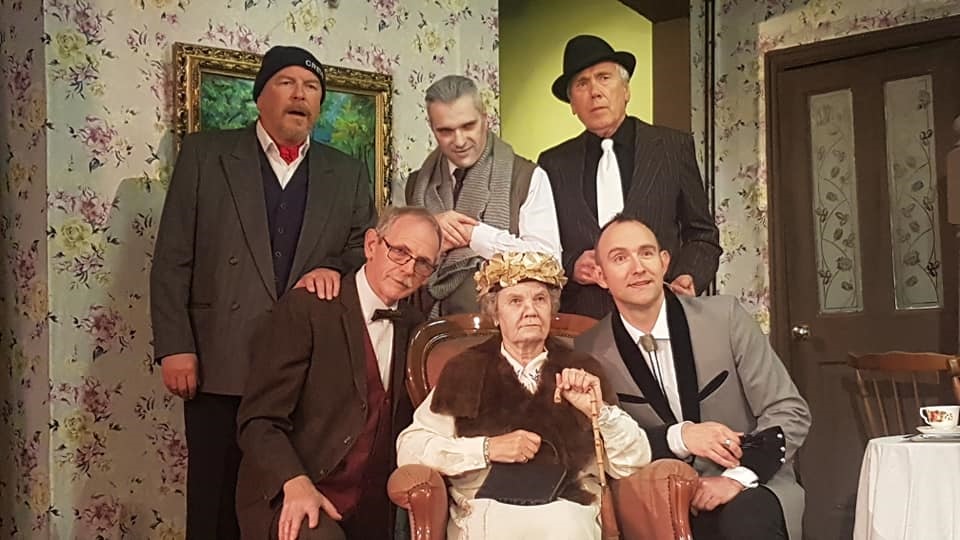 But in her lopsided home it's not music they are rehearsing: in fact, under her very nose and amidst her frequent bouts of tea-making, they are concocting a masterplan to rob the security van at nearby Kings Cross Station. But how to pull it off? Well, with a masterstroke they decide to involve the sweet old lady of course, what could possibly go wrong? Maybe having to entertain a bevy of older ladies (Tim Evans; Danni Gore; Emma Gough; Judith Martindale; Gareth Molyneux; David Parker; Ruth Proffitt; Linda Saavedra) for one.
Most productions have one or two lead roles but here we have six strong characters and it struck me immediately how blessed RGS is with talent to be able to deliver each one so convincingly: the challenge of creating a believable over the top characterisation is tough let alone six, yet here each is delivered with such aplomb and wonderful timing supporting slapstick performances from start to finish, so much so that I can't single out one over another, they were all brilliant.
Set design by Richard Parker was wonderfully executed by Norman Martindale to provide a split-stage with the living room and kitchen on stage level, and a small set of stairs up to the bedroom, with suspected subsidence perfectly reflected in the topsy-turvy fixtures and fittings. The rooftop scene was cleverly executed, and the necessary lighting and sound effects supported the action and scene changes perfectly.
To paraphrase from the play: being thoroughly and hilariously entertained is one of the pleasures of being in the audience at a RGS production – this is one of their best and not to be missed.
The Ladykillers plays at Rainhill Village Hall 18th – 20th October with performances starting at 7.30pm. Tickets are available from Rainhill Village Hall, Rainhill Post Office, or ticket hotline 01744 813 429.
Rainhill Garrick Society was formed in 1942. They meet weekly on Tuesday and Thursday at Rainhill Village Hall and are always looking for new members, so whether you want to tread the boards or just help backstage then get in touch – who knows where it might take you, but you'll certainly have fun with this very friendly, talented, and welcoming group. For further information on their productions or to get involved then visit their website http://rainhillgarrick.co.uk/
Rainhill Village Hall is within walking distance of Rainhill Station and there is free car parking available – post code L35 4LU. There are also some lovely restaurants and bars in and around the village if you want to treat yourself before the show and make a night of it.
Reviewer: Mark Davoren
Reviewed: 14th October 2018
North West End Rating: ★★★★★