Rock of Ages, originally opened in London in 2011 and played at the Shaftesbury and Garrick theatres before closing in 2013. It then embarked on a nationwide tour. It was also turned into a film in 2012, starring Alec Baldwin, Russell Brand and Tom Cruise.
Rock of Ages tells the story of Sherrie, who moves to LA from Kansas. When she arrives in LA, she gets mugged and Drew (or Wolfgang Von Cult) tries to rescue her. He fails, but still becomes her knight in shining armour. He takes her to his place of work, the famous Bourbon room, where the owner (Dennis Dupree) gives her a job straight away. She starts work and things are looking promising for Sherrie and Drew that is until Stacee Jaxx and his band Arsenal arrive to perform their last gig as a band. Stacee, whose reputation precedes him, invites Sherrie into the men's bathroom. After their encounter, Stacee asks Dennis to make Sherrie leave the bar, even just for the night. She leaves and ends up being taken in by Justice Charlier, the owner of the Venus Gentleman's Club. A few months pass, Drew has ended up as part of a boy band and Sherrie is still at the strip club.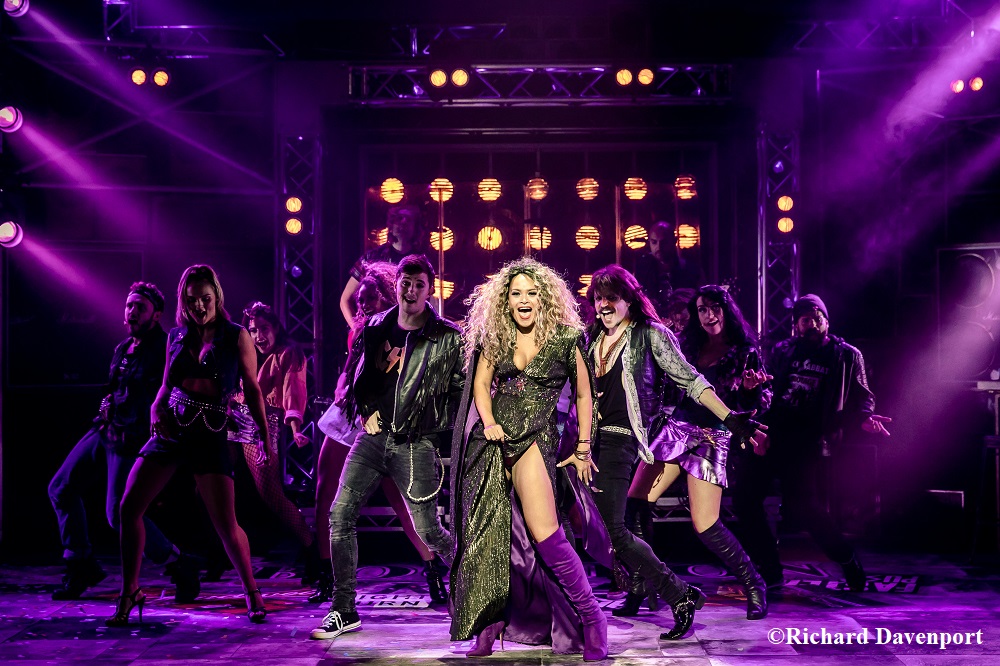 They meet each other in the street one day, and realise their feelings for each other are still there. Lonny (Dennis' sound guy/right hand man) tells Drew that he needs to fight for Sherrie, so he races to the train station to try and catch her before her midnight train.
Having seen the production in London, and on its previous tour, I was apprehensive about this new production. With Selladoor productions taking the reins, the show was bound to be different for the previous productions, but they managed to keep the essence of the show. Nick Winston's choreography, whilst different, still keeps 80s theme rocking. As well as the choreography, Winston also directs the show, and you can tell he is trying to keep it as close to the original as he can.
The script was kept pretty much the same, with minimal changes, and the cast were the right choices to keep the humour and comedic timing as true as they could. The stand outs for me were Lucas Rush, as Lonny, his comedic timing and delivery of lines was spot on, and Zoe Birkett as Justice, who was vocally amazing. Kevin Kennedy was fantastic as Dennis, even if it was reminiscent of his role as Pop, in We Will Rock You. Danielle Hope was vocally strong as Sherrie, and whilst there were a couple of cracks from Luke Walsh as Drew, in Act 1, he was a lot stronger and more relaxed throughout Act 2. Whilst some of Vas Constanti's jokes as Hertz, feel a bit overplayed at time, he definitely plays the villain well, and we also get to see the regretful side of him. Andrew Carthy plays a wonderfully camp Franz and partners well with Rhiannon Chesterman's Regina. A special mention should also go to Sinead Kenny as Waitress Number 1, who was so powerful in 'To Be With You.'
As Lonny says, it's a show filled with poop jokes and Whitesnake songs, but for anyone with an open mind, this is definitely a show to watch. But don't forget 'sometimes the dreams we come in with, are not the ones we leave with…. But they still rock!'
Reviewer: Jenn McKean
Reviewed: 23rd October 2018
North West End Rating: ★★★★