After being involved in youth theatre productions myself in Sheffield, I was excited to see what youth theatre is like in Liverpool and this co-production between The Heath Performing Arts Academy and LIPA 4:19 proved that there are some extremely highly talented young people within the city.
Jesus Christ Superstar is Andrew Lloyd Webber and Tim Rice's classic rock opera telling the story of Jesus' last seven days on earth, controversially, from the perspective of His betrayer Judas Iscariot. The show is perfectly set in the beautiful Epstein Theatre, which has décor giving vibes of the Roman era. The set for the production is simple but this really enables the audience to focus solely on the strong performances from all the cast.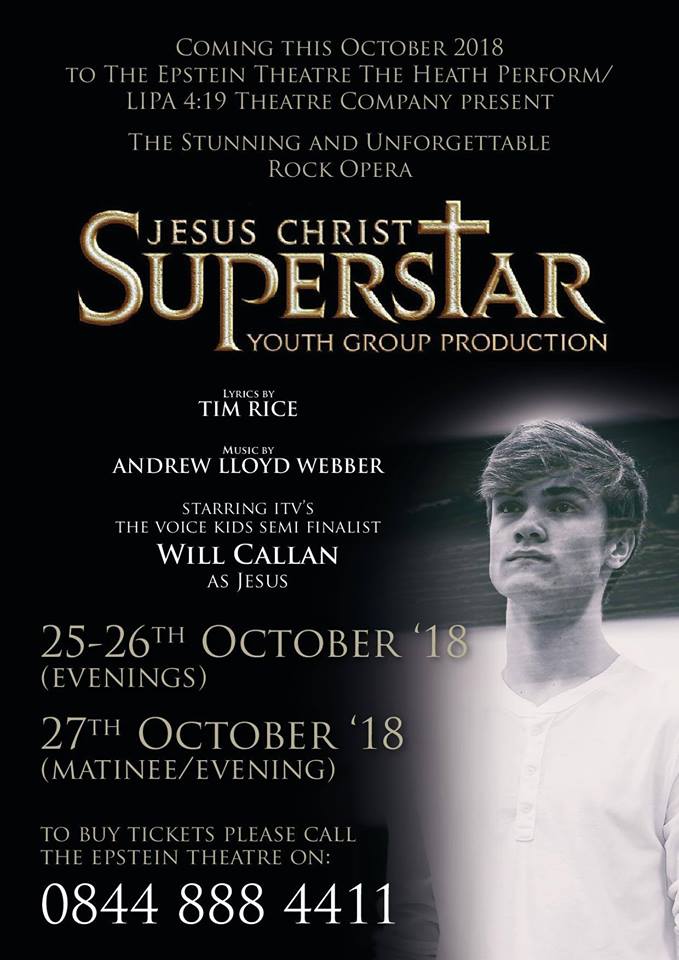 Will Callan plays the title role of Jesus of Nazareth himself. His performance is something very special. His depth to his portrayal of Jesus was excellent and his vocals were outstanding, as expected from someone who has recently competed on ITV's The Voice Kids. Isabelle Woodruff takes on the role of Mary Magdalene. Her vocals are stunning throughout and her performance of the iconic song I Don't Know How To Love Him is a joy to listen to. The chemistry between her Woodruff and Callan is very real and believable to watch unfold.
Alix Hushin plays Caiaphas with great expertise. Although the role was originally written for a male, Hushin makes it appear that it was always a female role. Her strength is excellent on stage and her portrayal is wonderfully villainous. Emily Sherwen plays Annas, another role originally written for a male, with an equal amount of strength and villainy to Hushin. Both performers have impeccable diction and clarity throughout the show.
Special mentions must go to Ellis Jones, who made for a wonderfully flamboyant Herod, Sydney O'Brien, whose vocals in the role of Peter were excellent, and Imogen Hines, who leads a very impressive company number as Simon Zealots.
The real stars of this fantastic production for me were Morgan Brame as Pilate and Tom Martin as Judas Iscariot. Brame's performance of Pilate's Dream is wonderfully understated and a great contrast to the epic nature of the rest of the score. The conflicted nature of the character comes across very well towards the end of the show. Martin's performance is that of a true professional. His vocals are truly phenomenal, his acting in the role is spot on and his stage presence is excellent. Although this is his first musical theatre performance in over five years, he comes across a true musical theatre pro, if not veteran.
Claire Radford's choreography looks excellent and is very professionally executed by the terrific young ensemble. The set design by Amberline Scaffolding Ltd is simple but this enables all the focus to be on the story and the performances. The large band for this show, under the direction of Chris Bastock, sound tremendous.
This cast is excellent and I predict great futures in the theatre industry for many of the performers in the show. If you're living in Liverpool or the surrounding areas, please do go and support this fantastic company at the Epstein Theatre until Saturday 27th October 2018.
Please note: Isabelle Woodruff, Ellis Jones and Tom Martin do not appear as Mary, Herod and Judas in all performances. They share the roles with Sasha Nicol, Dominic Williams and Jamil Abassi respectively.
Reviewer: Jacob Bush
Reviewed: 25th October 2018
North West End Rating: ★★★★