Welsh National Opera, under the direction of Xevi Dorca and Joan Font, bring us Rossini's delightful retelling of Cinderella but with a few twists on the way in this candy-coloured world of fairy tale, full of wit, larger than life characters, and vibrant costumes. Oh, and not forgetting the mice!
In Don Magnifico's (Fabio Capitanucci) crumbling castle, his daughters Clorinda (Aoife Miskelly) and Tisbe (Heather Lowe) squabble with their half-sister Angelina (Tara Erraught) also known as Cinderella, who is forced to scrub floors. As she dreams of a better life she is visited by a mysterious old beggar, Alidoro (Wojtek Gierlach), who is in fact Prince Ramiro's (Matteo Macchioni) tutor in disguise, and he is impressed with her sensitivity.
At Alidoro's behest, Ramiro's courtiers arrive at the castle with invitations to the Prince's ball, with Ramiro himself coming along disguised as his own valet to take a look at Magnifico's daughters, and he and Cinderella are quite taken with each other.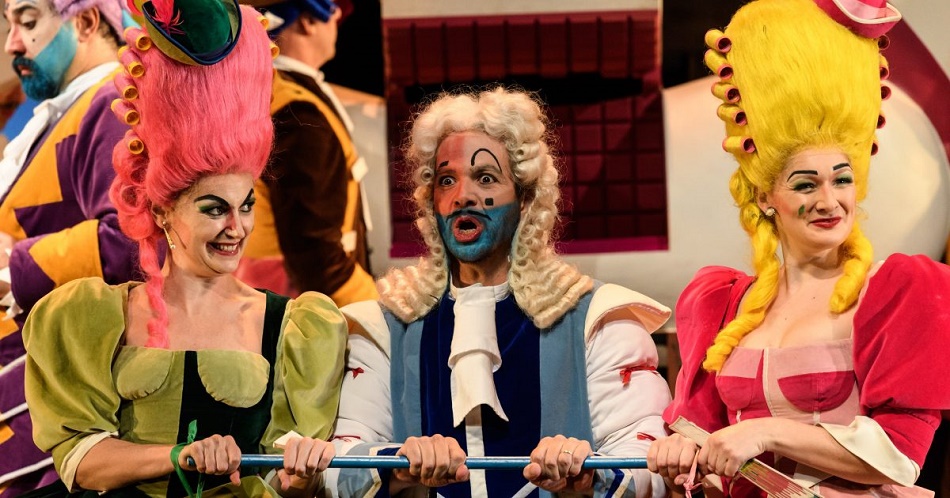 Alidoro secretly arranges for Cinderella to attend the ball where the Prince's valet, Dandini (Giorgio Caoduro), is in turn masquerading as the Prince, and she makes a sensational impact on all present. She gives Ramiro one of her two bracelets and tells him that if he can find her, he can marry her.
Ramiro and Dandini now revert to their true identities, much to the chagrin of Magnifico and his daughters, and with Alidoro ensuring his carriage breaks down outside of Don Magnifico's castle, Ramiro is able to find Cinderella and reveal his true identity: will true love finally find its way?
Tomáš Hanus conducts Rossini's sparkling score, as we watch La Cenerentola transform from rags to riches through the power of music and the entertaining antics of a chorus. The delightful wonderland, much rooted in commedia dell'arte, from designer Joan Guillén provides splashes of colour everywhere. Swift and clever set changes and prop moves were seamlessly effected through the wonderful choreography of the dancing mice (Juan Dario Sanz Yagüe; Ashley Bain; Meri Bonet; Lucy Burns; Maria Comes Sampedro; Lauren Wilson) as an accompaniment to the arias, although at times visual overpowers the sound and becomes a distraction.
Capitanucci, Miskelly, and Lowe excel as the comic baddies whilst Caoduro's Dandini effortlessly moves between the charade of prince and valet with such good humour that he often upstaged all around him, so much so that I was left to wonder whether he would have made a better Ramiro after all. Despite some early acoustic issues and sadly a minor prop mishap later, this is an enjoyable light-hearted production all the family can enjoy.
You can experience the world of opera with WNO this Autumn with their performances of War and Peace, La Traviata and La Cenerentola, as well as Rhondda Rips It Up! Further details at https://wno.org.uk/
Liverpool Empire Theatre dates from 1925 and has the largest two-tier auditorium in Britain which can seat 2,350 people and has the largest stage outside of Covent Garden.
Reviewer: Mark Davoren
Reviewed: 8th November 2018
North West End Rating: ★★★★