In 2007, a new sitcom hit our screens featuring an ensemble cast of holiday makers and staff at the Solana all-inclusive holiday in Benidorm. Benidorm went on to make 10 series, win two National Television Awards a British Comedy Award Nomination and a BAFTA Nomination. Following on from the announcement that Series 10 would be the final series, we now have the stage version, Benidorm Live.
The first thing I thought was "Is this going to work?" How do they translate a well-known show based in a hotel in Benidorm to a theatre stage in Liverpool? With the fantastic writing of Derren Litten, director Ed Curtis and Choreographer Alan Harding they did it and brought the Solana and everything that goes with it to life.
The set was fantastic, a central piece showing the Solana hotel. The first act moved through different places in and around the hotel with the parts of the set spinning to bring on a new set with the help of the ensemble causing a slight distraction in front while the set magically appeared behind them. Set and Costume designer Mark Walters has done a phenomenal job creating this beauty of a set. Act two was more static set wise taking place in the Neptune's Bar with clever use of lighting and cast moving around the set to pick out small changes of area.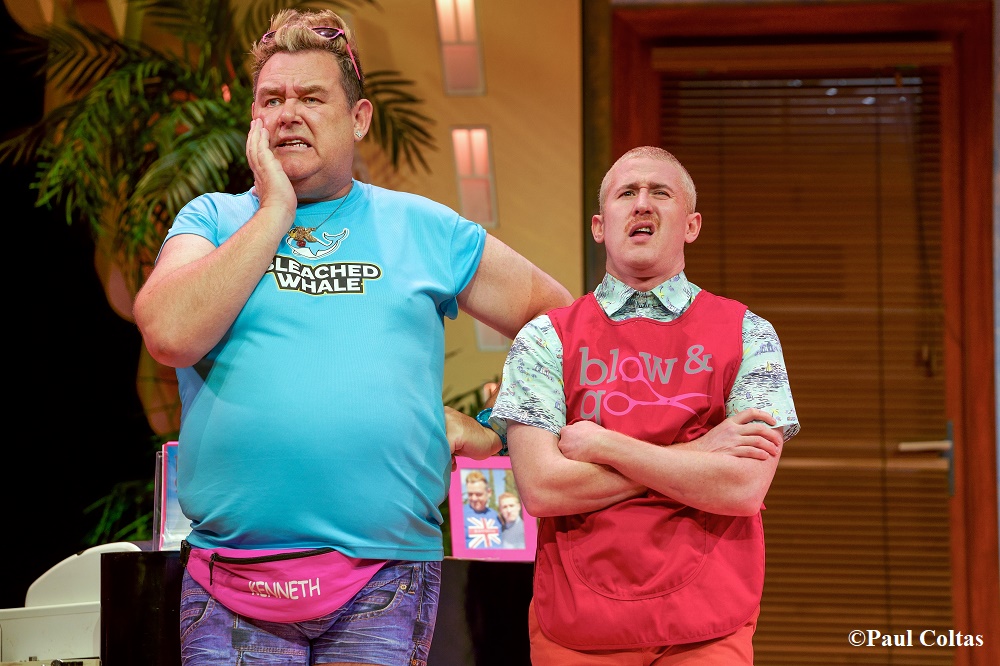 Benidorm Live sees six main characters from the Television series, series regular and resident Neptune's singer Asa Elliot and a group of nine characters and ensemble to make up this absolute joy of a show.
Benidorm Live follows the story of the three-star Solana hotel as it is under threat of being closed and taken over by another company and how the staff work to try and keep the hotel open and running as the Solana.
Sophie (Tricia Adele-Turner) and husband Ben (Bradley Clarkson) play a couple who have been sent to the Solana as their original hotel have double booked them and are sent to the sister hotel for a couple of days. Adele-Turner and Clarkson are brilliant in the roles and add a great depth to the play, giving the original TV cast reasons to bring out those brilliant characters.
Shelley Longworth as Sam is wonderful to watch, injecting comedy and song with a beautiful singing voice.
Sherrie Hewson returns as Solana manager Joyce Temple-Savage and she does not disappoint. Keeping up the snobby exterior but showing her softer side of as she worries about losing everything.
Janine Duvitski as Jacqueline is perfection to watch, from the moment she enters the stage with her famous 'Hellloooo', Duvitski has the audience in stitches with one liners and a fantastic version of Rubber Ball, full of energy bouncing round the stage.
Barman Mateo played by Jake Canuso was a hit with the audience, bringing his flirty side and skimpy costumes but his dancing throughout the show was phenomenal.
Blow 'n' go manager Kenneth (Tony Maudsley) is a huge hit on the TV programme and this did not change on stage. Larger than life and full of wit and one liners, Maudsley is a joy to watch on stage. With outrageous costumes and a wonderful storyline to follow, Maudsley had the audience in the palm of his hand and really played on that.
For me, Adam Gillen as Liam stole the show for me. Gillen plays the role so well, so naïve and physical, it was like Lee Evans had taken over his body. Gillen's version of Unforgettable was a standout moment of the evening and will stay with me for a long time.
Benidorm Live is carried along with other characters such as Derek (Damian Williams) and Ricky (Will Jennings) and a wonderful ensemble that bring this hit of a show and a fantastic evening of entertainment to life. For lovers of the TV show, this is utter perfection, for those who may not have seen the show, a fantastic night awaits you and will have you laughing out loud and eventually dancing in the aisles.
Reviewer: Damian Riverol
Reviewed: 12th November 2018
North West End Rating: ★★★★★