The Twisted Nerve Theatre Company's debut production is Veronica's Room, a 1973 play from Ira Levin (better known to many as the author of Rosemary's Baby), which explores the fine line between fantasy and reality.
Students Susan (Caitlin Mary Carley Clough) and Larry (Joe Matthew Morris) find themselves enticed to the Brabissant mansion by its caretakers, John (Gareth Crawshaw) and Maureen (Maggi Green) Mackey to meet Cissie, the sole surviving member of the family. They insist that Susan bears a striking resemblance to Veronica, Cissie's long-dead sister. If she will agree to briefly impersonate Veronica, they believe it will comfort the dementia-afflicted Cissie and allow her to die in peace. But what begins as a simple errand of mercy quickly spirals into a nightmare cycle of guilt, sacrifice, and murder. Once dressed in Veronica's clothes, Susan finds herself locked in the role and locked in Veronica's room. Or is she Veronica, in 1935, pretending to be an imaginary Susan? Or is Veronica someone else, somewhere else, after all? The question we are faced with is: are you brave enough to enter Veronica's Room?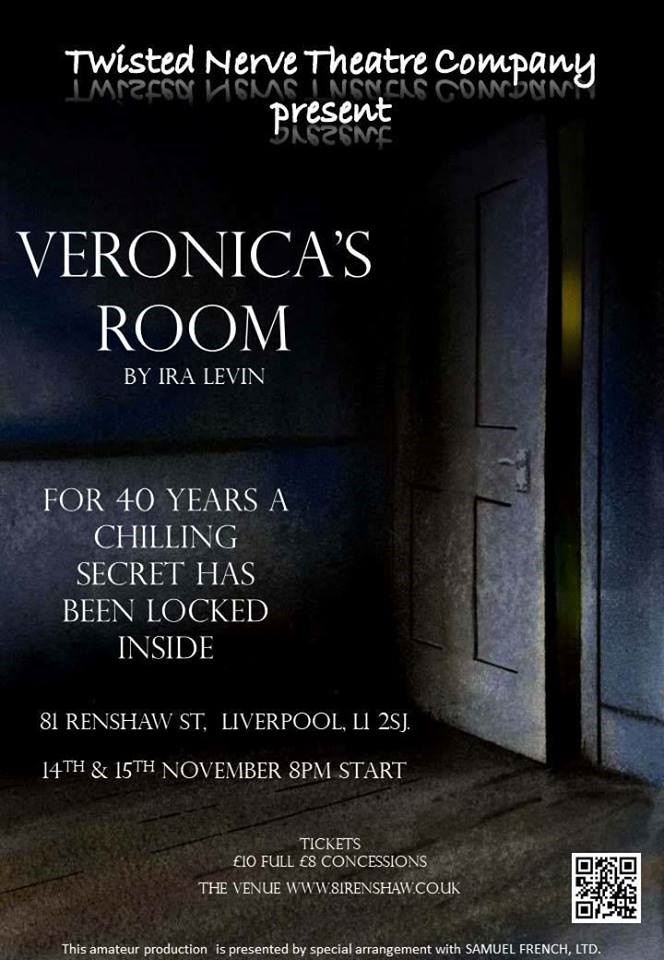 It is interesting to see an 'older' play performed as it starts out as a slow burner, coming to life on a turn in the plot, in contrast to modern writing which throws us in at the deep end. This threw me initially, and the cast were a little nervous, but under the capable direction of Elaine Stewart, assisted by Nick Fawdry on sound and light, it soon began to sizzle with teasing twist following tantalising turn as the plot unfolded first one way then another, with always an extra surprise in store. No matter how good the writing you still need a director and cast to make it work and we were not let down in that regard.
81 Renshaw, like many smaller venues, offers its own challenges which can make or break a production if not carefully thought through and it was refreshing to see that Stewart and her stage crew of Lynn Bradley and Susan Reeves, had taken full advantage of what the venue has to offer as we were treated to an intimate performance that very much placed us within Veronica's Room as the action unfolded, with entrances and off-stage action from the rear adding more shivers down the spine.
There were accomplished performances from all the cast with Clough impressive as she literally transformed before our eyes. I must make special mention of Crawshaw who stepped in only two days before the production due to cast illness and really made the role his own with a devilish glint in his eye.
The Twisted Nerve Theatre Company was established by Stewart and Fawdry, and Veronica's Room is their debut production. This was the second of a two-night run which both pleasingly sold out. It is a pleasure to see a production that very much puts the acting to the fore and complements it with staging, sound, and lighting, and I very much look forward to what comes next from this talented duo. Further details at https://goo.gl/SQ65JM
81 Renshaw Street is a café serving up the freshest, heartiest homemade food, to eat in or take away. Their basement record store has thousands of new and second hand as well as collectibles and was enough to make me go and invest in a record player. They provide regular entertainment, such as tonight, with a purpose venue at the rear. Further details http://www.81renshaw.co.uk/
Reviewer: Mark Davoren
Reviewed: 15th November 2018
North West End Rating: ★★★★