One of the main challenges for any production – and particularly musical theatre – is that there are usually only 3-4 key roles with the remainder making up the cast. How do you keep everyone on board? Well for Rainhill Musical Theatre Company – which is blessed with an array of talent – the answer was quite simple: you call for Bryan Dargie and let him loose on every part of this production of over forty numbers and where each cast member gets to shine, whether it be in solo, duet, a group, or full company number.
A whistle-stop tour through eighty years of musical theatre is no mean feat to pull off but Dargie cleverly breaks it down into four pastiches with a mix of popular and less well-known pieces playing on every mood and emotion, on a stage left cleverly exposed – including the wings – as we peer into the world of theatre from the performers side.
We open to the Golden Age (1938 – 1960) where West End takes on Broadway and delight to pieces from Oklahoma, Annie Get Your Gun, South Pacific, Gypsy, The Boy Friend, before closing with a wonderful medley of tracks from both West Side Story and Oliver!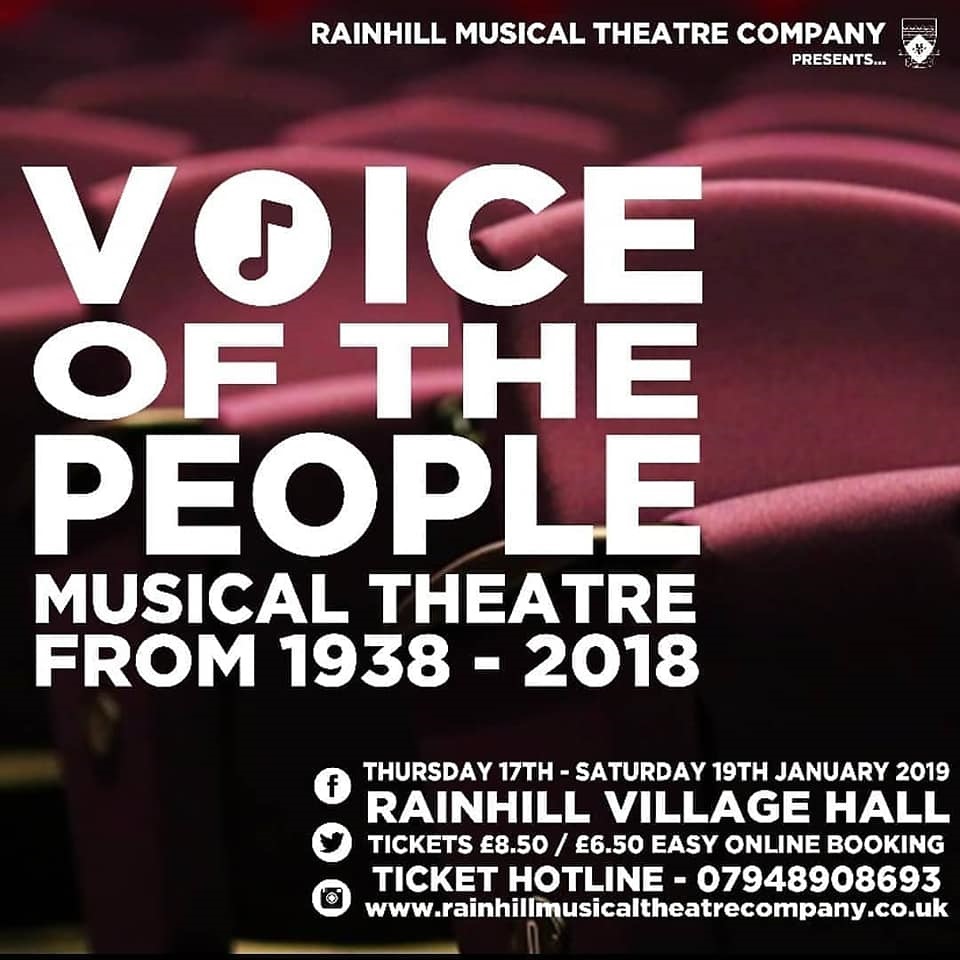 Social Conflict (1960 – 1979) and its challenges of constraint, darkness, and protest are explored next with pieces from Hair, Company, Jesus Christ Superstar, Chicago, Sweeney Todd, A Chorus Line, and Evita, as well as a production unknown to me – The Wiz – which has made me want to go and find out some more about a show that crosses the Wizard of Oz with 1970's blaxploitation.
After the interval, Entertainment For The Masses (1980 – 2000) took us through the emotional feel-good 'rags to riches' story as we took in 42nd Street, Barnum, La Cage Au Folles, Blood Brothers, Aspects of Love, and two more fantastic medleys, this time from Les Misérables and Miss Saigon.
The final piece of this amazing puzzle came with All Things For All People (2001 – 2018) with a focus on modern shows exploring living memory issues such as gender, race, and discrimination, with pieces from Wicked, Waitress, Billy Elliot The Musical, Avenue Q, Matilda The Musical, Beautiful: The Carole King Musical, Dear Evan Hansen, and finally, This Is Me from The Greatest Showman, which each and every one of our cast was tonight and deserving of individual mention:
Pip Bradshaw; Marjorie Davies; Dru Fitzgerald; Liam Fitzgerald; an illuminating Ruth Gibb; Julie Gould; Helena Hanlon; Alan Harbottle; Claire Heaton; Marion Hitchen; Sarah Johnson; Claire Jones; Maureen Kinsey; Barbra Marsh; Chris McNamara; Julie Molyneux; Holly Murphy; Charlotte Orme; Paul Robinson; Michelle Williams; Dawn Wright.
Such a diverse portfolio demands great orchestration and Musical Director Wayne Oakes was superb as always leading his orchestra (Trevor Bartlett; Kevin Bates; Ben Knowles) in perfect accompaniment alongside the wonderful choreography from Dargie whose choice of simple and effective costumes and props allowed us to move seamlessly between period and piece.
Fantastic stage management from Tony Dagnall with support from Les Dagnall and Charlie Richardson kept things ticking over whilst Keith Marsh led front of house with assistance from two talented ladies – Bláthíne Maguire and Samantha Moores – both of whom I hope to see in future productions.
My first introduction to RMTC a few years ago made me fall in love with musical theatre, and with this production they are doing it all over again: brightening up the darkest night, you got a friend in me.
Voice of the People performs at Rainhill Village Hall 17th – 19th January at 7.30pm. Tickets are priced at £8.50/£6.50 with easy online booking at www.rainhillmusicaltheatrecompany.co.uk or ticket hotline 07948 908 693.
Reviewed by Mark Davoren
Reviewed: 17th January 2018
North West End Rating: ★★★★★