The Norman Conquests is a trilogy of plays written by Alan Ayckbourn, each depicting the same six characters over the same weekend in a different part of a house. Table Manners is set in the dining room; Round and Round the Garden in the garden; and with this production, Living Together, set in the living room. Whilst not designed to be performed simultaneously, and each play is self-contained, many of the scenes overlap and the exit of a character from one play corresponds with their entrance in another. Similarly, noise and commotion in one space can sometimes be heard or referenced by characters in another.
The youngest of three siblings, Annie (Tracey Duffy) lives in a countryside house taking care of her demanding mother and has decided that she needs a weekend off. Brother Reg (David Parker) and his wife Sarah (Jo Webster) have agreed to come and take care of mother for a week-end while Annie goes on a short trip. However, Annie is secretly planning to meet up with her sister Ruth's (Alison Mawdsley) charming, rakish husband Norman (Rob Williams) for an illicit weekend together although she is having second thoughts as she has never done anything like this before.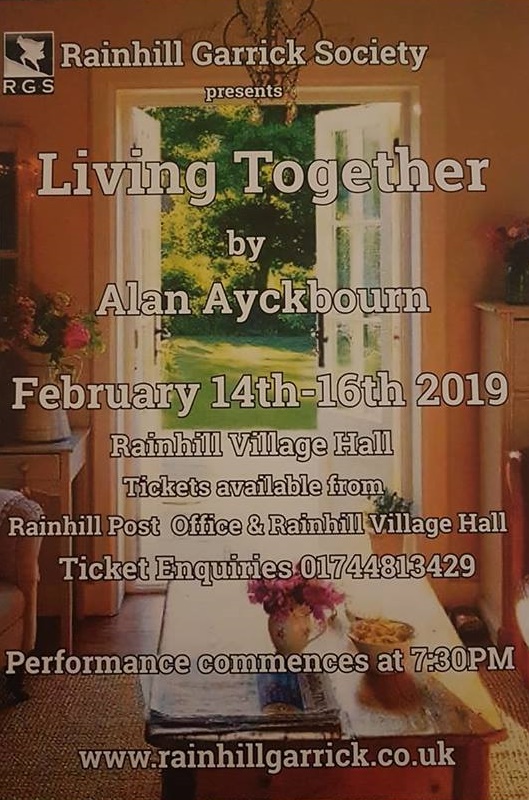 Things begin to go wrong when Norman shows up at the house early to pick up Annie contrary to plan and then decides to give some relationship advice to Annie's 'friend' Tom (George Lowe) who thinks he may be going away with her. With everyone ending up at the house for the entire weekend, it is only a matter of time before various arguments ensue with the characters have differing degrees of understanding about what's really going on.
Rainhill Garrick have proven very adept at wildly comic and poignant drama and this production, under the direction of Rosetta Parker, continues that glorious vein in a piece that demands seamless performances given the opposing views of the characters on the events unfolding. No one would begrudge Duffy's Annie an escape as she deservedly draws our sympathy; Parker's Reg is perfectly laid-back despite being driven by Webster's delightfully garrulous Sarah. Mawdsley's Ruth shows a perfect resignation to a life of work as a result of Williams' nefarious Norman whom he delivers with much glee. And then there's Lowe's wonderfully logical but ultimately disjointed Tom who fails to see anything at all amid some delightful slapstick and a powerfully orchestrated squabble.
The set design by Richard Parker and Williams deserves applause for its attention to detail and cleverly providing greater depth by including portals to the garden and the dining room where the off-stage action of the other two plays unfolds.
Living Together plays at Rainhill Village Hall 14th – 16th February with performances starting at 7.30pm. Tickets are available from Rainhill Village Hall, Rainhill Post Office, or ticket hotline 01744 813 429.
Rainhill Garrick Society was formed in 1942. They meet weekly on Tuesday and Thursday at Rainhill Village Hall and are always looking for new members, so whether you want to tread the boards or just help backstage then get in touch – who knows where it might take you, but you'll certainly have fun with this very friendly, talented, and welcoming group. For further information on their productions or to get involved then visit their website https://www.rainhillgarrick.co.uk/
Rainhill Village Hall is within walking distance of Rainhill Station and there is free car parking available – post code L35 4LU. There are also some lovely restaurants and bars in and around the village if you want to treat yourself before the show and make a night of it.
Reviewer: Mark Davoren
Reviewed: February 2019
North West End Rating: ★★★★★