The team who brought us Kitty Queen of the Washhouse, present Weave, the story of a scouse girl with possessed hair extensions. Written by John Maguire and directed by Margaret Connell, Weave is a hilarious one woman show which peeks behind the filter which we live our lives behind to expose the harsh reality beneath.
Weave opens on a neon lighted, dry iced smoked bedroom strewn with clothes and make up. The bedroom belongs to Arabella (Samantha Alton) and the first we see of her is her silhouette dancing behind a white screen in the corner of the stage. Falling into view from behind the screen, clutching a pizza box, with false eyelashes stuck to her cheek, Arabella tries and fails to take off her dress before passing out on the bed.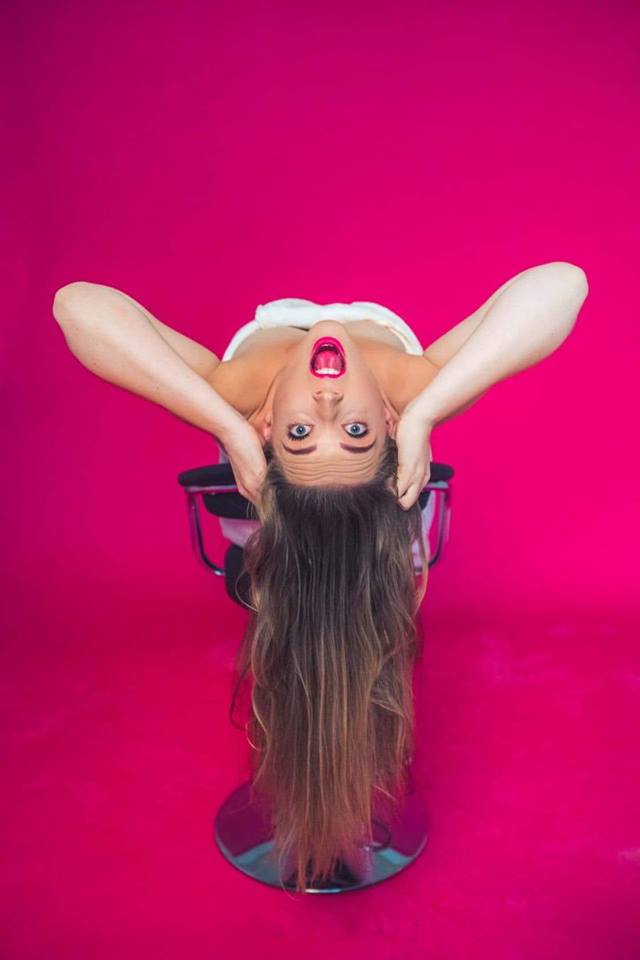 Waking up the next morning, she finds out that her friends, the "Glam Squad", have uploaded an embarrassing video of her to Facebook which has caused her boyfriend Andrew to change his relationship status to single. Turning down an evening at the pub quiz with her old friend Theresa, who has become smug and boring since going off to university, Arabella prepares to face the rest of her day. Fuming with her friend Rachel for uploading the video and Andrew for overreacting to it, she dresses for a run to get a #fresh selfie online as quickly as possible before going shopping to get everything she needs for another night out, including uber glamourous real Russian hair extensions.
Returning from the shops with her Primark purchases cleverly concealed in boutique shopping bags, Arabella starts to get ready for her night out. But she is plagued by constant phone calls and messages saying that Andrew is taking Rachel out and she needs to be careful what she wears to cover her fat. Increasingly unhappy and confused about her friends' and boyfriend's behaviour, Arabella responds in a nonchalant and cheery manner to everything thrown at her, because nothing is more important than how she appears to everyone else.
Arabella's phone is a key prop in this play and the phone screen is cleverly projected onto the stage so we can see the messages she is receiving as well as what she can see on social media. A voiceover adds details to flesh out the background of the story and is imaginatively used as a narrator to comical effect. Voiceovers are also used to portray Andrew and Arabella's mother, meaning that Arabella remains the only person we actually see. This is a really nice touch, considering that one of the major themes of the play is how everyone sees Arabella and how this affects how she sees herself.
As Arabella begins to piece together the things being said to her, her new hair extensions come to life and tell her a story which will change how she sees everything. How far is she willing to go to fit in with the Glam Squad and are they even worth fitting in with at all?
This is an amazing play which explores the depths of shallowness and the value of true friendship in a refreshingly unique way. The beautiful poignancy of the core message is coupled with original and hysterical comedy which cause tears of laughter and sadness throughout.
One of the most difficult things in theatre is for an actor to stand on a stage alone and mesmerise the audience singlehandedly. Between Kitty and Arabella, Samantha Alton has raised the stakes for one actor shows to a whole new level of incredible quality which I have no doubt she will continue to surpass.
Weave was produced by ArtsGroupie CIC, a Liverpool based production company who promote accessibility and education through the arts. You can find out more on their Facebook page https://www.facebook.com/ArtsGroupie/
Reviewer: Donna M Day
Reviewed: 5th May 2019
North West End Rating: ★★★★★