To many people Arnold Ridley will always be the impeccably polite Private Godfrey in Dad's Army, but before he made the catchphrase, 'May I be excused sir?' famous, he wrote more than 30 plays of which only The Ghost Train, penned in 1923, achieved notable success, running for 665 performances at St Martin's Theatre and being adapted for cinema three times.
Almost a hundred years on, Rainhill Garrick Society under the sterling direction of Rick Young resurrect this delightful comedy thriller, importantly set in 1925, where a group of passengers are stranded in a Cornish railway station waiting room on a dark and stormy night. They have missed their connection because the 'daft as a brush' Teddy Deakin (Richard Parker) pulled the communication cord on their train after losing his hat out of the window. Now stuck for the night, our group include an aggressive Richard (Rob Williams) and overly collected Elsie Winthrop (Rosetta Parker), a married couple in the middle of an ongoing row; and Charles (George Lowe) and Peggy Murdock (Judith Martindale), a newlywed couple anxious to get to their hotel. And then there's a teetotal spinster (Linda Saavedra) with a parrot in a cage. But all is not as it seems when the stationmaster (David Parker) tells a ghostly tale…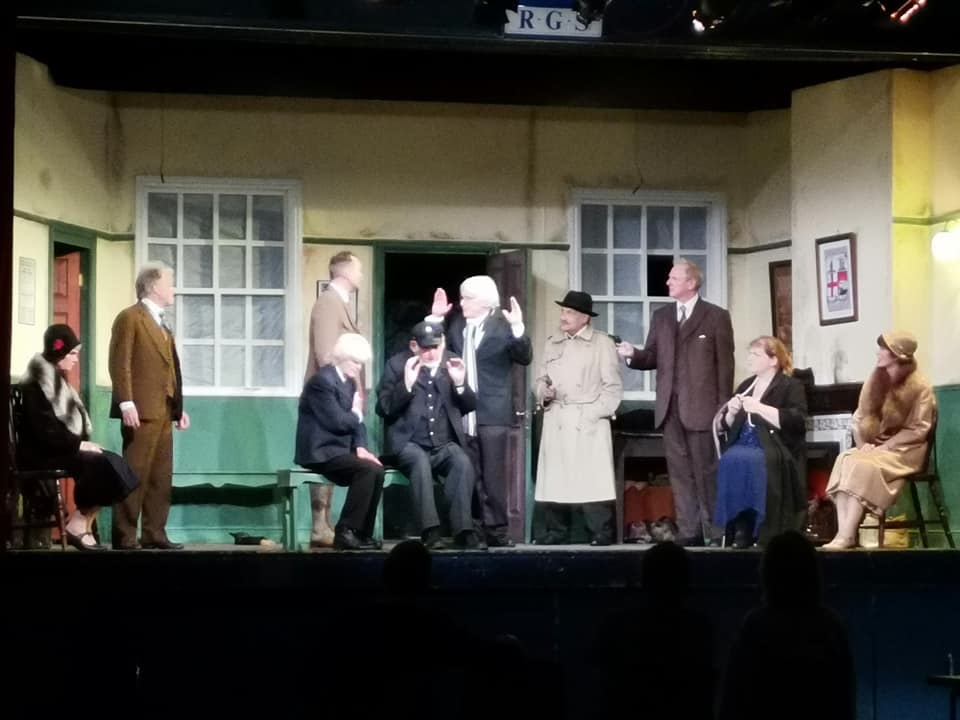 Nobody wants to leave but then nobody wants to stay when the hysterical Julia Price (Lucy Whitfield) turns up with her sister Henrietta (Lynn Aconley) and a Doctor (Philip Sudron) in hot pursuit. Well, unless you're Deakin, but is he really that daft after all? Oh, and then Jackson (Dave Hedges) appears as events take a turn for the…well, you'll have to come and see for yourself. Not afraid, are you?
The challenge of putting on a comedy thriller is often which way to fall. Young has cleverly allowed the period dialogue to translate into modern farce whilst maintaining the suspense throughout: I was laughing out loud one minute and then on the edge of my seat the next, and I've seen this play before. Credit equally must be given to the fine cast, and with so many on stage at one time, the blocking was perfect throughout. They all performed superbly with great acting and comic timing that I've come to expect of Rainhill Garrick Society. With a special mention for Aconley as a late addition, I have to say that Saavedra's Miss Bourne was brilliant.
The period setting is key and the set design by Richard Parker, construction by Rob Williams and Team, and stage management by Graham Swift did it justice. The period costumes were picture perfect even down to the thick detailing on the back of the stockings. When you see that level of attention to detail then you know you're in for something special. Trust me, you won't be disappointed.
The Ghost Train plays at Rainhill Village Hall 16th – 18th May with performances starting at 7.30pm. Tickets are available from Rainhill Village Hall, Rainhill Post Office, or ticket hotline 01744 813 429.
Rainhill Garrick Society was formed in 1942. They meet weekly on Tuesday and Thursday at Rainhill Village Hall and are always looking for new members, whether you want to tread the boards or just help backstage. For further information on their productions or to get involved then visit their website https://www.rainhillgarrick.co.uk/
Rainhill Village Hall is within walking distance of Rainhill Station and there is free car parking available – post code L35 4LU. There are also some lovely restaurants and bars in and around the village if you want to treat yourself before the show and make a night of it.
Reviewer: Mark Davoren
Reviewed: 14th May 2019
North West End Rating: ★★★★★