Hello Dolly is one of the Broadway classics that seems to be quite rarely done but BOST decided to this big show on and they did a good job at putting it on. They filled the huge stage at the Liverpool Empire very well which is no easy task!
Pat Davies leads the cast as Dolly Levi brilliantly. Her stage presence is fantastic and her vocals are strong. She really commands the stage whenever she is on stage. Tony Prince makes a great match for Davies as Horace Vandergelder. He has a wonderfully commanding stage presence. It would have been nice to see the romance between the two characters develop more throughout the show, as it seems to come quite out of the blue at the end of the show.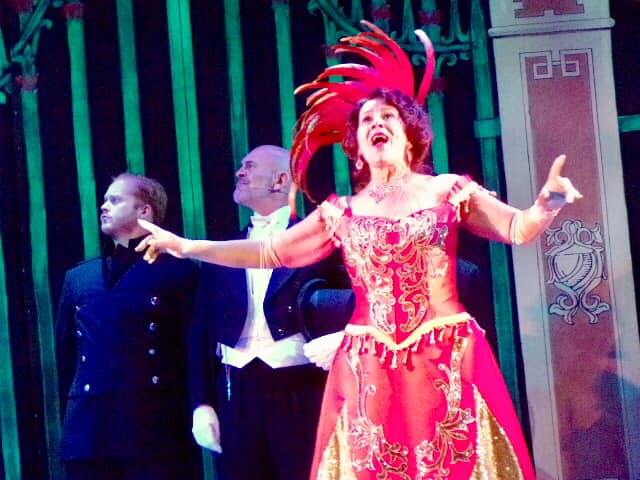 Bridie Flanagan is lovely as Minnie Fay, despite being a little underused. Sarah Chidlow is fantastic as Irene Molloy. Her voice is stunning and she has a great chemistry with John Francis Viagus as Cornelius Hackl. Gill Welsby and Robbie Dale are a great duo as Ermengarde and Ambrose. Although the characters do seem a little unnecessary, Welsby and Dale do add a great energy to their few scenes in the show.
One of the highlights of the show for me was John Francis Viagus and Brian Comer as Cornelius Hackl and Barnaby Tucker. They are great fun to watch and have a fantastic rapport between each other. Comer deserves extra credit too – although he is only 15 he never comes across as younger than his fellow cast members.
The other highlight of the show for me was Sarah Walker's fantastic choreography which was executed wonderfully by a very strong ensemble of dancers. The choreography worked fantastically for the piece and really injected a lot of energy to the show.
For me, the show's biggest flaw is the writing flaw. Michael Stewart's book is fairly well paced but the character development is quite non-existent and the small amount that there is seems quite rushed. Most of the characters don't change very much, if at all, from the start of the show to the end. I think this could be partly because there are so many characters with their own relationships there just isn't time to give them all the stage time they need to develop their relationships. There are also some lines referring to the role of a woman that seem quite backwards in the forward thinking world we're trying to create. Albeit the time setting of the show is very different to present day but these lines still don't sit quite right.
Overall the company do a good job and put on an enjoyable performance of a show that just isn't particularly remarkable or the best of its kind. There is a lot of talent in this company though so please do go and support the great work that the company are doing.
Reviewer: Jacob Bush
Reviewed: 16th May 2019
North West End Rating: ★★★