Jukebox musicals come in all shapes and sizes, from the megahits of Mama Mia (Abba) and We Will Rock You (Queen) to the super flops of Viva Forever! (Spice Girls) and Desperately Seeking Susan (Blondie). Creating a show that uses the songs of an established artist is a sensible move. When those songs are part of a concept album with a strong narrative drive, even better. The appeal of pre-existing material, low costs (much cheaper to do it this way than pay for a full musical license) and an enthusiastic audience is understandable.
In Murder Ballads Gerry Smyth has taken Nick Cave's hugely successful album of the same name, and created a darkly comic Texan romp. The Royal Court Studio provides the perfect backdrop for the show, with its cabaret tables and mirrors enhancing the saloon setting. Cage's original album is drawn from a variety of sources so developing a narrative through line is challenging.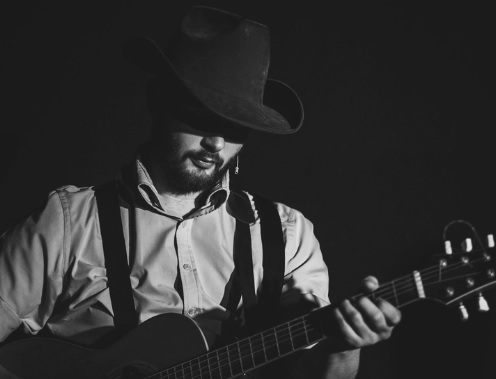 Smyth chooses to stage the action in O'Malley's Bar exploring the curse that hangs over the town and the grisly fates of two entwined families; the Lees and the Days. A quartet of performers share these tales, wringing every macabre drop from the material.
The simplified accompaniment of two guitars, the occasional Cajon and well timed percussion is extremely effective and evocative – as has been recently demonstrated by the Liverpool Everyman's Sweeney Todd often less is more. This is a note that could be beneficial to the performers. There is evident talent on stage but a need to overplay every moment has a tendency to reduce the impact and lessen the show's gruesome tone. The performances are much bigger than the space requires, and the laughs from certain sections of the audience suggest there are a number of in-jokes in the piece that don't translate to a wider audience.
Ellie Hurt's direction has flashes of inspiration, there is a clear understanding of the need to juxtapose the horror and the humour and a ribbon sequence that with further development could be a show stealer.
Dan Meigh's fight choreography ensures the murders are suitably gory, eliciting audible gasps from the audience, but the need to jump back into song, often comedically – which one would assume is necessitated by the small cast – means the audience don't always get enough time to process the deaths.
This is a show with immense potential and an enjoyable exploration of Nick Cave's repertoire but a little less self congratulation would allow the piece to be as haunting as it could, and should be.
Reviewer: Clare Chandler
Reviewed: 16th May 2019
North West End Rating: ★★★