We wuz robbed – well, of course that's how I'd like to start the review, but cannot deprive them of that last star, for sheer nerve, in both senses of the word. One could also say 'borrowed' or 'inspired' when taking films like Aeroplane and Mission Impossible, the Marx Brothers etc, into account. It is a play of two halves (almost) but despite the bad, the good at times is spectacular, as are the cast.
Where acting is concerned, that is, but alas, so few sympathetic characters, other than Ashley Tucker as Ruth Monagham, canny receptionist/caring Mom, especially with her glorious voice. Then there's her incorrigible son, Sam (Sean Carey), and the audience also had a soft spot for George Hannigan with his remarkable physical abilities; who could resist a character named 'Everyone Else'? They were also rooting for downtrodden Warren Stax (surprised it wasn't Warren Pierce...), played rather like Sergei Meerkat by the inimitable Jon Trenchard; I still remember his Ariel.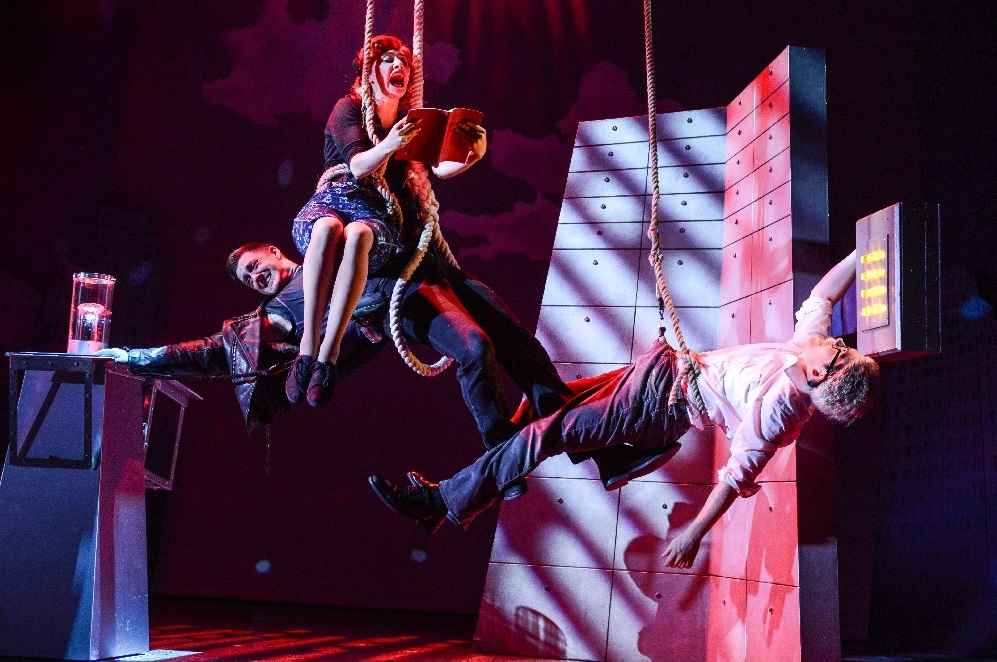 But nearly everybody is on the make, with the main object of desire being a diamond in Freeboys' bank. The cops are just as corrupt as the robbers, along with said banker, his con artist daughter and her own true love, petty thief, Sam. Understudy Eddy Westbury steps in to do a sterling job as the banker, as villainous as Mitch Ruscitti (Liam Jeavons) whose plan to steal the diamond is hatched when he leaves jail; both of them switch from idiotic to ingenious and back again on the spin of a dime. Mistaken identity is stretched as far as it can possibly go, which is where David Coomber comes in, and again, switches from uncommonly dense to floridly thwarted thespian. Killian Macardle is the doughty Officer Randal Suck, and finally, we have charismatic Caprice Freeboys. Actually, Julia Frith is as charming as she is conniving, stand out in one of the best scenes: charades, with Sam's wild guesses at her pantomime.
As the cast often discovers, when one door closes, another one opens. Well, it is a farce after all. Locales include the prison, the bank and its vaults and Molly's bedchamber, aka Caprice's apartment, the changes a box of tricks, unfolding as niftily as origami. We also get chase scenes interspersed with those of derring-do; 'daring' being a more accurate description; this is an extremely hard-working cast.
I found the play a step up, several in fact, from The Play That Goes Wrong, even more hilarious and frequently laugh at loud, though a couple of scenes zoom past before you get a chance to appreciate the joke, never mind figure it out. They share the basics of what you might call pants down farce: non-stop chaos, almost relentless repetition and high speed dialogue, even if the latter can go horribly wrong when persistently relying on people being incredibly stupid, in the sense of unbelievable, although the device is occasionally given a knowing twist, despite sometimes being milked for all it's worth until drained of humour. No pun goes left unspurned, and in some scenes, including the opening, the dialogue and the confusion go on and on, so that invention lapses into irritation. But annoyance soon gives way to admiration because of the equally unbelievable stunts – the aerial ones being literally hair-raising. No giving the game away; yes, you do have to see for yourself.
OK, when it was good, it was very, very good indeed, and rapturously received by the audience. And if you love thrills and spills and liked The Play That Goes Wrong, you'll certainly like this one alright.
Reviewer: Carole Baldock
Reviewed: 4th June 2019
North West End Rating: ★★★★