The American Road Trip is the stuff of legend, while dysfunctional families are hell on earth, all around the earth, mostly when in pursuit of their dreams. Put them together, in a clapped out camper van, on a more than likely futile quest, and what can possibly go wrong? And in a musical...
But music does have its charms, and it makes a lovely contrast to have beautifully harmonious singing versus the relentless bickering. And the showstopping solos, each person having a turn in the spotlight, from the sweetness of Sheryl and Olive, Richard's eternal hopefulness, mournful Frank and Dwayne, to Grandpa, that raunchy old reprobate.
As everything revolves around the dodgy van, it's more plain staging than plain sailing. A band is up on a balcony decorated with a partially lit Holiday Inn sign, and minimal props suggest other settings, including the Gents, for a rather strange encounter, and the Pageant venue; reception and ballroom.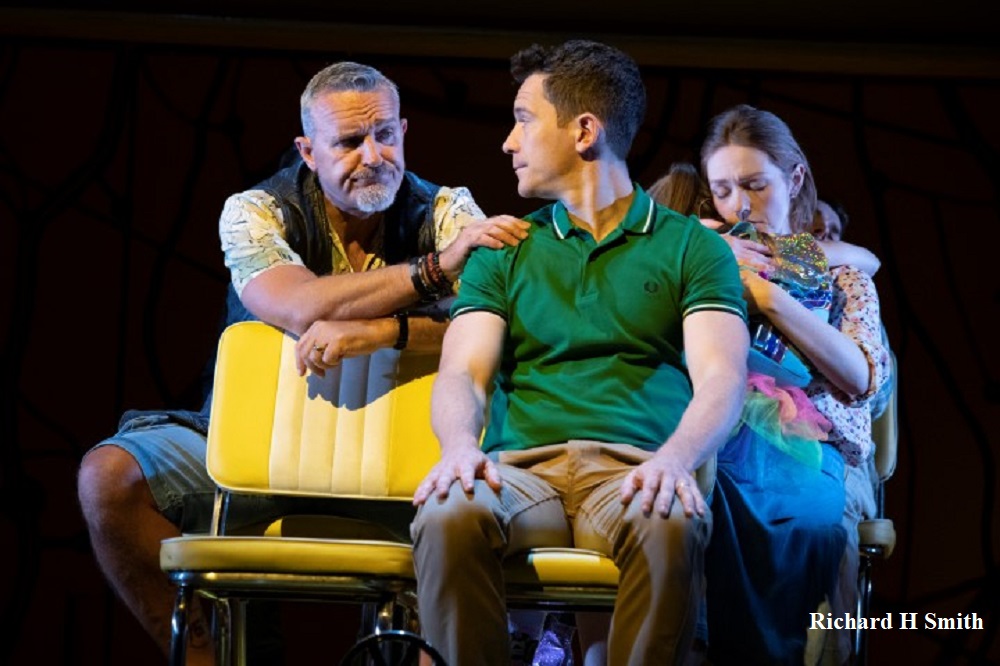 Costumes are equally down to earth, with no change for any of the characters, apart from during a poignant flashback for Sheryl and Richard, then Little Miss dressing up and facing her Pageant rivals, all decked out bright as Christmas.
With eternal optimists on the one hand, leaving inveterate pessimists on the other, what you get appears to be a bunch of somewhat clichéd characters (and indeed, situations), but the cast seems to have little trouble in surmounting this, from ever practical, caring Mom and idealistic Dad downward. There's fragile, neurotic and basically, quite the opposite of gay, Uncle Frank, ultimate emo Dwayne, and of course, the ebullient Miss herself. It means Mark Moraghan makes a clean sweep as Grandpa. Well, not clean exactly, being the epitome of sex and drugs and rock n' roll (2 out of 3, not bad, although not good either, in the circumstances) but he is redeemed by the huge love for his grandchildren.
Similarly, Lily Mae Denman could not be bettered in such a tricky role, a genuinely winsome child whose cuteness does not lose out, tempered as it is by her subconscious doubts and fears who are manifested in an all singing, all dancing trio of Mean Girls, later turning into the Pageant competitors: Alicia Belgarde, Scarlet Roche and Elena Christie. Sev Keoshgerian too, as elder brother Dwayne, is excellent, particularly as he spends most of the time reduced to miming until shocked into breaking his vow of silence. Mum and Dad manage to hold it all together, just about, well played by Lucy O'Byrne and Gabriel Vick, if rather overshadowed by the other more idiosyncratic characters. Paul Keating as Frank is also up against it, but mostly provides a comic contrast throughout, despite having to face a massive coincidence when the circumstances which forced him to try and commit suicide are reinforced threefold during the aforementioned peculiar, and inconvenient, meeting of minds.
You also get value for money with three impressive cameos, from Ian Carlyle's bitchy professor and mc, and Matthew McDonald, especially at the Pageant as the slothful, subversive Kirby. Plus, and what a plus, Imelda Warren-Green, stomping around as the robotic bureaucrat, Linda, then sashaying as melodramatic lady in red, Miss California
Ultimately, you may feel that child pageants are more suitable for satire than any form of celebration. And quite a few ends, if not tied up, could be pinned down; most members of the family are left facing uncertain futures. However, the important thing is that they all still have hope, and each other. And we've all watched a charming, endearing show and enjoyed an excellent night out.
Reviewer: Carole Baldock
Reviewed: 24th September 2019
North West End Rating: ★★★★