A quirky, comic parody of a classic murder mystery.
In Fred Carmichael's witty send-up of the archetypal Agartha Christie 'whodunnit', a failing novelist, Peter Knight (Paul Murray) spends the night in a bleak house on the Devon coast in a desperate attempt to write a murder mystery to help save his career. During his creative struggles, and an unnerving electrical storm, the house is struck by lightning magically bringing to life his story's characters.
Each character is a cliched, narrow creature unable to change from their given stereotypical role. There is Lydia, a high class, ageing, gold-digger (Claire Tagg). Kay (Fiona Williams), a young, pretty, ingenue (posh, airhead) and Fiona (Ann Warr), a moralistic, self-righteous, spinster (complete with sour face and knitting needles). There is Dick (Elliot Kinnear), a hearty, young American who is set on rescuing and romancing our sweet ingenue and, of course, there is a creepy butler (Grahame Smith) and a tearful, pregnant, dim-witted maid (Eleanor Harrison).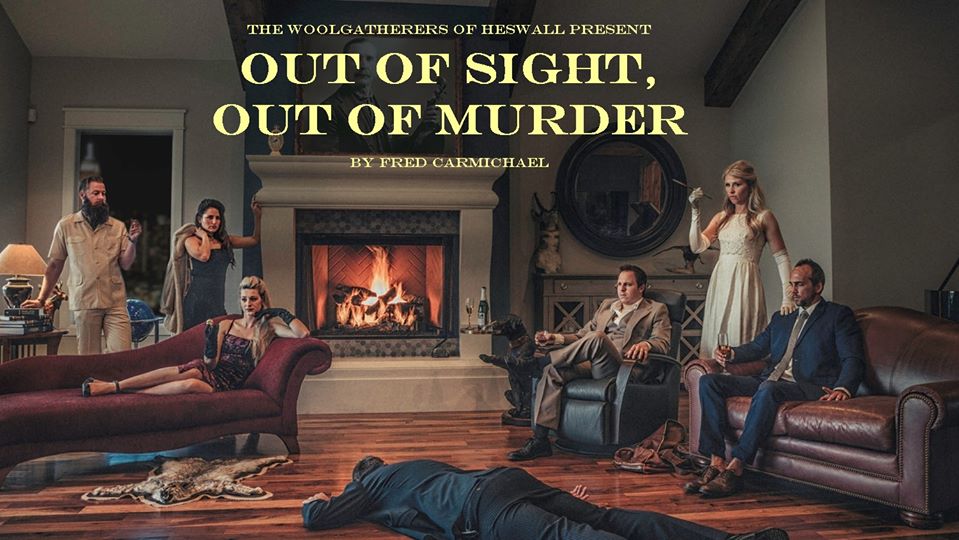 The only other 'living' character is the horny-handed, Devonian housekeeper, Minna (Cheryl Bullen) who has some choice country sayings.
The characters are known to each other as they have all appeared in multiple, similar scenarios throughout the murder mystery genre, only their names have changed. They urge the author to free them from their well-trodden paths and allow them to vary their personalities and motivations but, as the author reminds them, this is what the public expect.
The author realises that he is simply perpetuating a hackneyed, timeworn typecast but before he can think about changing – the murdering begins. The first killing takes place at midnight following the reading of the Will of an eccentric recluse who was, in some way, linked to each of the characters. The Will is read out by an untrustworthy lawyer, Dillingham (Terry Collister), who is also the unloved husband of our gold-digger, Lydia.
The murders are baffling to our surprised writer as he hadn't yet decided which one was going to be the killer. The pace of the play is set by the need to find the killer before the writer becomes the victim of his own story.
The performance is presented by the Woolgatherers of Heswall, a long-standing, community-based company working closely with Green Room Productions. The whole production was set in a single living room of an old house in Devon and the limitations of the stage at Heswall Hall may have cramped the creativity and ability to make better use of the space or props. Costumes worn by characters ranged from the 1920s to modern day (the play was published in 1983 although harks back to an earlier time). All the actors were believable and interpreted their characters well but there was a lack of vivacity to ignite the performance although Williams (as the sweetly annoying Kay Kelsey) and Kinnear (as the gallant Dick Stanton) kept the energy levels up. https://heswallhall.co.uk/whats-on/upcoming-events/93-the-woolgatherers-present-out-of-sight-out-of-murder
Reviewer: Bob Towers
Reviewed: 12th March 2020
North West End UK Rating: ★★★