Mixing a sunny cocktail of raunchy jokes, cheesy tunes and Solana stars, Derren Litten brings his popular TV comedy to the stage. Benidorm Live lands at the New Wimbledon Theatre and has the audience in hysterics from the moment they hear that beloved theme tune at the very beginning.
Liberated from television regulations, the classic Benidorm humour is more risqué than ever- and the audience love it. Perfectly in the theme of farce, the plot is based on misunderstandings, rooting much humour in double entendres. Following the storylines of the series, Manageress Joyce Temple-Savage (Sherrie Hewson) is trying to save the Hotel Solana from closure, assisted by other popular characters, Maeto (Jake Canuso), Jaqueline (Janine Duvitski), Liam (Adam Gillen), Sam (Shelley Longworth) and Kenneth (Tony Maudsley).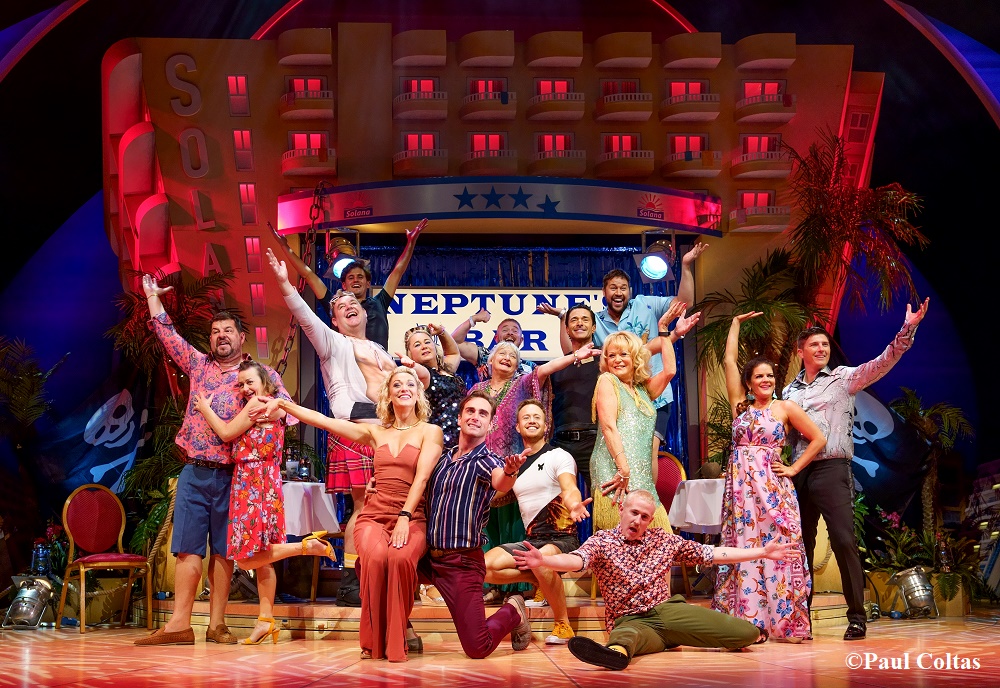 Just as audiences expect from an episode, we see the arrival of 'posh', misplaced couple, Sophie and Ben (Tricia Adele-Turner and Bradley Clarkson) who are disgusted by the hotel's standards. However, despite the inclusion of oddly-sporadic musical numbers in the first act, the production disappointingly does not take advantage of Adele-Turner and Clarkson's performance skills by showcasing them in a routine. Instead, the show relies -as the audience arguably expects- on its TV stars to provide the entertainment.
Canuso fantastically demonstrates his dance roots with several impressive routines and Longworth's character seems more prominent than in the series, with a wonderful cabaret number in the second act. Yet, there are moments across the production that are missing a certain theatrical energy and animation that is required.
Gillen and Maudsley's on-screen chemistry materialises exceptionally well on stage and the pair clearly have immense fun in their roles. Their brilliantly camp stage presence is a treat and easily the highlight of this show. As the crude jokes fly throughout, it seems that as each scene develops the actors gradually get unnecessarily louder, unfortunately causing one-liners to seem forced and the acting losing believability.
Mark Walters' set is brilliantly cheery and versatile, and we are taken to the legendary Neptune's Bar for the second act seamlessly. The colourful stage is the perfect environment for this bright and up-beat production.
Bendiorm Live is a must-see for real fans of the series, as it can be best summed up as the TV show on steroids. Litten's adaptation has the audience in hysterics, belly-laughing throughout the evening and basking in the campness of the sunny Solana.
Reviewer: Jessica Battison
Reviewed: 11th March 2019
North West End Rating: ★★★