On a dreary, wet, night in London, it was a pleasure to feel warmed by this gem of a musical. The original book and lyrics 'Cargas D'Agua – A Pocket Musical' were written by Vitor Rocha with music by Ana Paula Villar. Having been translated into English, 'Out of Water' had a run in New York City during the summer and It Is Productions have now re-imagined it for the UK audience.
Having received award nominations for the Bibi Ferreira Award amongst others for its original run in Brazil, it is clear to see why. The idea is so deliciously different. A play within a play is not unusual, indeed we have been experiencing this all the way back to Shakespeare's time. However, the idea of splitting the musical into smaller sections giving it the feeling of offering us several bite size stories, creates a focus and gives the mind a clear path to follow.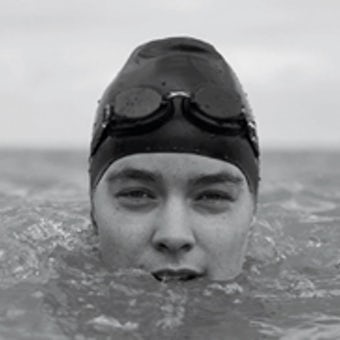 Without giving too much away, the story follows the experiences of 'Kid' age 12 played by Adam Filipe, who, for reasons explained in the play, doesn't have a name (or at least he cannot remember being called by anything other than Kid). Set in a small land locked town in Brazil, he suffers the loss of his mother and is left with his step-father who gives him his non-descriptive name. His lonely unhappy existence draws him to a fish, that his step-father has caught in a bucket and they develop a rather one-sided friendship. Through the love of this fish, Kid wishes to take it to the sea and here begins the journey.
Rather interestingly, the play moves through a set of tales. There are six tales in all, and this provides the narrative. Each tale centres around a different fear and we are introduced to the characters Pepita (Carolina Leite) and Charles (Sam Ford) who are acting the roles within the play (remember the play within the play). This challenges the actor's ability to switch between characters which they do admirably. With only screens at the back of the stage to adapt their appearances, they must move quickly to morph into character.
The delivery by the cast was well executed, with their musical theatre training shining through. Under the direction of Patricia Santi, the cast made the audience feel a part of the show by including them in the narrative. A little more could be made of the staging. It was kept simple with wooden crates being used as props, but it was difficult to see their relevance and maybe with a little more imagination this could be improved.
It would be nice to see this show move from being Off-Season to having a proper run. It has appeal and is suitable for a family audience. The script is very well written, and I especially loved the poetic influences later in the play, this added another touch to an already interesting musical.
I urge you to give this charming musical a try. It has two more performances at the Camden People's Theatre – Sunday 17th November 5pm and Monday 18th November 7pm - https://www.cptheatre.co.uk/production/off-season-out-of-water-a-brazilian-pocket-musical/
Reviewer: Caroline Worswick
Reviewed: 14th October 2019
North West End UK Rating: ★★★★