In a small room, with only a few props, in what could be described as a bunker at the train station, this trio of actors, make a small place feel so much bigger. And as the music "Solidarity Forever" (originally sung by workers and written by Ralph Chaplin in 1915) blast out from the speakers, we (the audience) feel a bit of unity despite being strangers.
Written by Amy Guyler, this play examines how far you would go to effect change. Aaron (David Angland), Curtis (Joseph Reed) and Rhea (Lucy Simpson), all have links to the hospital for three different reasons. The authorities have decided to close the hospital down which means healthcare assistant Rhea is forced to find work elsewhere; Curtis has nowhere to go and Aaron worries about his mother's cancer treatment.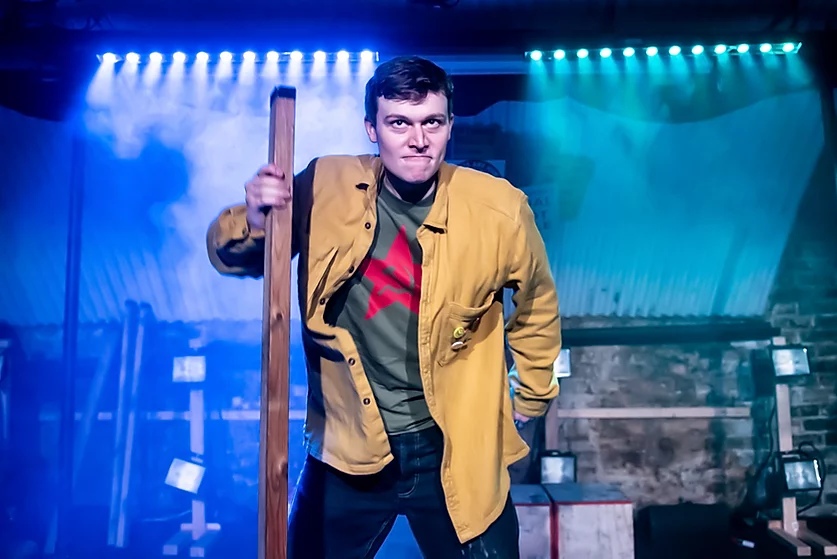 There was a very strong presence from all the three actors, Reed, Simpson and Angland, with touches such as group quotes which helps to communicate a feeling of unity.
As the audience entered the theatre, they were handed bags of sweets and a manifesto for The Nobodies, which gave the viewer, a feeling of inclusivity and camaraderie.
The writing encouraged almost a sense of examining how and why we make our decisions. Standing on the train station platform that day, these three individuals did not realize what would later transpire. After the death of an MP, killed on the train tracks, the three come across the MP's briefcase with details of bids made by wealthy individuals to develop the hospital.
The three become anarchists, desperately trying to stop the injustice of the greedy, profit hungry individuals making money, at the expense of many people who depend on their local hospital being accessible.
The cast of three must work hard to play multiple roles and re-adjust the set as the play progresses. The theme is a timeless one of the people who have little, being exploited by those who simply, just want more.
Although the themes are dark, there is light humour to be had, and combined with the energy of the cast and production team, this play is well worth your time, when it is next available. To find out more about this play and Chalk Line Theatre go to https://www.chalklinetheatre.com/the-nobodies
Reviewers: Annika Wheble / Caroline Worswick
Reviewed: 20th February 2020
North West End UK Rating: ★★★★★
**This production was reviewed as a preview prior to Edinburgh Fringe 2020**