The National Theatre's double bill of Frankenstein takes on a goliath task and hits the spot balancing the expectations of purists and those who love horror. But it's more than just seeing two of Britain's best actors sparring it out on stage. This time, casting is no box-office gimmick…
Nick Dear's two-hour adaption is a "memory" of the novel, presenting the very essence of the text on stage. Misery has made the creature a fiend and he needs a mate to make him happy. It's enough to satiate both the purists who worship the writing, and the horror lovers who come to the production transfixed by tales of corpse brides and monsters. And yes, a lot is missing. There is no best friend Henry Clerval, no giant leaps across the world, sparse mentioning of the revolutions breaking out all over Europe on Frankenstein's wild goose chase to kill his creation. Yet, Boyle finds clever ways to breathe life into the themes that make the book so beloved and to tackle unanswerable questions that this text tries to make the reader grapple with.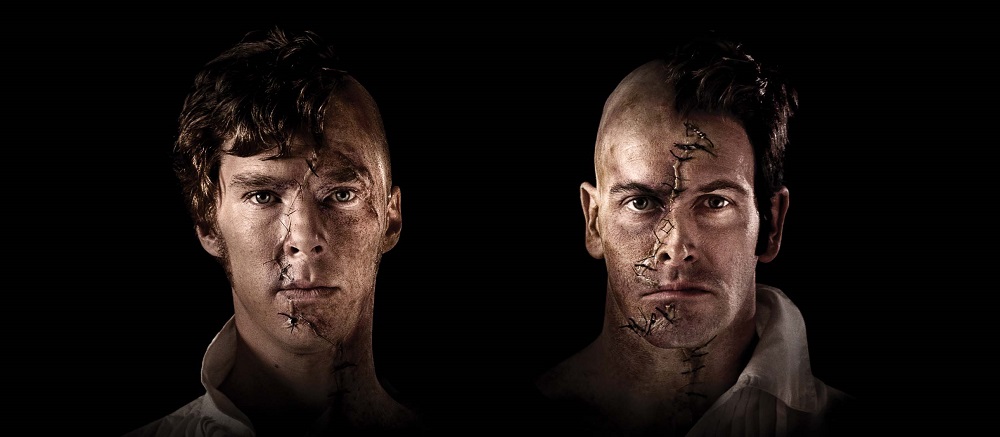 Danny Boyle's and Mark Tildesley symbolises complex theories through beautiful simplistic imagery in an accessible way. Above the stage hundreds of light bulbs tangle like a cloud of ideas in homage to Galvanism. Upon closer inspection, the house of the De Lacey family is decorated with imagery of Eden. Meanwhile Geneva is beautifully and simply rendered, both in interiors and exteriors, so much so it evokes timelessness. It's the perfect backdrop for the confrontations for Frankenstein and his creation. As so is Underworld's sumptuous soundscape, a definite highlight of the production.
Johnny Lee Miller and Benedict Cumberbatch excel on throughout the two productions, both as the Creature as Frankenstein. Cumberbatch's Creature grasps onto its 'humanity'. Here, Cumberbatch has created a creature as monstrous as The Tempest's Caliban- it's an unbelievable display of physical acting. Miller's desperately struggles to accept why it is not human. Its delight at seeing snow, at sitting beside Elizabeth before her murder, and its conversation with William are chilling and beautiful. The physicality of both performances, with their very subtle differences are superbly performed and sustained throughout. Miller's Frankenstein appears on the edge of a nervous collapse, unable to control his reaction at his prodigy, while Cumberbatches' Frankenstein is darkly amazed, and bemused by his work. Boyle's direction captures as much of the intricacies of this pairing across the two relationships and cleverly finds a way to express the multi-faceted extremities of the characters. To only see one production, is surely a waste.
But there's more to see than just this pairing; Miller and Cumberbatch are not the only delights. The supporting cast are polished. Particularly, Naomie Harris' performance of Elizabeth is measured and natural, and a welcome tonic to the productions' sparring.
Boyle's Frankenstein is more than a piece of 'National Theatre', but a national service to a text so beloved by the country. View online HERE until Thursday 7th May.
Reviewer: Melissa Jones
Reviewed: 1st May 2020
North West End UK Rating: ★★★★★