Back in September 2015 there was a two-week run of cult musical The Rocky Horror Show at the Playhouse Theatre in London. It was notable for a few reasons. All the actors involved had played their roles in a previous production at some time.
On the 17th September the show was simultaneously broadcast to over six hundred cinemas across the United Kingdom and Europe, creating a box office taking to beat everything else at the time. It was one of the rare occasions that the creator of the show Richard O'Brien returned from New Zealand and performed the role of the narrator for the run. For the live broadcast however, there were six different narrators used through the performance: Stephen Fry, Ade Edmondson, Emma Bunton, Mel Giedroyc, Anthony Head and Richard O'Brien.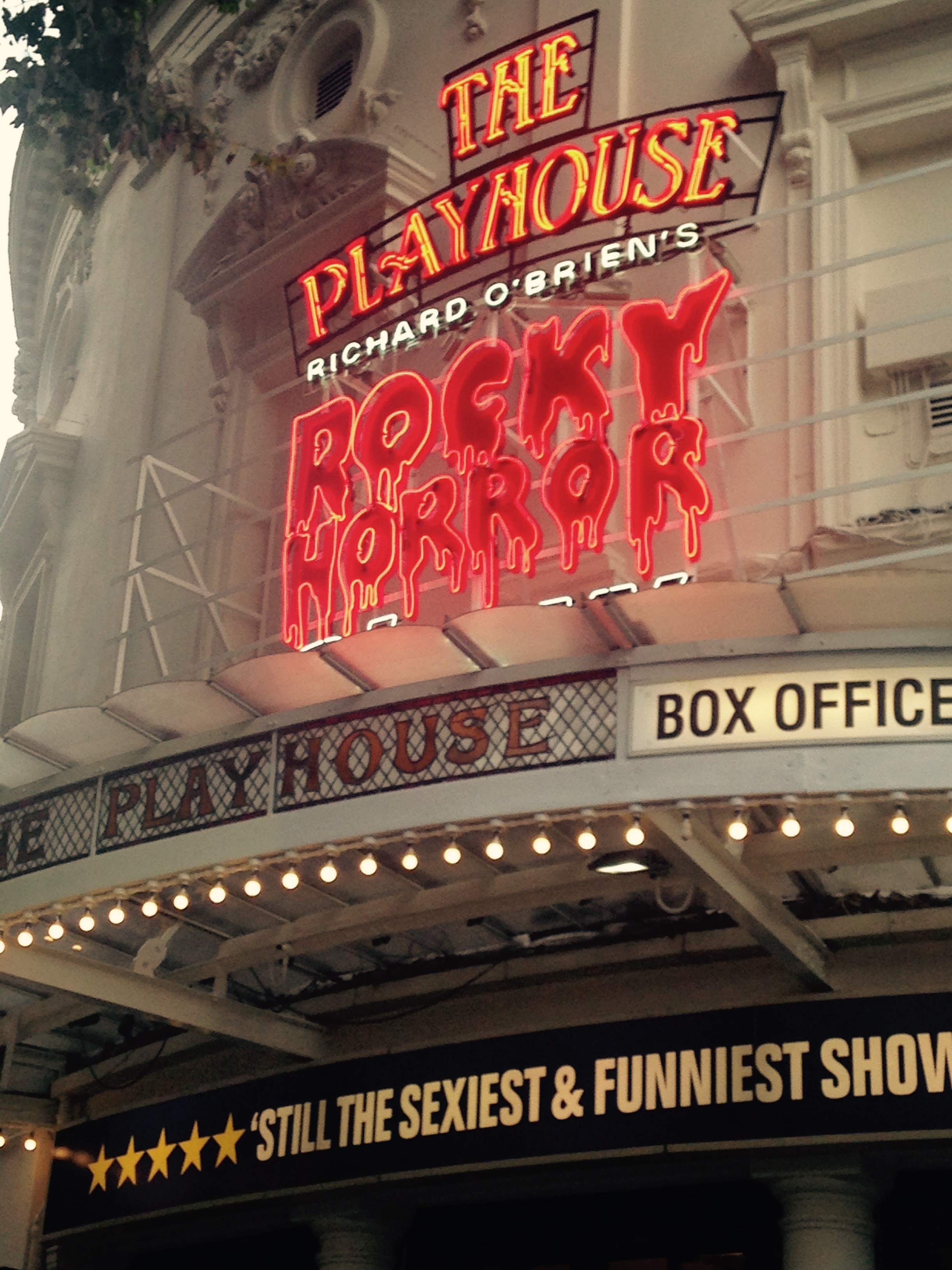 The premise of the show is a pastiche of the 50's Science Fiction B movies. A young couple, Brad and Janet, are on a trip to visit their old professor, but on this dark, stormy night their car breaks down and they are forced to walk to a castle back down the road. But this is a castle like no other and Brad and Janet are drawn into the lives of the castle's inhabitants!
Ben Forster as Brad Majors is suitably geeky looking and gives a decent performance, but he is outshone by Haley Flaherty as his fiancée Janet Weiss who not only gives a great acting performance as the innocent Janet but has a stunning voice. Kristian Lavercombe's Riff Raff is an impersonation of Richard O'Brien's film version but without the charisma while Jayde Westaby's Magenta is below average. Of the three servants only Sophie Linder-Lee's Columbia has any real character and she also has a great voice. Richard Meeks is unconvincing as both Eddie and Dr Scott while Dominic Andersen's Rocky has a great body but sounds flat when singing.
David Bedella works hard as Frank N. Furter and is great as the strong, vampish, machiavellian doctor but falls down when it comes to showing the vulnerable side of Frankie later on in the show. He does however have a great voice and looks amazing in a basque. Having six different narrators does feel disjointed as each has a different delivery and way of dealing with the inevitable heckling from the audience but it is wonderful to see Richard O'Brien back on stage with his biggest creation and doing the Time Warp again. His music and writing, as always, carries the show along brilliantly but Director Christopher Luscombe as made a couple of strange choices in breaking the flow of the show in places.
If you have never seen Rocky done on stage, as opposed to the film, then there are worse things to watch than this production. But it's not the best so once theatre's a back, if there's a production out there then go see it and feel the atmosphere for yourself.
You can watch Rocky Horror Show Live below.

Reviewer: Helen Jones
Reviewed: 27th May 2020
North West End UK Rating: ★★★★★