Based on a 1789 French ballet originally created by Jean Dauberval, Frederick Ashton's final full-length ballet for The Royal Ballet premiered in 1960, with this joyous and colourful affair a fiftieth revival from 2010. Inspired by his love for the Suffolk countryside, the piece is set on a farm and tells the story of the burgeoning love between Lise (Marianela Nuñez), the daughter of Widow Simon (William Tuckett), and Colas (Carlos Acosta), a local farmer. But Widow Simone has far more ambitious plans for her only daughter and is determined that she marry Alain (Jonathan Howell), the half-witted son of a wealthy landowner (Christopher Saunders). The only question is, will love win the day?
The ballet displays some of Ashton's most virtuoso choreography in a ballet laced with exuberance and good humour, and including a whirl of dancing chickens, grouchy guardians and one very unwilling suitor. Ashton affectionately incorporated elements of national folk dance into his choreography, from a Lancashire clog dance to a maypole dance, making La Fille mal gardée – despite its title – emphatically English, even featuring a live Shetland pony.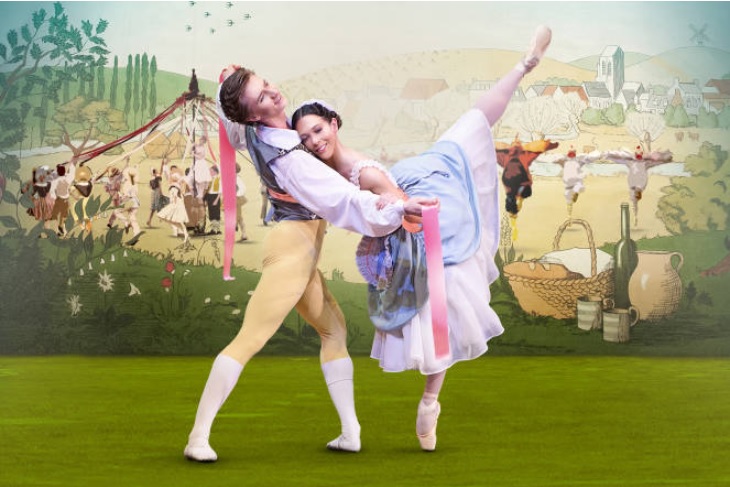 This is very much Constable's Suffolk and Osbert Lancaster's colourful designs heighten the production's delightful pastoral wit.
Nuñez is exquisite in her performance with a permanent veneer of charm and vivacity capturing the hopeful anticipations of a beautiful teenager with the world at her feet whilst still cheeky enough to outwit the machinations of her interfering mother. Acosta is the local heart throb down to a tee with his muscular physique embraced in his every swagger, but his actions show him to be very much the hero rather than pure machismo. Combined the pair delight, most strikingly in the series of energetic pas de deux that perfectly express their youthful passion, and which shows them destined to be together.
Tuckett provides a star turn with his Widow Simone so much more than a pantomime dame as he gushes comic genius through every moment including a perfect turn as a clog-dancing tour de force. Howells deserves special mention for his portrayal of the simpleton, Alain, delivering the necessary subtlety in his performance which ensures in conjunction with Tuckett's exuberance the production does not merely descend into farce. As Alain's father, Christopher Saunders presents us with the typical small-town bigwig in every sense of the word.
Threading the action together, the corps de ballet dance with joy and élan, expertly delivering many a tricky manoeuvre in an attractive and disciplined performance to the accompaniment of the energetic playing of the orchestra led by conductor Anthony Twiner of an arrangement created by John Lanchbery from Ferdinand Hérold's 1828 score.
This is a delightful romantic comedy and the perfect introduction to ballet with its portrayal of the simplest of village love stories in an idyllic rural setting bathed in the colours and joy of the harvest, and with, of course, the happiest of endings.
This is a delightful romantic comedy and the perfect introduction to ballet.
Reviewer: Mark Davoren
Reviewed: 12th June 2020
North West End UK Rating: ★★★★★