Mozart's The Magic Flute is a wonderful tale of princes, giant serpents, mysterious temples and birdcatchers. An enchanting damsel in distress meets a hilarious nonsensical birdman in this vibrant opera which is one of the most performed in the world today. Conducted by Julia Jones and directed by David McVicar, this funny show has plenty of peril and drama and is performed in the original German with English subtitles.
The opera opens with beautifully energetic music before we see Tamino (Mauro Peter) fighting with a giant serpent. The serpent is a well-constructed puppet, controlled by several cast members, and its appearance and the dexterity of the performers mean that it is no surprise Tamino is losing the battle. He loses consciousness before being rescued by three ladies (Rebecca Evans, Angela Simkin and Susan Platts) all of whom immediately fall in love with him. After arguing over who should stay to guard him, eventually all three reluctantly leave.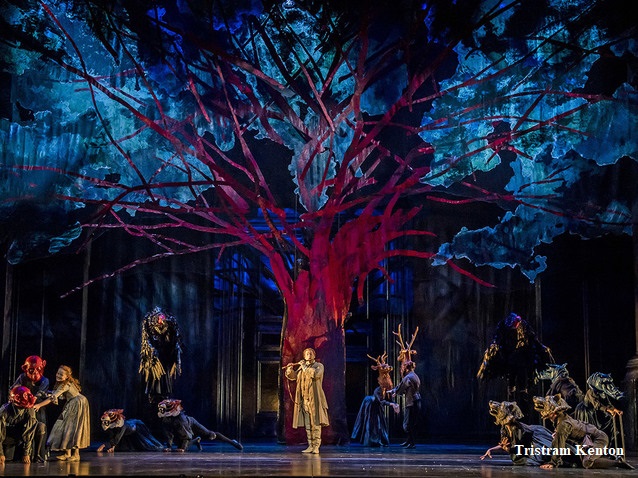 The desperately lonely birdcatcher Papanego (Roderick Williams) wanders onto the stage with his panpipes enhancing the magical setting. He is trying to catch a bird, another lovely puppet which is very cute, and there is some great slapstick comedy as Williams jumps around after it. Tamino awakes and, when he assumes Papanego rescued him from the terrifying serpent, Papanego tells him that he did in fact strangle it with his bare hands. The three ladies, who work for the Queen of the Night (Sabine Devieilhe), then return and scold Papanego for lying before padlocking his mouth closed.
They show Tamino a picture of the Queen's daughter Pamina (Siobhan Stagg) and he instantly falls in love with her. The Queen appears and tells Tamino that Pamina has been kidnapped by the evil demon, Sarastro (Mika Kares) and Tamino swears to the Queen he will rescue her. To help him along his journey the Queen presents him with the titular magic flute and Papageno with magic bells, while removing his padlock and making him swear not to lie anymore. Tamino and Papanego set out on their journey, but there is more to the Queen and the abduction than there appears.
The production does not have all of the vibrancy the opera often features within the scenery and costume, but the Queen and the Ladies have sumptuous costumes, which enhance the magical elements and there are some dazzling backdrops. There is also mesmerising choreography which creates a sense of fire and water.
Peter has very good emotion throughout the piece and brings a nice sense of vulnerability to the role which gives him a unique feeling of strength and courage. Sarastro's (Mika Kares) self-assuredness is palpable and his authority radiates whenever he is on stage.
The devious Monostatos is performed by very well by Peter Bronder and his portrayal is beautifully enhanced by an excellent costume and make up. His dance scene with Williams is very funny with his horror and bewilderment apparent throughout.
Christina Gansch's Papagena is also very funny and delightful. Williams has some wonderful physical comedy in the piece, while he and Stagg's duet about longing for love and being dutiful when it comes, is a tender and beautiful moment. Stagg's portrayal throughout is heartbreakingly charming.
This opera is a much loved story of mystery and misunderstandings within a fairy tale world of sorcery and danger. The eponymous flute is played beautifully, supported by a strong orchestra and vocals from the cast. Funny and captivating, this is a magical piece, often hypnotic and always delightfully bewildering.
The Magic Flute is being streamed HERE on YouTube until 3rd July 2020.

Reviewer: Donna M Day
Reviewed: 19th June 2020
North West End UK Rating: ★★★★★