On a deserted Old Vic stage Claire Foy and Matt Smith give us a fly on the wall insight into their character's turbulent relationship. Yes, I did say they are standing on a stage, a sight that warms the cockles as the theatre going public have been starved of their beloved live theatre, The Old Vic have given us a chance to submerge ourselves in this tsunami of emotional drama.
Due to social distancing requirements, the set is minimalistic and has been painted a dark grey and the designer Rob Howell appears to have co-ordinated the couple's wardrobe to blend in. The show is directed by Matthew Warchus and is broadcast via good old Zoom which splits the two so that they can be brought together on screen without being too close to each other on stage. This works well with this production as this emotional play does have love scenes which would be difficult to do in the current environment.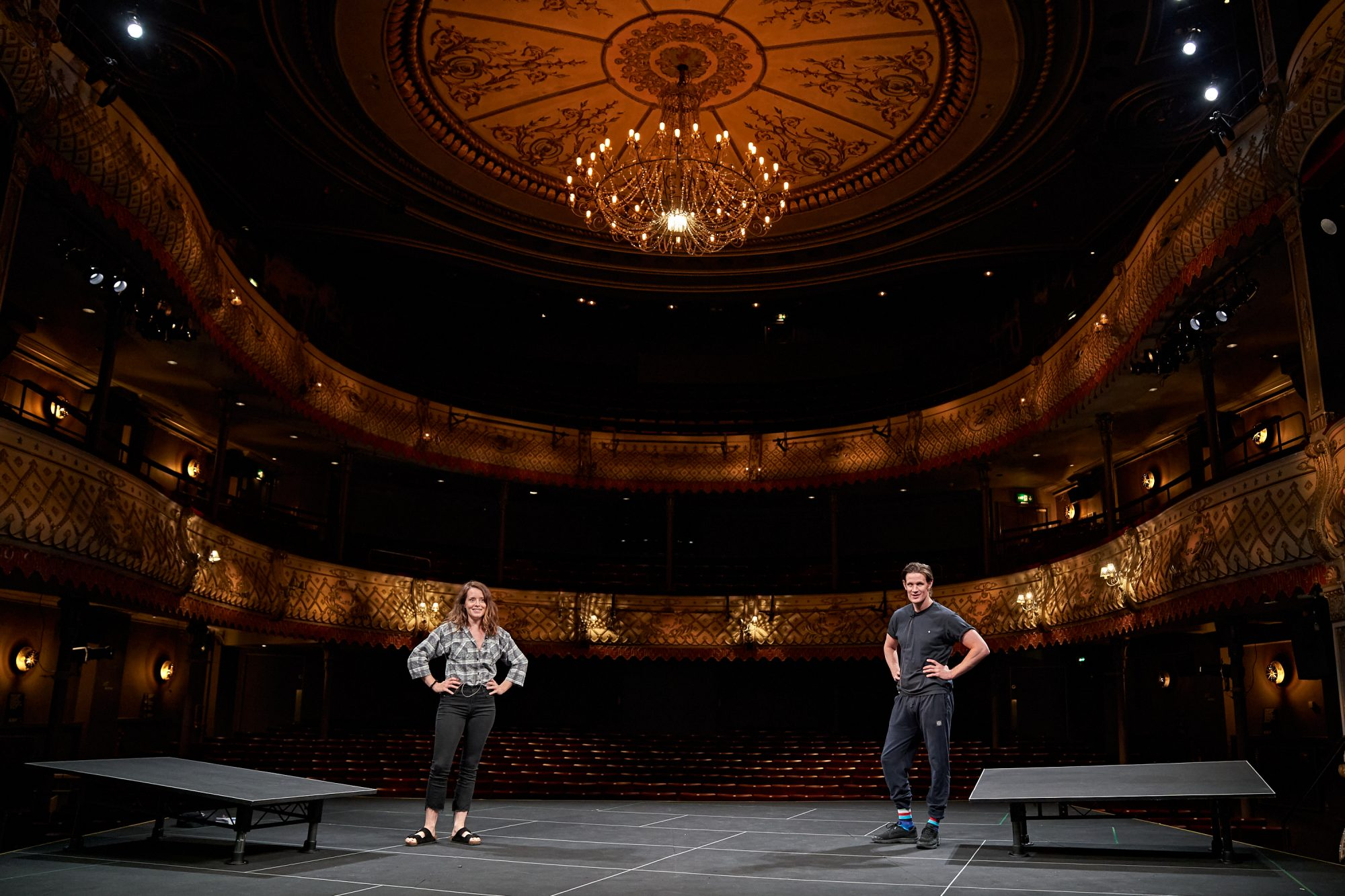 Foy and Smith are a couple who have come to the point in their relationship where they begin to talk about where they are headed. On a shopping trip to Ikea, Smith brings up the topic of having a baby, a subject that they have obviously not discussed before by the reaction he gets from Foy. Completely thrown by this they go home and bicker about it but finally agree to go ahead. Their relationship dynamic is one of Foy finishing her PhD and Smith is a musician and they live in a rented flat together – maybe it's time for you to get a proper job, she says.
Weaved into the story is their mutual belief that they must play their part in tackling climate change. Bringing a new life into the world is like releasing 10000 tons of CO2 onto the planet. Should we really be doing this? The world is already overpopulated, do we really want to add more disposable nappies and baby wipes to the recycling problem? Can we cope with being boring, don't parents just talk about their kids and have no life of their own?
Foy displays a full emotional range as she over thinks every decision. Her exaggerated speech, gabbling at a fast pace to demonstrate her agitation at not feeling in control of the situation. Smith's character tends to spend a lot of time shell shocked by Foy's onslaught and is not sure how to handle his partner's anxiety. He finds himself deflecting problems rather than trying to resolve them, leaving Foy feeling adrift and unsupported.
As an audience member, there is a feeling of pressing a glass to the wall of a neighbour's house to listen into their private conversations. The things that are discussed are intimate and the chemistry between Smith and Foy (maybe helped by having worked together before in The Crown) brings this relatable story from the stage into reality.
This play is fast paced, so you are advised to pay close attention as the passage of time later in the play moves quickly along the timeline. Foy and Smith give a well-balanced performance and it is easy to see why they were both cast in this play, they react to each other in such a naturalistic way.
Duncan Macmillan can be congratulated on this gem of a play which was originally written for The Studio Theatre in Washington DC and performed in 2011. It marries together the minutiae of a couple's relationship and the gargantuan issue of global warming all rolled into one play.
The play runs until 4th July and each performance is live. To book tickets go to https://www.oldvictheatre.com/availability/lungs-in-camera
Reviewer: Caroline Worswick
Reviewed: 27th June 2020
North West End UK Rating: ★★★★★