Manchester's newest theatre comes into being with a bang, as they present their first theatrical offerings. Situated at geographical coordinates 53 / 2, underneath the old railway arches by the side of the GMex Centre, this is a very adaptable and promising theatre space, and although it is still obviously being renovated and developed, the potential is evident and it is already coming to the attention of small and mid-scale local theatre companies looking for a decent-sized centrally located Fringe venue.
The first production in this venue is a series of 6 short plays, all of 15 minutes (or thereabouts) in length, and celebrating England's writing talent from both the north and south of the county.
All plays used the same space, with minimal lighting and black curtains as their backdrop, each adding their own few stage props for each - just enough to set the scene, nothing more. This simplicity and uniformity worked very much in their favour, and also created something of an unseen bond between them.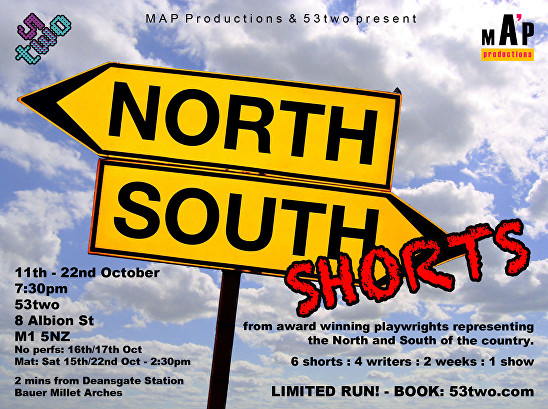 First came a play by Manchester playwright Joshua Val Martin, 'Painted Arrows'. Directed by Megan Marie Griffith, this saw Liam (Matt Hall) struggling to come to terms with the fact that the only girl he really loved - his ex-girlfriend and local dance teacher - may well be moving away to go to further her dance training. It was a very real and bitter-sweet pastiche and the acting, especially by Hall was first rate. It was such a crying shame that Bridget (Kate Milligan) in this presentation of the piece so obviously couldn't dance, making a mockery somewhat of the play's main premise.
After this came a monologue in the style of Alan Bennett's Talking Heads. In 'Closure' by London writer Anna Jordan, we see Eve (Alexandra Jay-Jones) sitting at a table in a restaurant talking to her (unseen) ex-partner Webster, whom she hasn't seen in 2 years, how much she still misses and needs him. With good use of comedy and nicely directed by Anita Pandolfo, this was again another slice of real life told in bitter-sweet starkness.
The final short before the interval saw us travelling back up north again for playwright Kellie Smith's bitter-sweet father / son moment, 'Bark'. Iain Roderick Mundell plays Josh, who, in his early twenties, has his own flat, and sells sandwiches to manual workers on sites. However right now he has badly hurt his hand and finds himself in A+E, and called his dad, Barry (Matt Aistrup) to come because he was a little scared and wanted company. In the fifteen minutes that follow we learn a lot about both men, and once again the story feels real and very close to home. Charlotte Peters directed.
You could be forgiven at this point for thinking that there is a deliberate theme of disfunctional family relationships and bitter-sweet comedies here, since on the surface of it, the first piece after the interval seemed to be travelling along very similar lines. Here, in 'Staunch', again by Anna Jordan, we see two brothers reunite at their dad's funeral. This is a little darker than the others, and also, to my mind, the most mature and competent in its writing. It had a very 'Noir' quality to it which appealed greatly. Brothers Jamie (Ryan Hutton) and Danny (Nick Pearse) work excellently together and took the audience through almost every emotion possible in their 15 minutes. Directed by 53Two's owner and creator of Manchester Actors' Platform, Simon Naylor, this piece was for me the stand-out piece of the evening.
And just when you thought the evening had nothing more to offer than inter-familial domestic conflict, enter piece number 5; 'Word on A Wing' by once again Joshua Val Martin. Here we have yes, once again, bitter-sweet comedy, but this time it concerns the job and 'life' of Watcher-Angel (James Lewis) who spends his days sitting on a cloud, reporting back on all the misery and badness he sees on his allotted patch on Earth. These finding then go to 'Ground Angels' whose task is to put right the wrongs and make people happy again. However, during his 'interview' with Raz (Clare Cameron), who in true 'time-and-motion expert' way tells him he needs to make more reports each hour or he will find himself damned to Hell for eternity. However, he rebels, seeing that the Ground Angels obviously are not putting all the wrongs right and asks to be made a Ground Angel himself. A nice idea, and worked well under the direction of Craig Sanders.
Finally, we come 'Closer to God' with the third piece in this showcase of writing by Anna Jordan. Here we see the occupants of two adjoining flats on the thirteenth floor of a residential block. We are once again back in bitter-sweet human conflict territory as we learn about the elderly man in one flat who lives alone, (John Smeathers), but knows all about his next-door neighbour (Nisa Cole), and she, likewise seems to know a lot about him. Their opinions of each other however differ greatly due to their age differences and outlooks on life. An interesting piece in that although both are on stage together the whole time they are in separate flats and therefore don't speak to each other, but just out into the mid-distance as we catch their thoughts. With ageism and racism thrown into the pot in this story, it could have been quite contentious, however it was handled very nicely and under the direction of Kate Colgrave-Pope made a lovely end to the evening, 'Goodnight!'.
Despite there not being much variety in their choice of plays, they were excellently cast and are most deserving of a larger audience than the, unbelievably and disappointingly only 14 of us in tonight. So even if you have never heard of 53Two and don't know where it is; then come along and support some truly talented writers, actors and directors and see what the buzz is all about - you absolutely will not be disappointed.
North / South Shorts runs until 22nd October. Details here: http://53two.com/north-south-shorts/4593003914
Reviewer: Mark Dee
Reviewed: 12th October 2016
North West End Rating: ★★★★