What makes a good musical?
Is it something which is new and innovative, is it something heart-warming that touches your emotions like something only a live production can do or is it something which is familiar that takes you back to a memory that you know of.
Well it has become much the norm nowadays to go for the latter, with 80s movies being a firm favourite to be rehashed into a musical, in the past couple of years we've had Footloose, Grease and Flashdance to name just a couple, some work incredibly well and others fall flat on their face; but it's an Adam Sandler movie adaption that is the new kid on the block at Manchester's Opera House.
'The Wedding Singer' is based on the 1998 Adam Sandler cult classic and although it's not a 1980s movie, it's set in the 80s; so that makes it worthy of a musical adaptation.
The musical does however have some pretty big names to add to its ever increasing demand including Dancing on Ice star 'Ray Quinn' and when you find out it's been a huge hit in America, the appeal becomes ever greater.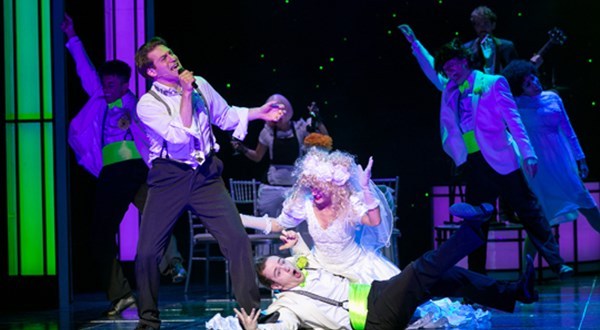 The plot is very familiar if not exactly the same as the comedy movie, with New Jersey's favourite wedding singer who is dumped at the alter by his own fiancée, he makes a B line to ruin someone else's wedding after that and falls apart and it's up to Julia (Cassie Compton) and her best friend Holly to lure him back to his prime. The plot makes for an interesting story with some very funny moments and lots of opportunities for music and dancing and great costumes.
The staging is fairly simple but proves very effective with a number of props used to make the big numbers that little bit more special including a dumpster and a drive in movie screen.
There is only one phrase that could describe this musical and that's 'feel good'. It doesn't require much concentration and the script isn't going to be featured on the Richard & Judy Book Club but it does provide you with a smile, a couple of laughs and a real feeling of joy.
This feeling of happiness is definitely down to great music by Matthew Sklar, flawless choreography from director Nick Winston and ultimately the cast.
The cast really make this show; Cassie Compton as Julia is brilliant with a sweet persona and a powerful voice, Ray Quinn as Glen is an inspired choice and provides a lot of laughs and so does the leading man; John Robyns as Robbie who performs with so much energy and flair on stage that you end up wanting to book him for your own wedding, but for me, the real star of the show has to be the irreplaceable Ruth Madoc as Grandma Rosie bringing a lot of the laughs to this production along with Samuel Holmes as Keys player; George, although I was a little unsure of their rap duet which made me feel like panto had come early this year, the rest was comedy Gold.
This show is high energy, fast moving and as feel good as they come, just like the 80s, I just don't know if as a story, it translates that well as a musical, still worth seeing because you'll have a laugh and your toes won't stop tapping.
Reviewer: Max Eden
Reviewed: 15th May 2017
North West End Rating: ★★★