I know Alan Bennett is a national treasure but I have often found his work overly sentimental, and at times just a bit twee, which is a prejudice that this well-staged production of Talking Heads goes some way to dispel.
Yes, there are moments of whimsy in each of these demanding monologues based on his wildly successful TV series of the 1980s, but thanks to three assured performers the steel at the heart of his forensic examination of three damaged and lonely people is slowly revealed.
First up is David Birrell as Graham in A Chip in the Sugar, but he falls into the classic trap when doing the male version of these monologues which is partly channelling Bennett, who played this damaged man-child in the original production. In fairness he doesn't do Bennett's distinctive voice, but the mannerisms and delivery are too reminiscent of the great man.
Graham still lives with his mum for reasons that quickly become clear, and their close but utterly dysfunctional relationship comes under threat when one of her old flames comes on the scene, threatening to shatter her son's world in many different ways. Ben Occhipinti's direction could have been braver focusing more on Graham's darker side, but Octagon regular Birrell is a charming performer who does nail Bennett's wry asides time and again as knowing laughter rings out across the theatre.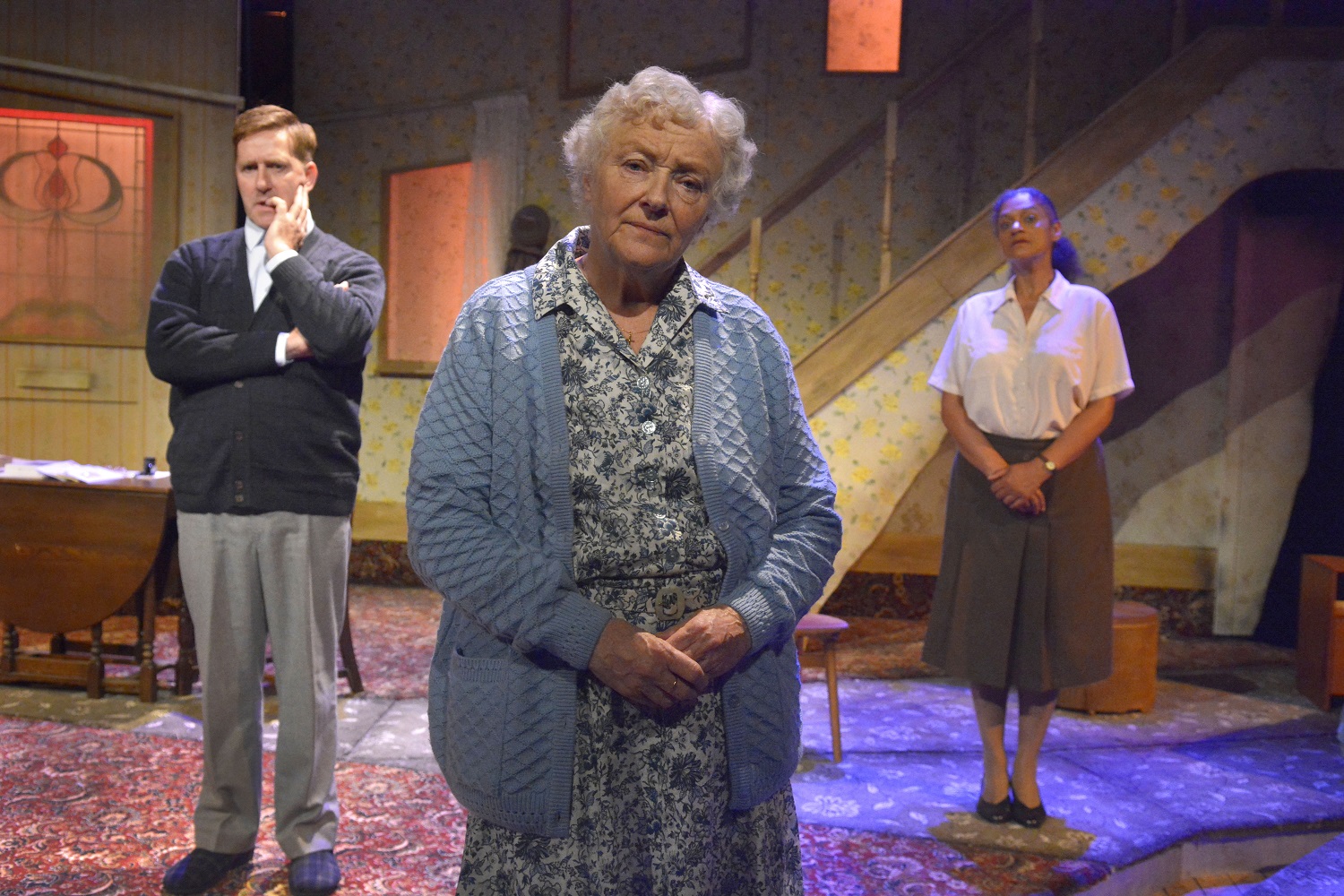 In many ways Bennett's world and the people in it are slowly disappearing, but there will be an always be an Irene who is A Lady of Letters. Bennett has said Irene is partly based on his own aunt, but she is the classic local busybody and curtain twitcher determined to make up her own shortcomings by imposing her will on others through letter writing in a pre-email age.
BAFTA nominee Cathy Tyson takes on Irene as she comes to this straight off a run in Winter Hill on this stage. It is a typically brave performance as she goes less for the laughs, and instead strikes to the heart of brittle Irene's tenuous grip on reality that is slowly slipping away with serious consequences.
Sue Wallace had the toughest task of the night dispelling the ghost of the late, great Thora Hird who originated pensioner Doris in the classic A Cream Cracker Under the Settee. Doris discovers the rogue cream cracker lying on the floor after a fall, and It is a tribute to Wallace's skills and vast experience that she more than makes the role her own winning some belly laughs as she lays bare the sad truth of Doris' life and her fear of going into a care home
Of all Bennett's monologues this remains the most pertinent and powerful as we all get old, and Wallace's wry version of Doris alternates beautifully between raging against her decline and regret at missed opportunities.
A monologue is particularly challenging for any actor as there is no-one else to bounce off and nowhere to hide if it goes wrong but Birrell, Tyson and Wallace are all compelling performers who in their own ways reveal the pretty grim worlds of their characters. Occhipinti wisely agrees with Bennett's view that onstage movement should be kept to a minimum which works well on Liz Cooke's distinctive set.
Alan Bennett's view of the foibles of the old school working class is certainly not that of an Andrea Dunbar, but this intelligent and always entertaining revival of his classic monologues prove that far from being twee he remains a ruthless observer of outsiders but ones in a very particular world.
Taking Heads runs until Saturday 8th July. To book www.octagonbbolton.co.uk or 01204 520661.
Reviewer: Paul Clarke
Reviewed: 12th June
North West End Rating: ★★★★
Picture: Ian Tilton