From the moment we see sexual predator Bob's naked buttocks thrusting away in the back of a car, it's clear this is a no holds barred version of Andrea Dunbar's 's bleak but poetic words.
The premise of Rita, Sue and Bob Too seems pretty simple as two underage girls from a very rough council estate fall under the spell of sleazy misogynist Bob seeing him a way of their grim existences because he has a decent job and a car.
Dunbar's word based on her own experiences on Bradford's Barrowford estate are still pertinent decades after they were first spoken at London's Royal Court. They are so brutally honest they actually reveal the layered reality of a group of desperate people in Thatcher's Britain that if anything will have become even more disengaged in today's food bank culture.
Rita and Sue do succumb to Bob's dubious charms, but they so naïve they don't know to use a condom, yet they manage to con the not very bright Bob they are both virgins. They think they are in control but are really children blissfully unaware of the consequences of their actions in the adult world they are groping their way towards.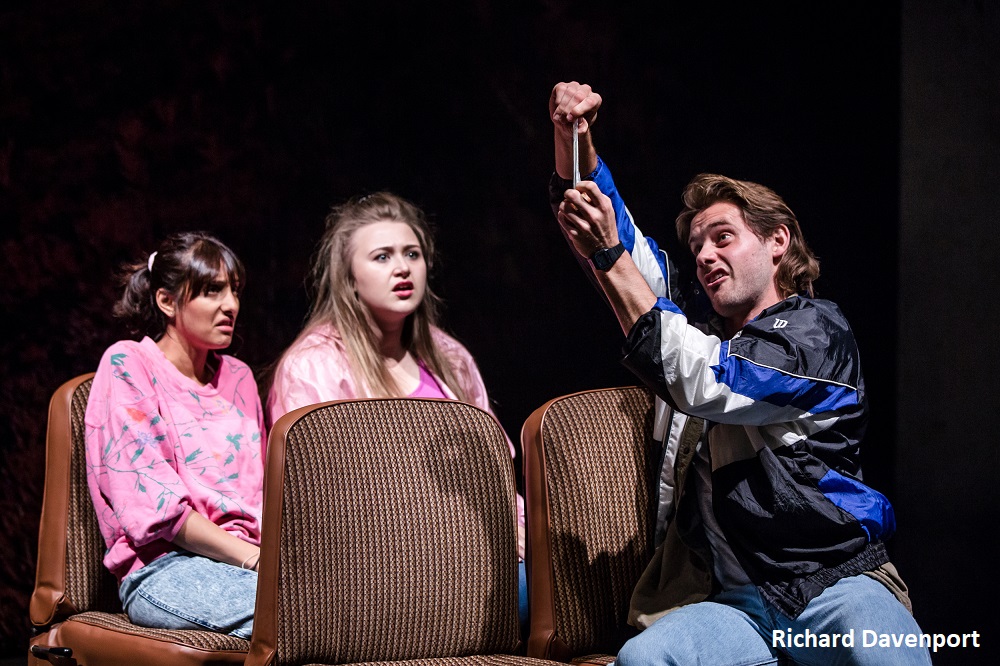 This often hilarious work is co-directed by Max Stafford-Clarke who mentored the young Dunbar, who it is staggering to recall was barely out of her teens with three kids when she wrote this. In this co-production with The Royal Court and his Out of Joint company, Stafford-Clark has resisted the temptation to just do a tribute to the talent he nurtured instead giving a visceral energy to the cast that helps the words soar, and unlike the film keeps the bleak ending for the predatory Bob which Dunbar wanted.
Even now in the midst of the all the moral ambiguity and foul mouthed chaos – this play may actually set the all-time record for the C word on stage - there is an air of naivety about Dunbar's work as she was unaware of theatre's unspoken conventions she just kept pushing against.
That hard faced naivety is captured by Gemma Dobson, making her stage debut as the slightly more worldly Sue, attacking her role with absolutely no fear whatsoever to great effect. Rita has her eye on Bob as her route out with Taj Atwal showing she is just too soft for her old life as her blabber mouth tendency leads to chaos.
Former Coronation star James Atherton's eighties mullet is a thing of wonder as he wrestles with a shallow man who has no idea of what decent behavior looks like despite the efforts of his humiliated wife Michelle, the only real adult in all of this, played with real pathos by Samantha Robinson.
Old hands David Walker and Sally Bankes are funny and sad as Sue's hopeless parents who have no idea how to handle their bolshie daughter other than emotional or physical violence.
The climactic fight scene when all the characters have it out on the estate is epic, and yet profoundly sad, as Dunbar knows only too well these people unbound by society's conventions or limits.
Northern work of this magnitude needs to be seen up here so Rita, Sue and Bob Too is the perfect choice to kick off this theatre's 50th anniversary season. Great work like this never ages and the real tragedy of Andrea Dunbar's words is nowt has changed.
Rita, Sue and Bob Too is at Bolton Octagon until Saturday 23rd September and then touring. To book go to www.octagonbolton.co.uk or 01204 520661
Reviewer: Paul Clarke
Reviewed: 11th September 2017
North West End Rating: ★★★★★