Brendan Cole is one of the only two remaining original professional dancers on Strictly Come Dancing. He has mellowed since his days of being Strictly's 'bad boy' and is a firm favourite of the viewing public.
From the moment Brendan steps on to the stage, he engages with the audience, even while he's dancing. He's also a little bit flirty at times! He comes across as being totally genuine and every word appears to be heartfelt. He's appreciative of the audience and generous with compliments and praise for his fellow performers.
He chats to the audience very easily and right from beginning, he kept enticing us with bits of Strictly gossip.
The show opens with a high energy and crowd pleasing Samba which immediately gets the evening started with a real party vibe.
Brendan's dance partner is Faye Huddlestone who is spellbinding to watch and they are accompanied by six other dancers, as well as singers, Iain Mackenzie and Jenna Lee-James who are equally warm and welcoming to the audience, not to mention extremely talented.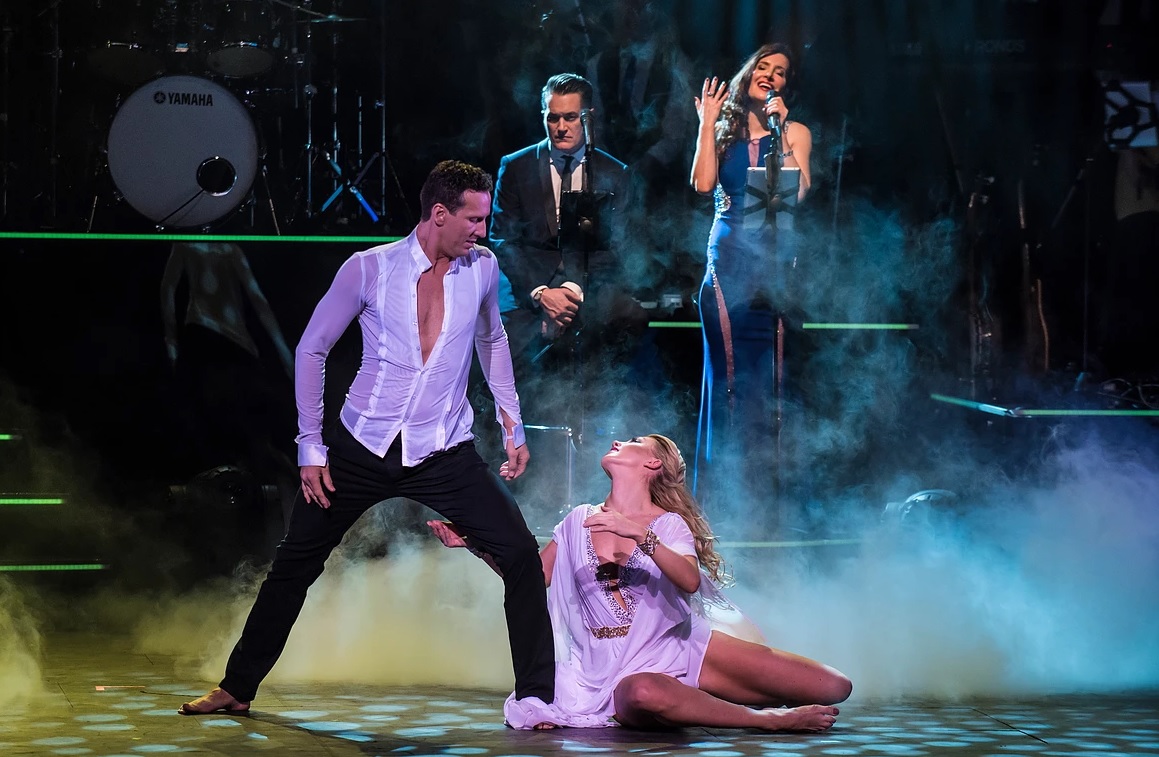 There are fourteen dances altogether and the choreography for each dance is wonderful. The Rumba (danced by Brendan and Faye) – a dance which can sometimes be over-emoted – was meaningful and captivating and quite beautiful to watch. Also, the Waltz (again danced by Brendan and Faye) was fresh and exciting – in fact, it was stunning in parts. The Waltz has a bit of a reputation as being a little staid and not very exciting but this Waltz breaks the rules with fabulous flowing moves and great interpretation.
The American Smooth was danced with the lovely addition of top hats and canes – this is everything about dancing which I love so I was in my element. There was a small incident with a top hat not doing as it was told but this was swiftly and expertly rectified – that's showbusiness!
For drama, it doesn't get much more intense than the Paso Doble and this is what opened the second half. Brendan was silhouetted...and shirtless. He made his way down the stairs with intent and purpose – it was very exciting to watch and sent shivers down my spine. There then followed more cape work than you could shake a stick at! Powerful and mesmerising – if you have ever thought that dancing isn't masculine, go and see this.
I want to mention the five members of the brass section of the band – they had their own choreographed routines which probably went unnoticed by a lot of the audience but they kept catching my eye and it was so entertaining! If you are going to the tour, do keep an eye on them.
Brendan has become an all-round entertainer: not only does he dance but he also sings in a Rat Pack homage with Barry Robinson (the Musical Director) and Iain – with some lovely synchronised kicks at the end! This is entertaining and fun to watch without feeling that Brendan's desperately trying to diversify. Later in the show, he also plays the guitar. He is a natural entertainer and this role suits him well.
Brendan's choreography combines old fashioned glamour with dazzling and exciting routines to produce an evening which is pure entertainment from start to finish. The audience is really made to feel part of it all and also very valued.
There is something for everyone in this tour, whether you know about dancing or not; whether you prefer Ballroom or Latin; or whether you are a reluctant man accompanying your wife or girlfriend...in which case there is something to put a smile on your face too. I'll just say two words: red catsuit. Wow – this lady's feline movements go very well with her outfit!
It is a real thrill to watch Brendan dance and this is a feel good show from start to finish, thanks to his warm personality and the fabulous choreography and performances by everyone on stage. It is like spending an evening with old friends. He is one of the few artistes who really cares that his audience have a great evening. Well don't worry, Brendan, they do!
Reviewer: Nicky Lambert
Reviewed: 19th January 2018
North West End Rating: ★★★★★