Passion and intensity with entrancing solos and powerful duets
La Traviata is considered a great introduction to opera and this production, under the capable and talented direction of Ellen Kent, delivers a truly musical feast to dine upon that not only embraces and relishes its traditional 19th Century roots but whose theme continues to resonate strongly today. At its heart is a love story which draws upon Alexandre Dumas the Younger's real-life doomed love affair with well-known courtesan, Marie Duplessis.
We open with Violetta (soprano Alyona Kistenyova), aided by her friend Flora (mezzo-soprano Zarui Vardanean), hosting a lavish party where she is introduced by Gastone (Ruslan Pacatovici) to his friend, Alfredo Germont (tenor Giorgio Meladze), a fervent admirer, who is more concerned for her failing health than her escort, Barone Douphal (Eugen Ganea). When Alfredo declares his love for her she wonders if he could be the one amidst her desire to be free to live her life.
A year on and Alfredo and Violetta have been living together for some time in an isolated country house. He soon learns from maid Annina (Vardanean) that Violetta is having to sell her possessions to maintain them and he hurries to Paris to sort his affairs. His father, Giorgio (baritone Iurie Gisca), arrives and with guile and cunning persuades Violetta to end the relationship, with servant Giuseppe (Vitalie Chitoraga) left to tell Alfredo she has gone.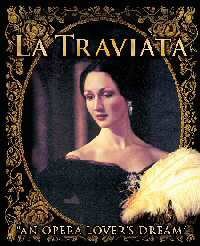 At a party in Paris, the Marchese (Tudor Donas) informs Flora that Alfredo and Violetta are no longer together, much to everyone's amazement. The arrival of Alfredo followed by Violetta with the Baron leads to an inevitable confrontation as Alfredo is challenged to a duel. As we are thrust into our final scene, does an ever-present Doctor (bass Vadim Chernigovskiy) suggest there is time for wounds to be healed? The truth unravels as our lovers are reconciled but…well, you'll have to come and see.
There were strong performances from all the cast and I enjoyed the gentle humour and choreography of the chorus of gypsies and matadors. Vardanean delivered one of her strongest performances as Flora and Annina. Meladze gave an intense and brooding Alfredo whose earnest desire was all too believable with strong solos and duets with Kistenyova. Gisca gave an impressive performance as Giorgio, a part that often receives much criticism but here was wholly credible: a man desperate to protect the honour of his family whilst comfortably stooping low, yet wise enough to admit when he's got it wrong. His duets with Kistenyova were to behold. Kistenyova's Violetta delights and dazzles in equal measure as she injects passion and intensity with her entrancing solos and powerful duets. Her voice carries this tale from the beginning so beautifully that you never want it to end: she is the heartbeat of this opera.
For performances to reach such a high level they need the right environment and Kent does not let us down: she is always faithful in her presentation of opera as it was originally intended with this production's sumptuous sets emulating the splendour of the period and complemented by costumes whose colour reflect the changing moods of the piece. The props are rich in detail down to the floral arrangements and scattering of petals. It is through such detail that an audience not only enjoys the drama unfolding but can recognise its modern parallel. The live orchestra, conducted by Vasyl Vasylenko, performed superbly throughout.
The Opera House is a 1,920-seater commercial touring theatre dating from 1912 and is Grade II listed.
La Traviata is touring throughout the UK and Ireland with full details available at www.ellenkent.com
Reviewer: Mark Davoren
Reviewed: 9th March 2018
North West Star Rating: ★★★★★