This new musical cites to be inspired by the life of rock legend Marc Bolan and is brought to the stage nearly four decades after the iconic star's tragic death. It features some of the greatest pop songs ever written, 20th Century Boy tells the story of Marc Bolan and his band T.Rex, exposing some of the myths, looking behind the glitter, sequins and feather boas, taking the audience on an emotive, yet inclusive journey through Marc's fascinating life.
His pulsating passion; from a very early age; never falters in his quest to succeed and is highlighted by the many musical styles he experiments with in this chronological journey from 'Hackney bard' to meteoric Superstar. A rocker, poet, electric warrior, king of glam and godfather of punk, Bolan was arguably the biggest rock star the UK had ever seen. 'T- Rextasy - Bigger than the Beatles' the media said. Before his untimely death in 1977, just days short of his 30th birthday, Bolan lived life at breakneck speed, creating a series of iconic images, a string of number one hits and an army of obsessive fans. This musical, a celebratory and fascinating insight into Bolan's life is set to the backdrop of all T.Rex's 70s hits, 20th Century Boy is a raucous barrage of glam rock featuring the smash hits; Get It On, Ride A White Swan, Metal Guru, I Love To Boogie, Hot Love, 20th Century Boy and many more.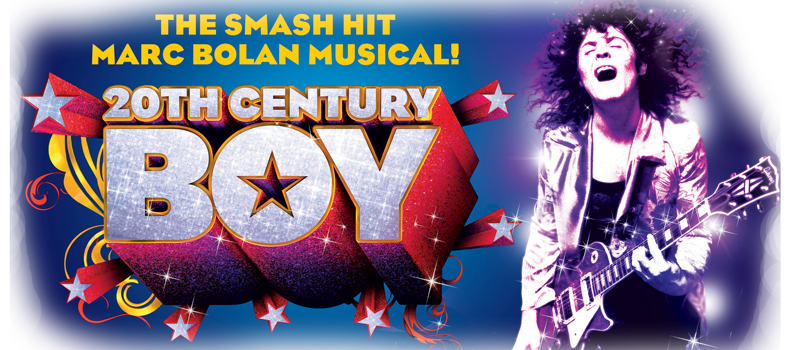 The staging and set are simplistic and functional in design with two large inverted flats that open to show the musicians/band. Its main purpose is as a projection screen for the historical footage of the era. These flats were framed by two fixed flats that appeared to be audio speaker stacks. The remainder of the scenery is minimal and representational, brought onstage by the cast. The use of multimedia projection effectively replaces the need for an elaborate set. However, on the opening night performance there were technical issues with the intensity of the lighting diluting the clarity of the projection, sometimes so much so, it was difficult to make out what the footage actually was. Unfortunately, this was the first of several technical issues, including transitions between scenes being disruptive as blackouts were not fully dropped to black.
The show started tentatively and lacked a flow in the first 20 minutes of the show, there seemed to be extended pauses between scenes and this effected the fluidity of the story. This was a shame as the opening sequence of Multimedia and George Maguire's reflective response to his own, Marc Bolan's death, promised so much. It was both poignant and visually emotive. Maguire in the lead role was highly characterised and was aesthetically convincing as Bolan. Rather than produce a 'Tribute Act' performance, Maguire showed his pedigree as he emphasised the personality traits that both drove Bolan and epitomised our memories of him, almost to the point of caricature at times. His physical interpretation was bewitching and constant. The same approach was maintained in Maguire's stunning, authentic vocal performance. It can be said, George Maguire puts the glitter and guts into Glam Rock!
Sarah Moss in the role of Bolan's wife June Child, had a strong vocal and convincing sincerity in her performance. The cast was very small and all played multiple roles effectively and with ease - Impressive. A special mention must go to Ellena Vincent as Gloria Jones, Wow - what a soulful, powerhouse of a voice, 'Tainted Love' was fabulous! Sadly, such stunning vocals were difficult to hear, as the band was very loud, this was another issue on the night and a great shame. In particular, a beautiful 4 part harmony could hardly be heard due to the sound imbalance, this really must be addressed immediately, as it was still evident in the final number of the show and performers of that quality really deserve to be heard.
The Second Act, although much stronger, had a very different feel to the First Act and it almost jarred. The show appeared to lacked continuity between the acts and they neither juxtaposed nor complimented each other fully, maybe a slight rewrite would be advantageous? This show had so many beautiful moments, of joy, of reflection, of human nature and of social/cultural factors it would be a great shame not to fully exploit these gems.
It would seem that technical issues have historically plagued this show and again tonight, the show was stopped half way through the Second Act for 'technical issues'. Touring productions often fall foul of this due to the nature of short 'get in' times but, taking this into account the Second Act had me riveted enough to be praying they would be fixed and the show could resume quickly. Luckily, the problem was rectified swiftly and the musical continued.
I came away from this show feeling like I had seen something still raw and in its infancy but still, something very special. The performers are exceptional, the concept is unique and I am sure that given time and nurturing 20th Century Boy - The Musical will grow into a powerful and pulsating West End worthy show.
Reviewer: Tracey Bell
Reviewed: 17th April 2018
North West End Rating: ★★★★