My mother was a season ticket holder at Maine Road, and my father at Old Trafford, so I've always had a good idea of the passion that football can engender in both men and women. That's why I was intrigued to see Futures Theatre's production of Offside, written by Sabrina Mahfouz and Hollie McNish in one of only two performances at 53Two.
It's worth saying at the outset that this is no sentimental Bend it Like Beckham piece. It presents, rather like Caryl Churchill's Top Girls, the lives and struggles of women from different eras. Unlike Churchill's play, the characters here are not "top girls" but women who have had little or no recognition, because they operated in an arena dominated by men. What links them is their passion for football. The authors are both acclaimed performance poets, so it is no surprise that the dialogue is more poetic than realistic, in keeping with a show that sweeps the audience from late Victorian times to the present day and back in less time than a game of football.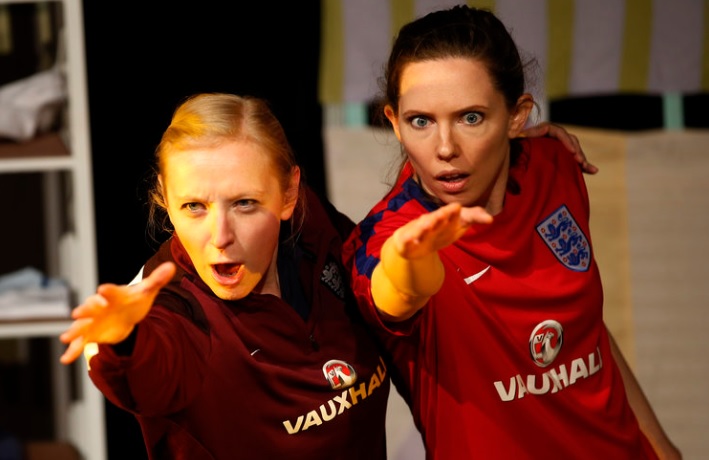 Four women (played by two actors) co-exist outside their historical timeframes, interacting with each other on stage. In the present day, two (fictional) England hopefuls get ready for the trials that might set them on the road to glory. Marième Diouf is the assertive, gobby Mickey and Fizz Walter the shy and diffident Keeley. Both of them look to real-life historical football heroines as their inspiration: Mickey to Emma Clarke, the first black woman footballer, who played at the end of the nineteenth century; and Keeley to Lily Parr, who played internationals and toured France in the 1920s, after women had been banned from playing by the FA. The third member of the cast, Jessica Dennis, plays a bewildering variety of roles, from commentators to reporters to coaches, showing off an impressive command of regional accents in the process.
In the tiny, intimate space of 53Two's Hub, the audience is in the metaphorical technical area, and is treated to an impressive display of physical theatre. Using just a couple of gym benches and two changing-room rails for props, the actors manage to create a very credible sense of the focused world of the professional footballer, moving fluidly into balletic and sometimes slow-motion routines for the on-pitch sequences. Diouf and Walter move seamlessly from their present-day to their historical characters, each life's struggle illuminating the others. This is a long way from naturalistic theatre, with realistic contemporary dialogue giving way to monologues in which the historic figures tell their stories, together with a sprinkling of football chant-like song and some energetic dance. Movement director Diane Alison-Mitchell is to be commended her clever and deft deployment of the actors here.
The energy of these three women is particularly impressive, sustaining the intensity and pace over 75 minutes, and even more so when one considers that the audience can't have numbered much more than a football squad. Director Caroline Bryant has obviously kept them on their toes, and they use every inch of the minuscule area they have at their disposal to good effect. The production also features quite a lot of recorded sound and ambient music, which I felt added little to the overall piece; similarly, the projections of historical photographs at the end seemed somewhat gratuitous, when we had just witnessed such an impressive physical recreation of those times.
Futures Theatre is committed to creating drama for and by women, and to promoting social change through the plays they create. In Offside, they have definitely scored a goal: it is an intense, funny, poignant and ultimately life-affirming piece that celebrates women and their aspirations, in sport and in life.
Offside continues on its UK tour until 30th June http://www.futurestheatre.co.uk/offside/
Reviewer: Rob Spence
Reviewed: 18th May 2018
North West End Rating: ★★★★